A Man Harvests Happiness in the Wild
by Crystal Tai
His military haircut and worn-out clothes suggest a primitive living style. A man with a small farm and a house full of second-hand furniture, 33-year-old Mok Ho-kwong redefines the meaning of wealth and fame.
Mr Mok, also known as Wild Man, does not choose the usual way of living after his graduation from the University of Hong Kong.
Inspired by his teacher, Wild Man left the rat race about ten years ago and has since lived in the outskirts of the city. Being the founder of Natural Network, Mr Mok lives with the humble earnings he makes from holding environmental workshops and ecotours that mainly targeted students.
"Nature has given me another option. People solve problems with machines in the city while in the countryside, I overcome challenges in life by tuning into the nature," he said.
Everyday Wild Man collects dry leaves and wood to build fire for cooking. He plucks sweet potato leaves fresh from his backyard to be served along vegetarian dishes.
Despite living on only $3000 a month, Wild Man has introduced another way of living to those who invest all their savings into shabby, cage-sized bed space – a rural way that revives the rustic joys of life.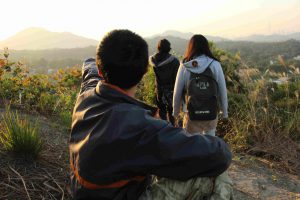 "I feel happy after clearing a patch of grass or seeing my plants growing. You don't need reasons or purchases to be happy. Happiness is not a privilege of the rich," he said.
But not everyone in the city feel the same. The recent Hong Kong Happiness Index Survey done by Lingnan University reveals that people's level of happiness is at all-time low.
On the other hand, citizens are not leading a greener life as well. "When people live in the city, they're forced to lead a wasteful lifestyle," he said. "They dump their leftover to landfills while at the farm, you can use them as compost."
Mr Mok did not start off to be an environmental activist. As a child, he was told that being close to nature means getting mosquito bites on his legs and dirt on his hands. It was not until he learnt that the landfills were running out of space that he started developing an interest in studying about the environment.
"What sets me different from other people is that I think environmental protection is very important. When I feel so at ease in the nature, I ask myself what more I can do for it," he said.
He added that although people have stronger environmental awareness in recent years, they're not taking enough action.
He puts the blame on government structure, which clearly divides the work between the bureaus of education and environment. Even though the Environment Bureau is responsible for setting regulations, it does not conduct education that asks citizens to take practical action to cope with climate change.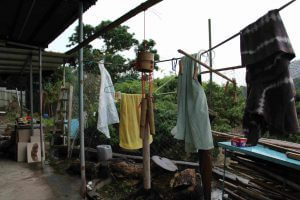 "Being environmentally friendly doesn't just mean practicing the 3Rs. It means you can plant your own food, breathe fresh air and make good use of stream water," he said.
The name Wild Man does not only speak about Mr Mok's environmental ambitions but a bigger belief that you can chase your dreams and live by doing something meaningful.
When asked about what his family thought about his decision to go primitive, Mr Mok says he received fierce criticism in the first few years.
"In a society that only asks their youth to make money, it's normal that people would criticize you for being different," he said.
Wild Man is not only a nature specialist but also a life mentor who often encourages students to pursue their dreams while spending time with them in the wild.
"If you can persevere in something, you can change the belief of many people," he said.
(Edited by Jonathan Chan)