by Alfred Lam & Daniel Ma
Pink Lee Wai-ki was a financial reporter, but a trip to Tibet in 2006 made her rethink the purpose of her life.
She felt a calling to help people in need, so she quit her job and used her savings to travel and volunteer in different countries, such as Colombia, Mongolia and India.
After years of travelling, she realised that real happiness and the meaning of life lie in helping others without expecting anything in return. "You do it just because you want to," she said
Pink grew up in a single-parent family with an extremely quiet, violent and mentally abusive father, so she left home immediately after she graduated from The Chinese University of Hong Kong and found a job as a journalist.
A 7.8-magnitude earthquake hit Nepal on April 25, 2015, killing nearly 10,000 people.
Pink Lee was a long-term volunteer in Nepal. When she went to the mountainous epicenter of Gorkha, she was the leader of a group of volunteers in Kathmandu, the capital of Nepal.
Soon after the earthquake, Pink raised over $400,000 for relief work. That was used to send over eight tonnes of supplies to the victims and helped 700 families.
To better manage the funding and relief work, Pink then founded Light On with her friends. It is a non-profit- making organization whose goal is to build at least two schools in the local community.
Though Nepal received donations from around the world after the earthquake, Pink says Nepal has serious corruption and bureaucracy issues. If she did not start the reconstruction projects, people there might have to wait for at least two years.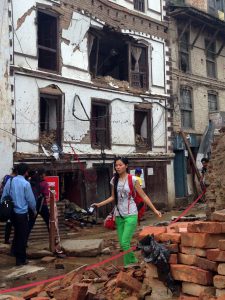 Pink is not paid for her charity work. She writes columns and teaches yoga for a living.
Profits from Light On Cafe on Cheung Chau Island used to help fund the organization's work.
"In the cafe, you see a lot of kind-hearted people. Although we are not professional baristas, guests are willing to pay several times the price to buy a cup of coffee, so as to contribute to the reconstruction work in Nepal," Pink said
But the cafe shut down in December 2015 because it could not meet the property owner's profit share target. After that, Pink was offered half a DIY stall space in Discovery Bay for five months in 2016 for free.
"Through our participation in this DIY market, I want to promote Light On's work, recruit volunteers and expand my network of organizations that may be interested in our charity work," Ms Lee says.
Her current projects also include bringing volunteers from Hong Kong to Nepal to help with school reconstruction.
"I hope to create a win-win situation: bring hope to the Nepalese and help volunteers from Hong Kong transform by learning to live like a local while volunteering overseas without expecting anything in return," she says.
"I'm optimistic that volunteering will be accepted by more and more Hong Kong people. Our team now has 11 people. We have the same goals. I believe more and more people will get to know our work and philosophy," Ms Lee says.
(Edited by Flavia Wong)