Wai Lee Building in Quarry Bay with two infections, in lockdown
By: TUNG Yi Wun

Edited by: Shameel Ibrahim

2021-02-07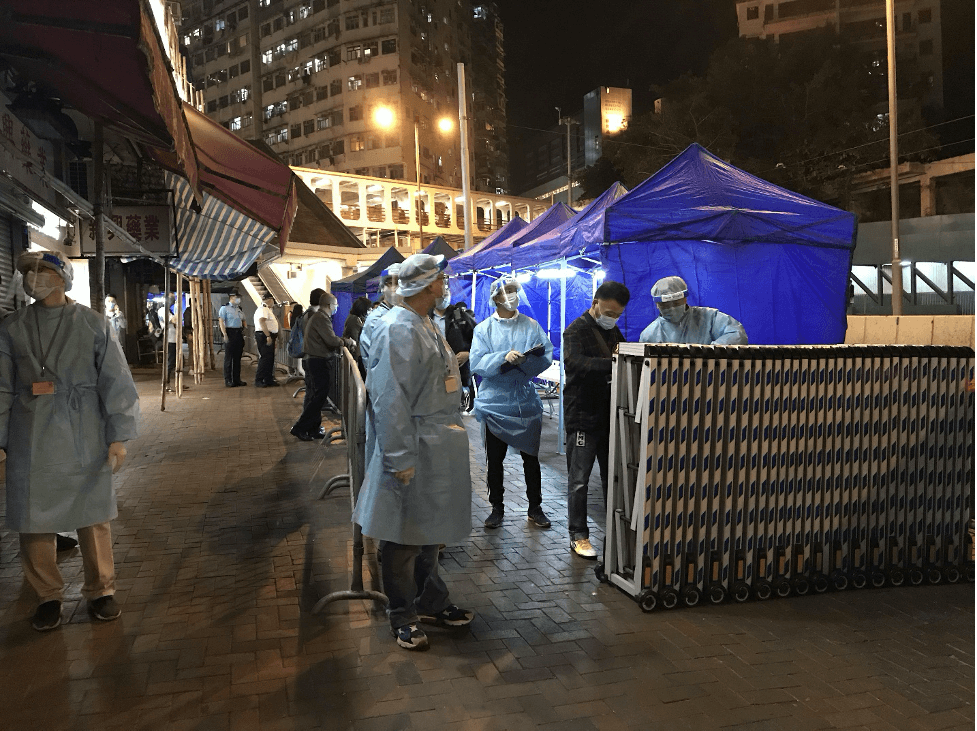 Wai Lee Building in Quarry Bay was locked down for mandatory COVID-19 testing in the evening. 
The 23-storey building with 430 units was the second of three buildings to be locked down on Sunday, including Hoi Fu Court in Mongkok and Cheong Lok Mansions in Hung Hom. 
Police officers and medical personnel arrived at the Wai Lee Building today at 7:30pm, and enforced the lockdown. A gate and several booths were placed outside the building. Every entrant had to be registered. 
"Two infections were confirmed last night," said Cheung Kwok-kwan, a district councilor assistant. "We expected this to happen."
According to  government statistics, both infected individuals are local residents. One was a 54-year-old male whose symptoms started on Feb 3 and was confirmed to have been infected on Feb 6  His case is epidemiologically related to a local case. 
Another infection was a 18-year-old male who started to have signs of coronavirus on Feb 2. His infection was also confirmed on Feb 6. 
"The residents wanted to have the mandatory testing," said Annie Lee Ching-har, a district councilor. "After knowing that there are two infections in the building, they think it is best to have everyone tested in order to ensure the safety of themselves, their families and neighbor."
Both Mr Cheung and Ms Lee said, residents were expecting the lockdown to happen either today or tomorrow. 
Given previous lockdowns, Wai Lee Building was expected to reopen at around 7am tomorrow, said Ms Lee. Residents would be able to go to work if the lockdown is lifted between 6 to 7am. 
"I don't think I can go to work on time tomorrow," said Leung Fai-wing, a resident of Wai Lee Building. "I don't know when my turn to get tested and no one could guarantee when the lockdown will end."
Mr Cheung added that, soon after the lockdown was imposed, police officers would arrange the residents to take the Covid test floor by floor. From 12am to 1am, all units should have accepted the test. The results would be out the following day.
"I understand why they imposed the lockdown," said Chan Chu-ying, a resident of Wai Lee Building. "Still, I think it is quite disturbing. Imagine when you try to go home after a long day but ends up seeing it is being blocked."