China's billion dollar "blind box" toys craze
By: CHEN Bingyi

Edited by: Zhu Zijin Cora 朱子槿

2021-04-15
Lin Tangtang is shaking a box against his ear in a brightly lit toy shop. He is trying to guess from the sound and the weight of the box to see whether the doll inside is the one he wants.
"All of my friends are buying blind boxes," the 21-year-old university student said. "Every time I go out to eat, I will go to the store to buy one or two of the new series of dolls. It's already a habit of mine." He has bought over 200 figurines since July 2019, each of them costing 59 yuan (HK$70).
A blind box is a type of packaging that keeps its content hidden. The box is identical in every way and nobody--including the store owner--knows which toy is inside. 
In recent years, the "blind box craze" has gradually become a phenomenon in China, attracting many young consumers to buy mystery boxes and in order to collect the toys inside. 
Pop Mart, the largest company in the Chinese blind box industry, launched a US$674 million (HK$5.2 billion) initial public offering in Hong Kong last year.
The driving force behind China's blind box business is pop culture. The market was valued at 29.48 billion yuan (HK$35.38 billion) in 2020, a 44% increase year on year, according to a Chinese data analysis platform iMedia.
The products in the blind box mainly just toys with images authorized for production by the original creators. 
There are mainly two types of intellectual property (IP) rights for Pop Mart's blind box toys: existing IP from well-known movies, cartoons, games and historical figures with a story background such as characters from the Harry Potter books. Then there are original IPs designed by artists without story content, such as a popular green-eyed blonde hair pouting lips girl, Molly, designed by Hong Kong artist Kenny Wong.
The company markets blind boxes in sets of 12. Some series have certain sought-after toys that are only in one out of 144 boxes, the store's bulletin board says.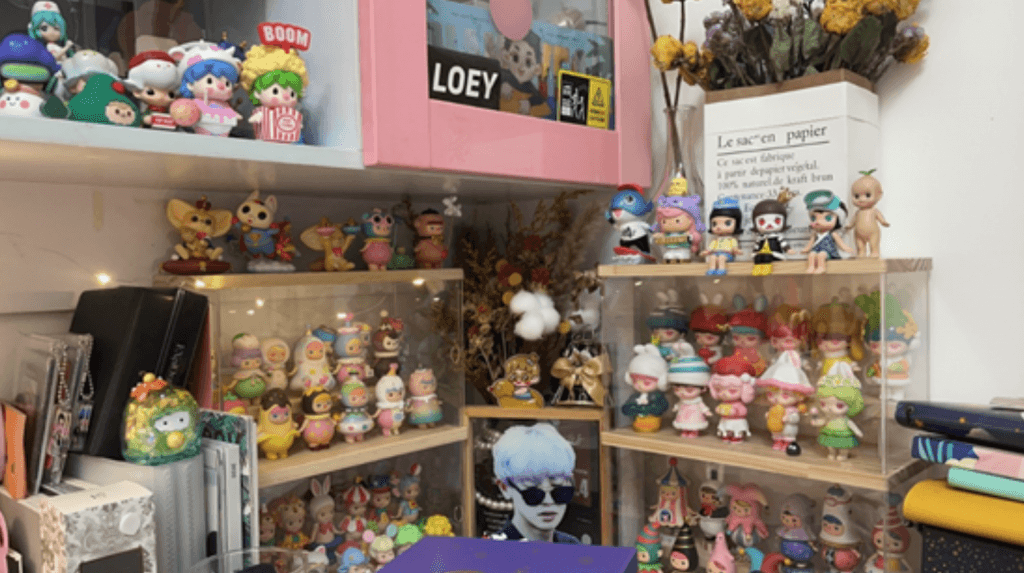 Why do people buy the dolls? "The blind box consumption model essentially exploits people's curiosity and nervousness," said Zhang Meizhen, professor of consumer psychology at Fujian College of Commerce. 
Different from the traditional goods in which consumers know exactly what they will get, blind boxes are full of mystery, leaving everything by chance and giving customers a sense of surprise, especially when they get the toy they have been looking for
"Once my friend gave me a blind box from the Minions series as a birthday present. It turned out to be a hidden style," said Mr Lin. "I was really surprised and happy because it was a birthday present and I felt like I was going to be lucky this year."
The constantly changing series of blind boxes keep consumers intrigued, particularly if they are collectors
According to Foresight Industrial Research Institute, a Chinese industry consulting company, the market size of Chinese blind boxes is expected to reach about 25 billion yuan (HK$30 billion) in 2025.
The collecting habit is another key reason why consumers keep buying new boxes.
"Buying and collecting blind boxes is a great relief to me, and it's very pleasant to see these lovely dolls neatly placed in a corner," said Kong Xiuxiu, a 27-year-old graphic designer, who owns over 200 dolls worth about 15,000 yuan (HK$17,987).
In order to avoid drawing duplicate toys, many consumers will buy a complete set of 12 dolls, which is marketed as an "end box". 
"I always buy an 'end box' if I like more than half of the figures in a new series," said Ms Kong.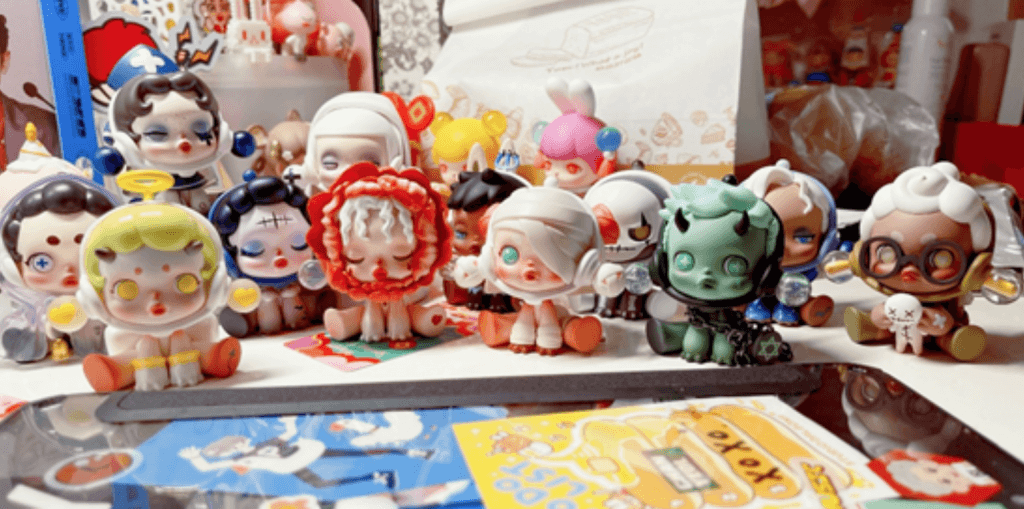 In order to avoid duplicates, many players will go to the blind box second-hand markets to buy, sell or exchange dolls with others.
The most popular secondary market is Xianyu, owned by e-commerce giant Alibaba. 
"When I get a repeated style, I will give it to my friends," said Mr Lin. "But if they already have one, I may sell or exchange it on Xianyu."
"If I sell it, I would charge a lower price as it is opened and few players like the opened boxes," Mr Lin added.
On Xianyu and other platforms, some hidden styles are also on sale, often at a price higher than the original 59 yuan (HK$70). Some are priced at over 500 yuan (HK$600).
The hidden style is a hunger marketing strategy, Professor Zhang said. People will easily end up splashing out and buy more toys than they originally planned.
However, not all blind box players fall for this trick.
"I won't be obsessed with a hidden style if I've already bought an 'end box' and it still doesn't come out," said Luo Xiaoyu, a 17-year-old high school student, who has a collection of some 150 dolls worth about 9,000 yuan (HK$10792).
"For me, it's not necessary to pay a higher price for the hidden one," Ms Luo added.
Although more and more people are joining the blind box market, there are those who quit the game.
Jennie Zhang is a year three university student who started buying blind boxes in 2018. But after collecting 50 dolls, she decided to stop.
"I feel that the new ones are not as good looking as the previous ones, and the quality is worse," said Ms Zhang. "It's really sad to buy a defective doll. Also, blind boxes are not cheap, so I don't want to continue to buy."
However, the blind box companies continue to release new IP and series to entice buyers.
"I am so looking forward to the Spring Festival," said Ms Luo.
"Because a new Harry Potter series is coming out and my mother has promised to buy me the 'end box' of this series as a New Year gift!"