A Hong Kong Calligraphy Master
By: POON Hiu Lam

Edited by: CHAN Wing Yee

2021-04-14
Every corner, wall and even the floor of King Wah Signboards in North Point is covered with the calligraphy of  Au Yeung Cheong. There are also photos of his visitors, both local and from overseas.  It's a kind of creative mess with ink, plastic boards and paper all over the floor. 
The shop has been around for 30 years but recently relocated to Kam Ping Street after the State Theatre building was sold. 
The 65-year-old Chinese calligraphy master is well known for his remarkable and unique real script Mr Au Yeung has created more than a thousand signboards in Hong Kong, starting from writing, text carving to installing lightboxes. 
He started when he first arrived in Hong Kong in the 1970s and later set up his shop King Wah Signboard.
"The real script was created and used by emperors as the official typeface since the Tang Dynasty," Mr Au Yeung claimed.  He described the strokes as Guan Yu's blade, clean-cut, awe-inspiring, which is different from the Song Ti font and regular script typeface. 
"The Real script shouldn't look as if they don't have heads or tails. The characters are tightly structured and as sharp as a knife cutting a watermelon," he explained.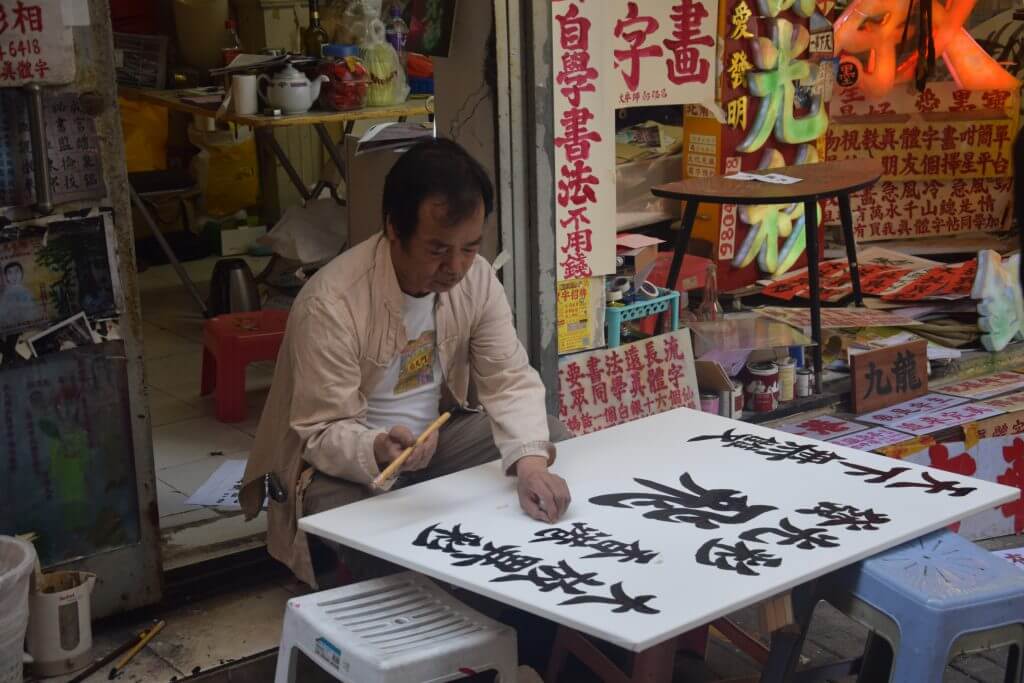 As  Mr Au Yeung demonstrated his calligraphy, he almost threw himself into a trance, savouring the connotation his work seemed to bring him.
He then compared his work with the calligraphy of  Wu Zetian, the only empress of China. "Don't you think mine is more beautiful than hers?" he asked. 
It might be a common misconception that expensive brushes and ink are needed for the artform. But Mr Au Yeung revealed that his brushes and inks were bought from a hardware store nearby. 
"What matters most is the skill you have in handling the brushes and how familiar with the word," he explained. 
Mr Au Yeung has been practising Chinese calligraphy since early childhood, studying different font types of the "Three Character Classic" and other ancient Chinese books.
In 1995, he had to shut down all the signboard stores because of a fire at the State Theatre building. That was because of the prime of his life. Today, his workshop has become his prized fortune and his "home", where he meets with guests and makes traditional signboards. 
"Only authentic and hand-written calligraphy has its own meaning and value. Machines that make strokes like "hook" and "press" cannot replace my hand-written work," he asserted. 
But Mr Au Yeung is worried that no one will inherit his real scripts to make signboards.
One of his students has created a social media page on Mr Au Yeung's calligraphy.The shop has attracted many internet celebrities and non-Chinese visitors. Social media promotion has helped to gain attention to Mr Au Yeung's work.  
"There are no signs written in real script in Guangdong or Taiwan. If you look over the signboard in Hong Kong streets, most of them are probably written by me," Mr Au Yeung said proudly. 
Mr Au Yeung likened the loss of the art of calligraphy to the burning of Yi He Yuan, a fire at the Summer Palace in Beijing in the 19th century which destroyed a treasure trove of Chinese culture.  
"I really hope that people will treat the real script seriously otherwise it will be a lost art in this big city," he expressed.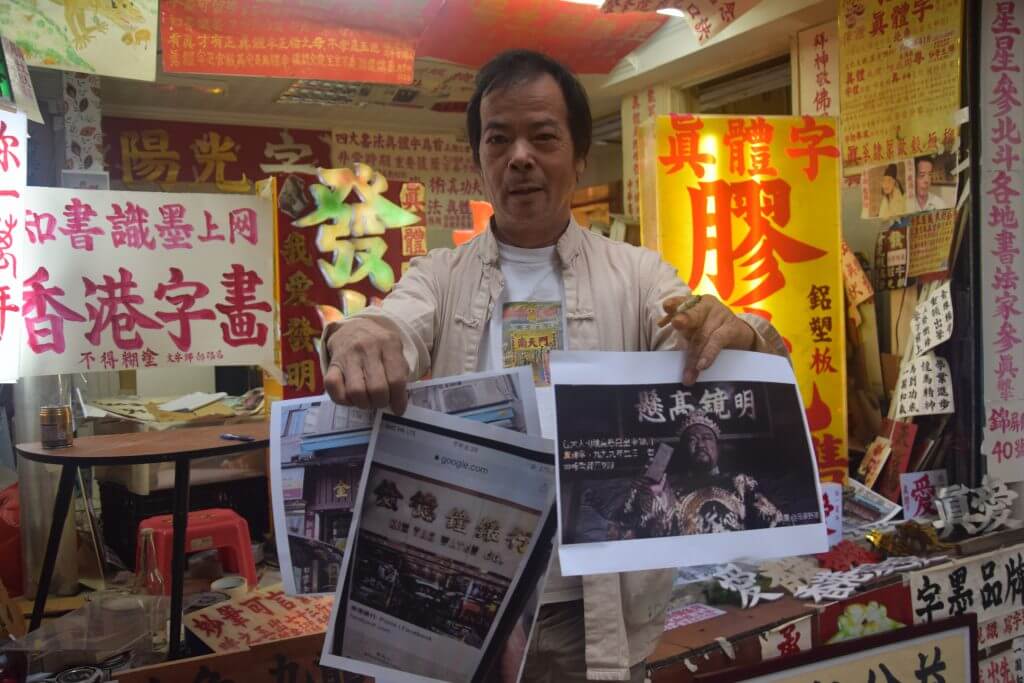 Mr Au Yeung gives up to 20 Chinese calligraphy classes at North Point Community Hall every week. "The classes are full! But I am willing to teach at my shop if anyone is interested," he smiled.
Whenever some pedestrians stop by and would like to learn, Mr Au Yeung would offer to teach them. He is never bothered by his admirers. 
"I only need one lit cigarette time to finish," he said to a customer. 
Mr Au Yeung showed a quiet side when he was shaping the word at a stencil cutting machine.
In 2018, he was invited to make a sign titled "100 faces of Tai Kwun" for an exhibition at the Centre for Heritage and Art.
Dazzling and illuminating signboards in Chinese characters such as those created by Mr Au Yeung used to help people find their way around Hong Kong. But nowadays, many people would use apps on their phones instead. Today, Mr Au Yeung is one of the last signboard craftsmen.
Lee King-ming, founder of Lee Hon 's Street Calligraphy Conservation Project, is looking for ways to preserve the spirit of craftsmanship. He started digitalising "Lee Hon Kong Kai'', an old typeface created by a street calligrapher Mr Lee-hon. 
"Lee Hon Kong Kai" typeface is widely used on signboards, art craft production, digital media design and posters.
As old districts are renewed and reconstructed, new shop renters tend to invest little in making signboards.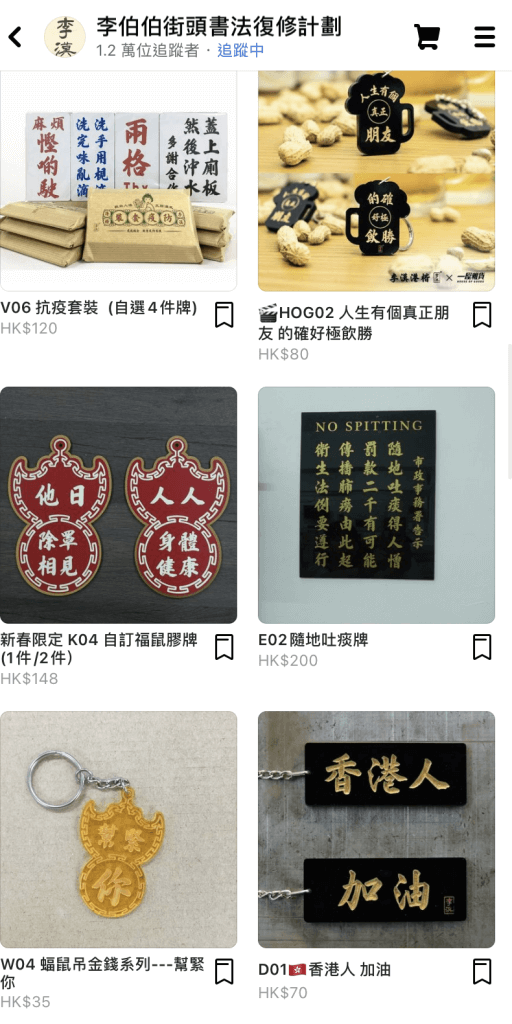 "The present cannot be compared to the past. Businesses prefer online promotions rather than making traditional signboards, " Mr Lee said. 
To preserve, Mr Lee designed handmade products such as tote bags and keychains and also uses social media and YouTube channels for promotion. 
"It is not only for me. Local calligraphy is such a valuable emotional attachment to Hong Kong people. I would try my best to preserve this cultural heritage," Mr Lee said.
Recently, Mr Lee has proposed a crowdfunding campaign, aimed at garnering public support to revive Lee Hon Kong Kai fonts. Supporters who donate over $500 or more will receive a set of permanent authorization for online Lee Hon Kong Kai font. 
The crowdfunding campaign has already raised over 1 million dollars. Mr Lee plans to organize a series of free sharing and workshops to give feedback to supporters.