Slight Increase in Hong Konger's Desire to Have Children after Maternity Leave Extension, Study Finds
By: REN Ziyi David

Edited by: Jenny Lam

2021-05-10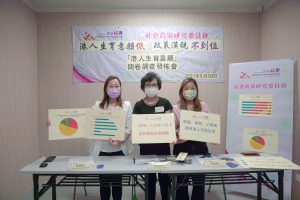 Tony He is 27 years old and has been married for three years. "For now I do not wish to have any kids and It depends on how my career goes," he said.  "Housing is a big problem here and we are not prepared."
Twenty-four year-old Polly Siu, who just graduated from university said the future is "unpredictable", and she hopes to get a stable job first. 
"Whether I will get married or have babies is hard to say," she said.  
According to a survey conducted last month by the Hong Kong Women Development Association, only 16 % of those aged 20-29 years in Hong Kong would consider having children. 
Hong Kong people's willingness to have children has gone up by 2 percentage points to 44% since 2019, the survey found.. But more than half of 1254 respondents polled in April said they are not willing to have children at all.
The slight increase comes three years after the government extended statutory  maternity leave from 10 weeks to 14 weeks, and new mothers are now entitled to 80% of their salaries while on leave. But the Association believed maternity leave is only a minor factor when it comes to having kids.
Those who do not wish to have children said financial burden is the main reason, followed by unaffordable housing and long working hours.
Of those who said they would like to have children, women aged 30-39 years are most willing to become pregnant, followed by those aged 40-49 years. But only 16% of women between 20-29 years wish to have kids.
"The educational level of women is improving and more of them are in the workforce," said Lam-Wai-ming Vice Secretary of the association during a press conference.
She also pointed out that the best reproductive age is between 20 to 30 years. The risks of death and health problems with the fetus increase for mothers older than 35 years, she added.  
To encourage people to have children, the Association urged the government to come up with family orientated policies, better child care, standard working hours and increase housing supply in order to ease the burden on young couples.