Don't eat horseshoe crabs, WWF urges
By: KOO Chi Tung 顧知桐

Edited by: Editor

2021-06-20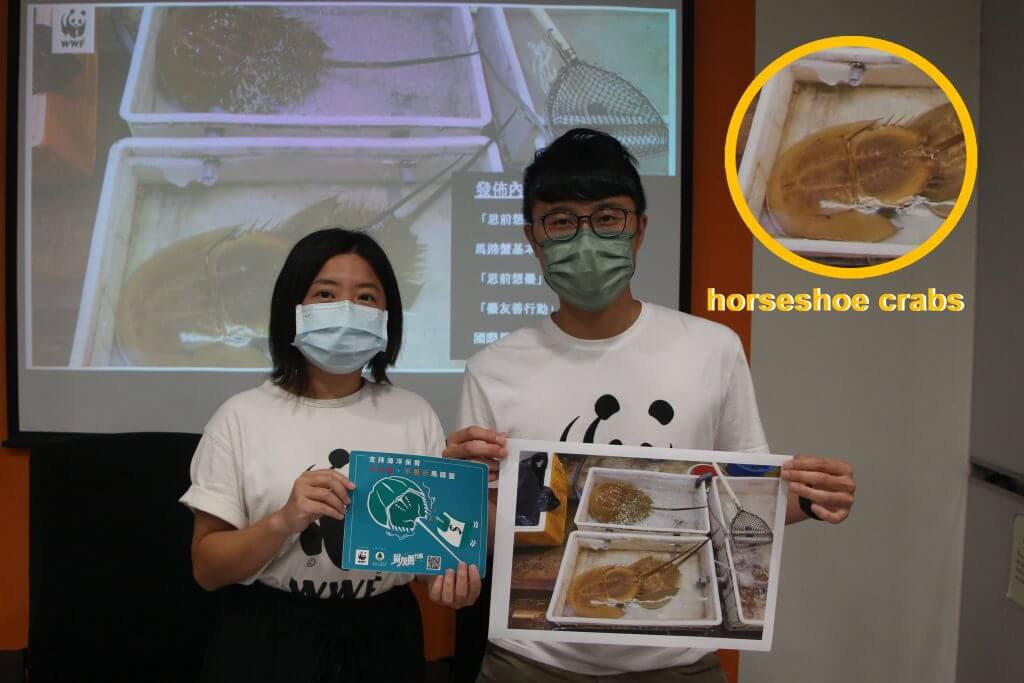 Ninety-eight seafood restaurants have been displaying or selling horseshoe crabs as a means of attracting customers, even though most people do not eat it, according to the World Wide Fund for Nature.
Lydia Pang, WWF's Oceans Conservation Project Manager, said most of those restaurants were in Sai Kung, Lei Yue Mun and Tuen Mun, and seven of them were selling the crabs.
Horseshoe crabs have been on the earth for millions of years. Although they are popularly called crabs, they are not crustaceans as crabs are, and belong to a different order of arthropods.
Among four species of horseshoe crabs in the world, the Chinese horseshoe crab, which is an endangered species, and the mangrove horseshoe crab can be found in Hong Kong's coastal waters. 
However, according to the Agriculture, Fisheries and Conservation Department, the local population of horseshoe crabs has been decreasing since the 1980s.
Today, they can only be found in some beaches in Deep Bay and Lantau Island, and have disappeared from Tolo Harbour, where they used to be seen.
WWF has launched a "Stop horseshoe crabs consumption" programme after finding that they have been consumed as food or caught by fishermen as bycatch and their habitat has been destroyed by human activities.
So far, 26 restaurants have joined the programme by promising not to display or sell the animals. 
Pang said many seafood restaurants opted to display horseshoe crabs as they wanted to put a novel sea creature outside to attract customers. 
She called on the public not to consider horseshoe crabs as seafood and reminded restaurants that the mangrove horseshoe crab was poisonous.
A survey of 1,005 people aged 18 or above commissioned by the WWF has found that only four had eaten or enjoyed watching the crabs, and almost all respondents said they would not consume the animals for any reason. 
Conducted by the Hong Kong Public Opinion Research Institute between January 8 and 18, the survey also found that just 25% of the respondents had seen horseshoe crabs in the past. 
Among this group, 40% said they saw them in the fish market, 25% in restaurants and 12% at the piers.