Sports fans cheer and wave to Hong Kong Tokyo Olympic team during triumphant welcome back parade
By: YANG Zhenfei

Edited by: Editor

2021-08-19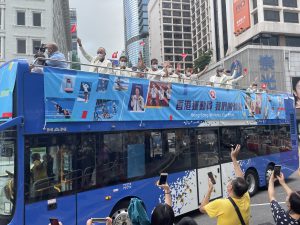 Snapping mobile phone photos and waving Hong Kong flags, hundreds of sports enthusiasts cheered members of the city's record-breaking Tokyo Olympic team during a Thursday morning parade through the streets of Kowloon to welcome back the athletes and their coaching staff.
Aboard two open-roofed double-decker buses, two-time swimming silver medal winner Siobhán Bernadette Haughey, karate bronze-medalist Grace Lau Mo-sheung, and the bronze medal women's team table tennis team of Doo Hoi Kem, Lee Ho Ching and Minnie Soo Wai Yam waved to fans who lined the streets from the Hong Kong Coliseum in Hung Hom to the Xiqu Centre in West Kowloon Cultural District . 
"Hong Kong people attach great importance to sports and have great respect for Olympic athletes," said Mr. Lai, who said he likes Miss Haughey very much and was very excited to see her today. 
"It's a pity that Edgar Cheung Ka Long, the fencing champion, and Sarah Lee Wai Sze, who won the bronze medal in the cycling race, failed to come. They are going to Xi'an to participate in the National Games." said him.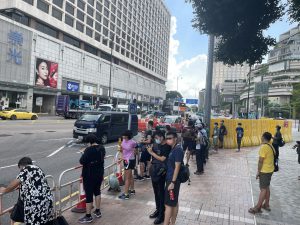 From 9:30 to 11 a.m. the buses snaked along Nathan Road, Salisbury Road and Canton Road, before arriving at the Xiqu Centre, where the Hong Kong government hosted a reception for the Olympic team.
As the buses drove along Salisbury Road in Tsim Sha Tsui, about 100 sports fans gathered in front of the Space Museum, holding up their mobile phones to take photos of the two dozen or so members of the team taking part in the parade. Some fans even chased the buses and waved to the athletes, while for others the drive-by was too quick.
"The bus drove too fast, there were only about ten seconds and I didn't see them clearly," a secondary student said regretfully. 
"In fact, my favorite athlete is Edgar, because he is very handsome." she added. "I also misread the time and thought it was the 18th. I was waiting here at 9 o'clock yesterday, but finally realised that I made a mistake."
Mr. Chan, who was watching the parade on Salisbury Road said, "I can really feel a sense of national pride. This is the honor of all Hong Kong people. When I saw the athletes passing by, I was more moved than words."
Following the parade, the Olympic delegation attended a Welcome Home reception hosted by the Hong Kong government at the Xiqu Centre and received certificates of commendation. Medalists Mr. Cheung and Miss Lee, who were in mainland China taking part in the National Games, shared video messages during the ceremony.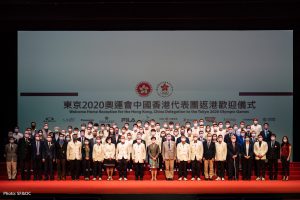 Fencer and first-time medalist Mr. Cheung said he was very happy to win a gold medal for Hong Kong, while Miss Lee said that she was grateful to win her second Olympic cycling medal, and she thanked support staff who had shared hardships with her during the past 17 years.
Chief Executive Carrie Lam Cheng Yuet-ngor said the government had launched a new program to promote sports development and would continue to support Hong Kong athletes, including new sports facilities and a joint HK$300 million fund with the Hong Kong Jockey Club charitable trust to enhance the international competitiveness of the city's athletes.