Elderly call for better relocation arrangement in redevelopment of Tai Hang Sai Estate
By: REN Ziyi David

Edited by: Simran Vaswani

2021-10-29
Residents in Tai Hang Sai Estate rallied on Thursday with demands for proper placement and more communication with the developer and the government in the redevelopment of Tai Hang Sai Estate.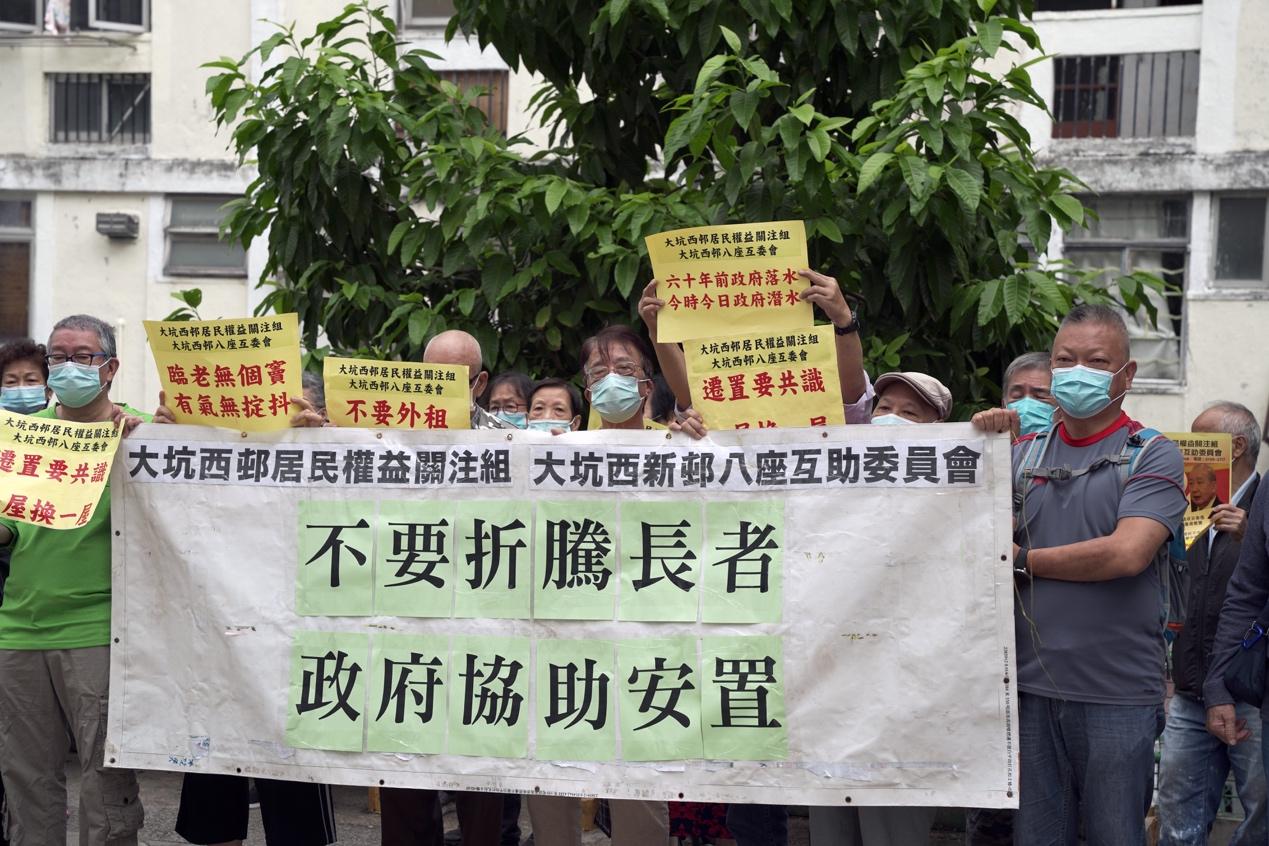 "One house for one house, relocation needs common agreement," the crowd chanted before Man Lok House.
"We do not object to the reestablishment, but we demand to reach an agreement with the company to care more about the seniors," said 64-year-old Tam Kwok-kiu, the former District Councilor of the region. 
"The government should carry the responsibility to help our relocation."
"There are no specific numbers of the money or any detailed application scheme," said 50-year-old resident Robert Chang. He works for a trading company and owns other properties.
Apart from the subsidy problem, Chan said a larger concern is for the elderly to find places to live. He once asked a senior resident to rent a house with his grandchild, but the landlord still rejected the deal. 
"The landlords probably worried about the old passing away in their properties, which would affect the future businesses," he said.
"I could barely move anything downstairs. Not to mention no one would rent a house to me at such an old age," said 90-year-old Pun Git-fong, who has been living in the estate since its completion. 
The government and the company offer residents six months to move out of the buildings, according to the reestablishment plan. 
"It is not enough for the residents. We have more than 1000 people, and it's impossible to find enough house units within the period," said Au-yoeng Git-zan, commissioner of Residents' Right Concern Group of Tai Hang Sai Estate. 
Established in 1965, Tai Hang Sai Estate provided 1600 units for the tenants for 56 years. None of the eight buildings in the estate has elevators, while 32% of the residents are above 65 years old, according to the Census of Sham Shui Po District Council in 2011.
"I spent five minutes going upstairs. Going up is getting harder year after year," said Pun. 
"My toilet collapsed early this year, and many residents reported leaking water two weeks ago when the typhoons hit hard," said Au-yoeng, "the buildings are just too old."