Virus or Starvation: Hong Kong Suffers Under Worst Pandemic Wave
By: REN Ziyi David

Edited by: Editor

2022-03-28
Empty stores try to tempt customers with 20% discounts. Many more are closed, their shutters covered in thick dust. The previously bustling streets only see a handful of pedestrians, many of whom have sealed themselves off with surgical masks and even goggles. This was an early day in March in Hong Kong, in the third Covid-19.
Hong Kong is suffering from the worst wave of pandemic with more than a million reported cases. Despite being one of the world's wealthiest cities, the Covid-19 fatality rate exceeds 0.5%, marking the highest death rate in the world right now. The city has shuttered bars, closed down late-night dining and schools, leaving hundreds of thousands without a job and little in terms of a safety net.
According to Sze Lai-shan, deputy director of the Society for Community Organization, the situation is dire. "As most people can get vaccinated, the chances of dying from Covid are low, but starving to death is higher now," said Sze, whose group helps 40,000 people a day.
Hong Kong's unemployment is surging amid the semi-lockdown, reaching 4.5% in February, the highest since September 2021.
The government is trying to stem the disaster in the city, with Financial Secretary Paul Chan Mo-po recently announcing a sixth round of the Anti-pandemic Fund of HK$27 billion to subsidize affected employers and individuals. Some HK$3billion is reserved for unemployment support. Eligible applicants must be unemployed for 30 consecutive days to get one-off HK$10,000 subsidies. Lam said to expand unemployment subsidy on Friday to benefit up to 1.3 million workers, covering three-quarters of workers earning HK$30,000 per month.
Ronald Kong, 50, was recently temporarily laid off from his job at a barber shop, and had to make ends meet by giving haircuts in his apartment. While he's back at work now, he's deeply unsettled about the city's direction.
"I need to pay the house loans and the school fee of my child," said Kong, who has a 14-year-old daughter in junior high school.
Each barbershop could apply for a subsidy between HK$10,000 and HK$50,000 considering the number of employees, but Kong said the money would not benefit him as the company needs to cover sky-high rental fees. The only subsidy he could get is HK$10,000, which isn't enough for him.
Unlike some other rich cities, the Hong Kong government doesn't provide stable unemployment insurance. In the UK, the unemployment benefit offers up to £71.70 (HK$738) per week.
Kong put the mirror in front of a tiny school desk. He bent to adjust the height and powered on the shaver. His wife, preparing bacon in the kitchen, told him to keep the floor tidy. "Yes," he said loudly, while putting on the apron to his one and only customer of the day, who came to his house to get a haircut. Tightly gripping the scissors, he carefully carried out his work under the dim light.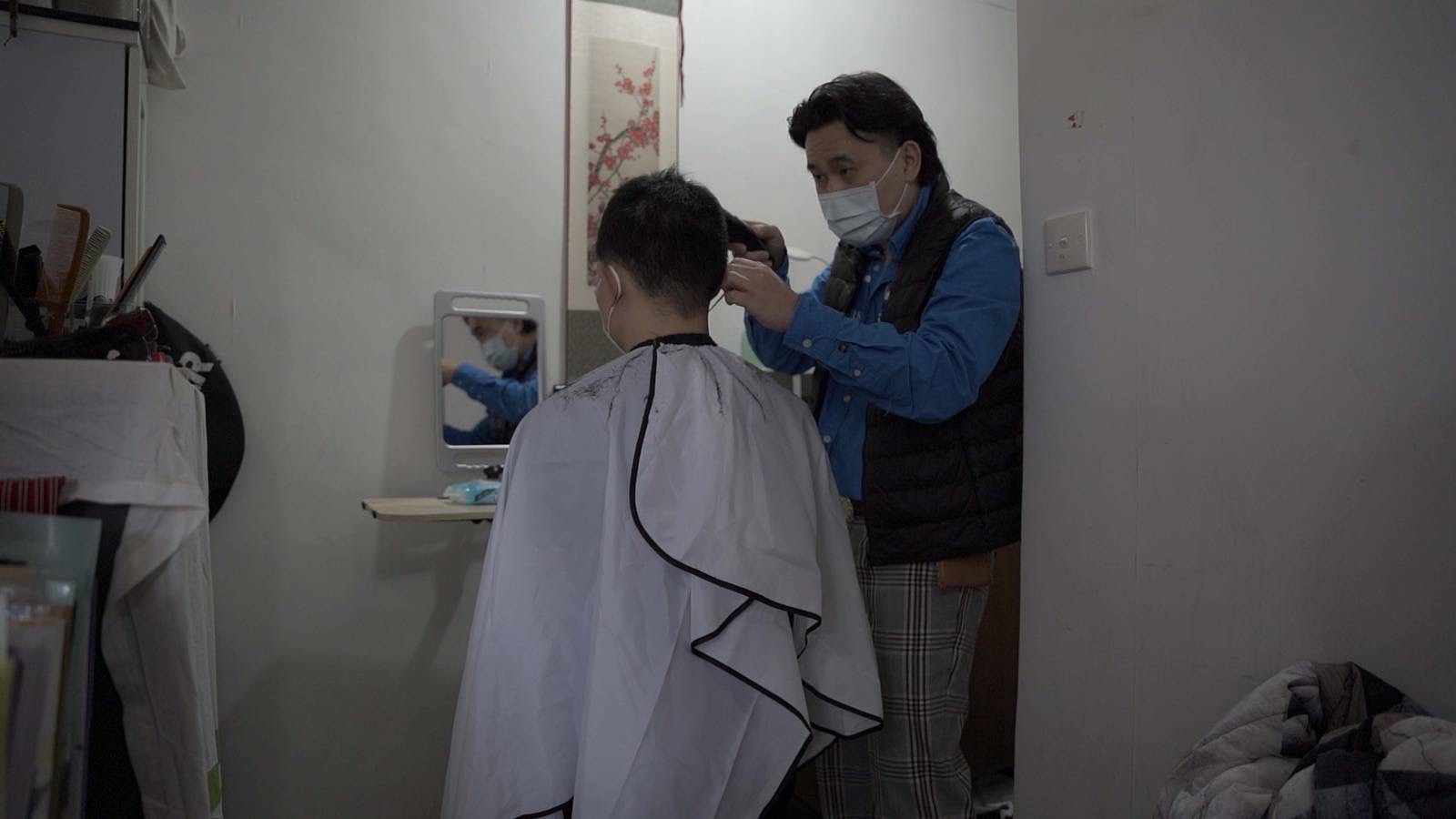 "This (work from home) only slightly supports me," he said, "I could only be a food deliverer as a part-time job, but I don't know how long I can do it as barbershops may open at any time."
Sze said the part-time employees are the most vulnerable to losing jobs if employers cut the budget when facing financial strains. The number of jobless people in the food and beverage services sector surged from 14,500 to 32,200, while the unemployment rate escalated to 8.1%.
The NGO that Sze worked for is still operating in Central without many staff getting infected, while some were off from operations, which add difficulties for the jobless to seek help.
Sze said SoCo offered monthly assistance to roughly 40,000 people, which is far from enough. More than 11 parties proposed HK$8billion to HK$15billion of the government budget as unemployment support.
Professor Chong Tai-leung, an economist of the Chinese University of Hong Kong, said the city needs "to open up as soon as possible."
The city is now also facing a mass exodus of people. More than 71,000 left Hong Kong last month, and an additional 54,000 were recorded by mid-March, which dragged the seasonal labor force down by 11,000. The brain drain is likely to have a long-term impact.
The city is now seeking to pivot. The government will lift the ban on nine countries on April 1, with quarantine days shortened to seven days. Further easing measurements would start on April 21, including relaxing social distancing and night-time dining.
Barber Shops reopened on March 8 without pre-notification. Although back to work, Kong expressed deep uncertainty about his life.
"Hopefully no more laying-off, and hopefully everything comes back to normal," he said.