Policy Address 2022: Elderly Health Care Voucher enhanced but still lacking
By: Yuchen LI、Man TSE

Edited by: Kylie Wong

2022-10-19
To improve the Elderly Health Care Voucher Scheme, John Lee promised to expand its coverage and amount, while increasing the quota for the Residential Care Homes for the Elderly (RCHEs) next year.
The voucher amount would be raised to HK$ 2,500 per year from the previous year's HK$2,000. The voucher amount in 2018 and 2019 was HK$ 3,000.
The enhanced Scheme allows holders of such vouchers' spouses to enjoy its services. New services include medical procedures by audiologists, dietitians, clinical psychologists and speech therapists.
This could potentially help grassroot elderly, according to Yuen Wai-kee, assistant professor of the Department of Economics and Finance at Hong Kong Shue Yan University.
Elderly aged 65 or above with a Hong Kong Identity Card or equivalent identification by the Immigration Department are eligible to use the Voucher for primary healthcare services.
"Some elderly people need long-term medication, such as Cholesterol medicines. This would cost them around HK$ 200 per month. This could be a substantial amount, burdening the more grassroot elderly," said Yuen.
However, this is only adequate for elderly who require basic medical care or occasional clinical visits, Yuen added. For more advanced or private healthcare, they should seek other governmental subsidies, Yuen explained.
"The HK$ 2,000 Elderly Health Care Voucher is insufficient, because we often feel unwell and need diagnosis and medications. The voucher will soon be used up after going to the clinic about 4 times," said Lam Bing, a 82-year-old lady.
Lam lives in a public housing estate in Mei Foo. On 13 Oct under typhoon signal number three, she went to Pei Ho, a charity restaurant in Sham Shui Po for a free meal.
Chan Cheuk-Ming, founder of Pei Ho revealed most elderly use the voucher for healthcare purposes, making the budget for daily expenses tight.
Oxfam suggests that the government increase the Old Age Living Allowance from HK$3,915 to HK$4,400 monthly to ensure the basic and dignified living of the elderly.
The government combined the Normal Old Age Living Allowance and Higher Old Age Living Allowance last year, allowing all eligible people to receive HK$3,915 per month. But this year the government only decided to enhance the amount of the Health Care Voucher Scheme.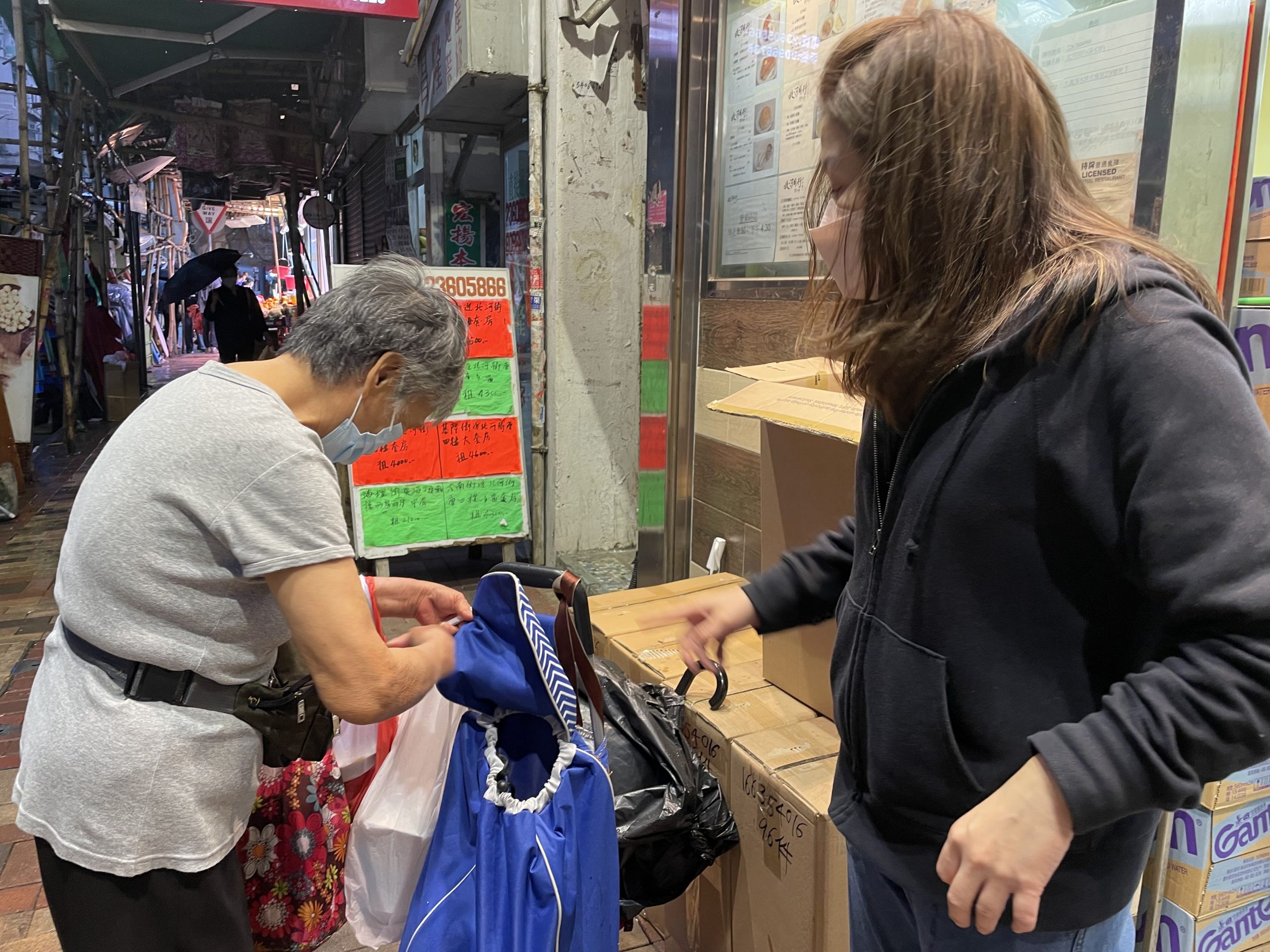 Lee Kin-kwok currently receives HK$ 3915 monthly under the Old Age Living Allowance, but this is far from enough for the 85-year-old. He sells rags from his Sham Shui Po stall to cover his monthly rent of HK$ 4,000.
"I need money to eat, to live. I have to come out and sell these things even at this age." said LI.
Linda Ma, a volunteer at Pei Ho, noticed the hardship of these elderly.
Ma believes the living expenses of the elderly surged under the pandemic as masks, disinfectants and medical expenses boosted living expenses. This worsened their living conditions, Ma said.
"If they weren't struggling, these elderly people wouldn't still be working hard for money at this age," said Ma.
Apart from insufficient subsidies, the quantity of RCHEs is also unsatisfactory, Ma said.
The government promised to provide an additional 6,200 subsidised seats by the end of 2027. Out of these quotas, 2,600 will commence service next year according to today's policy address. But this is far from enough for the 25,000 people on the waiting list.
The average waiting time for these elderly people is about 20 months, Ma explained.
"Some elderly people may not be able to wait for a place even after they have totally lost mobility," said Ma.
Yuen pointed out the government has not directly increased funding to address these issues because land and staffing issues have not yet been resolved.
"If we don't solve the land and staffing issues and just keep allocating funds, the problem will get worse.
"It may lead to a scramble for manpower among the RCHEs, but the fact is that there are not enough carers in Hong Kong to take care of these elderly people at this stage.
"The Government will be more cautious about appropriations in view of these issues." Said Yuen.