Hang Seng Index slightly sinks as China protest fear
By: Nga Ying LAU、Mei Ching LEE

Edited by: Rex Cheuk

2022-12-02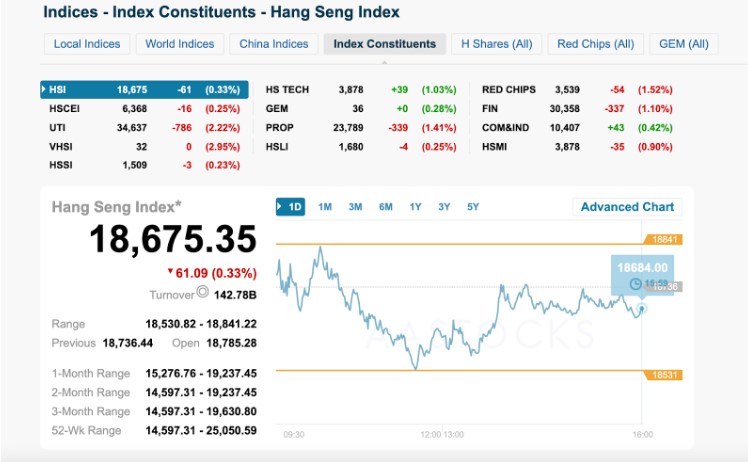 Hong Kong stocks closed at a slight drop on Friday, ending the three-day increasing trend since Nov. 29 as the prolonged zero-COVID policy triggered protests across China.
The Hang Seng Index closed at 18,675 today with a drop of 0.3% and the Hang Seng Tech Index declined 0.3%.
The index soared by 26.6% in November, which recorded the highest monthly gain since October 1998 as China eased some COVID measures and introduced policies helping developers with financial difficulties.
The best-performing stock for today was AliHealth, a blue chip stock with an increase of 9.7%, followed by 7.1% by Haidilao, and 3.1% by Meituan.
AliHealth announced the interim results from April to September on Monday, stating the total revenue of Q2 and Q3 has bounced by 22.9% compared to the end of Q1.
The worst performing stocks were the semiconductor manufacturer SMIC with a decrease of 5.4% and followed by 4.5% in CG Services. 
Real estate stocks generally contracted, with Longfor Group and Country Garden recording a 4% slip respectively.
Moody said in a report released on Thursday that after China softened the limit of excessive borrowing to developers, the future for the property sector "remains negative on sluggish demand and weak contracted sales." 
Other major Asian markets all slumped as investors await the release of a fresh batch of US jobs numbers due on Friday. Shanghai Composite Index closed at 3,156 points, dipping 0.3%.
RMB rose to a new closing high in two weeks, with the closing of an increase of 411 basis points.
"China may accelerate its exit from the zero-COVID policy, which will benefit their market currencies and the rebound of assets," said Barclays Bank.