Are robot journalists real?
Automatically generated news has flooded the financial news industry. But is it as good as the stuff produced by humans?
by Alfred Lam and Daniel Ma
News is not necessarily written by humans nowadays. Computers can do the job too.
Computer programs such as Automated Insights and Narrative Science have been helping news agencies like the Associated Press (AP), Forbes and Yahoo to automatically generate articles based on financial data and sport competition results.
AP now produces nearly 4,300 earnings stories per quarter – a 14-fold increase over its human efforts, according to Automated Insights.
Ryan Thornburg, associate professor at the University of North Carolina at Chapel Hill, said there is an initial capital cost  in using such software, but then the cost of generating the articles gradually falls. The snag is that the articles may not be of high quality.
Thornburg added that with technology, journalists who only have basic skills such as describing traffic accidents and recording videos will have difficulties finding jobs.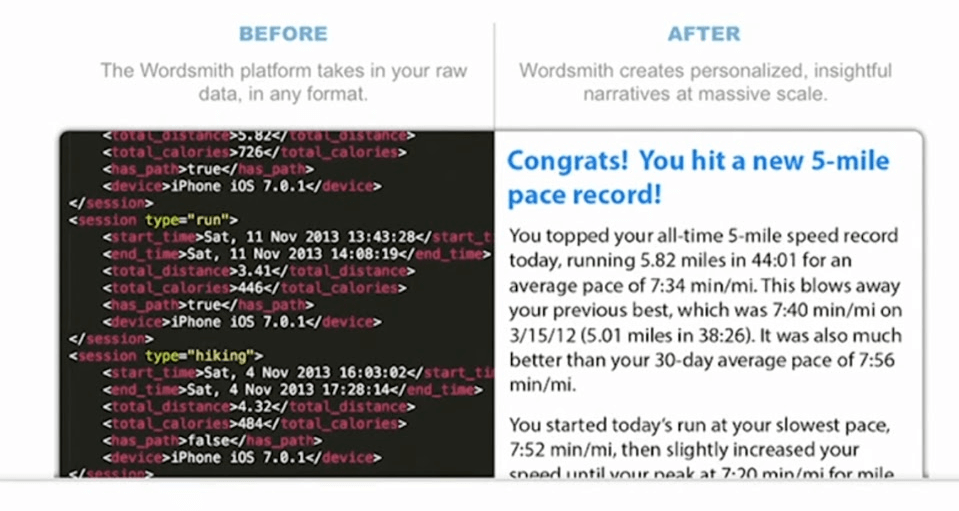 "Students who want to be journalists need to learn how to make good use of these tools," Thornburg added. "They need to go more in-depth than the algorithms can."
He said only a few companies can compete in the area of automated article generation since most news organizations do not have a big enough to justify the use of such a technology.
But Tom Grundy, editor-in-chief of Hong Kong Free Press, said the technology is immature. "You still need human beings for the analysis and context."
Grundy said machine journalism needs many more years to move beyond writing dumb stories and start to produce quality journalism or important investigations.
The chief editor said he did not know any news organizations in Hong Kong that adopt this technology.
"Basic stories like financial results and sports – let's do them with machines. But there will always be jobs for journalists." He mentioned the Oscar-winning movie "Spotlight". "It takes loads of labour and time to look into records and evidence from different sources. It can only be done by humans."
Mr. Grundy said he would not be surprised if technology gets more prevalent in the future in Hong Kong when the cost is reduced, the quality improves and there is greater accessibility.
He added that these technologies are very tempting because of the funding crisis in journalism  Nobody knows how to monetize news when everybody expects it for free.
Mr. Grundy was sure that technology can reduce costs and journalists' burden in doing basic stories that involve numbers, but he was skeptical if it can do more than that.
Nicolas Giraudon, deputy sales and marketing director of Agence France-Presse (AFP) said that CNN once made the mistake of reporting that the former Prime Minister of Singapore Lee Kuan-yew was dead because they made wrong conclusions from social media by analyzing trends online.
James Kotecki, head of communications at Automated Insights, said  technology aims to extract stories from data. "The technology is not a competitor to reporters. Having the program to do investigations is not our aim," he said.
Kotecki quoted researcher Christer Clerwall's study "Enter the Robot Journalist: Users' perceptions of automated content" to point out software-generated content is considered objective.
He said Automated Insights's program Wordsmith, which uses synonyms to make each article unique, produces over a billion stories every year.
"Using programs to research for stories is a direction that companies can work on," said Kotecki. "Concierge news service is big business too. If the technology has readers' personal information, it can personalize articles for them."
Thornburg said concierge news service can help news content meet the right readers at the right time, unlike a tangible newspaper with fixed content.
"I think the technology will become more prevalent in the future, but I am not sure what form it will take," said the assistant professor.
(Edited by Choco Chan)