The Man Dances with Fire and Knife
by Erica Chin and Kobie Li
When we talk about circuses, what pops into your head? A large tent with red and yellow stripes? Or clowns who juggle? Although Hong Kong Circus has neither, Chris Leung, the chairman shows his passion for performing arts through fire knife dance.
Unlike most of the circus performers, Chris knew nothing about the circus at his early age.
"I had never imagined myself to be a performer when I was working as a dresser in the backstage," he said.
Chris worked with his wife, Margaret, a dancer of the circus in the theme park. He had no idea to perform on the grand stage before his interest in fire knife dance sparked.
The immense interest towards this mysterious and danger art is triggered after Chris watched fire knife dance performance by chance for the first time.
"I was amazed by how they control fire, the so-called 'symbol of danger', so smoothly and easily," he said.
Chris then started to practice the dance by using artists' baton during spare and lunch time. Later, he went to Hawaii twice for competition and to learn fire knife dance from a Tahiti fire knife master, Joseph Cadousteau.
The road for him to learn was not smooth at the beginning. Chris recalled that it's not easy for him to pick up a new skill at the age of 20.
"Many people, even some of my family members said that I am too old for it and it is too dangerous to learn fire knife dance."
However, the objection from parents did not discourage him. The scars on his body marked the hard work he paid to practices and the spirit of never give up.
Things began to change after years of efforts, circus started to gain popularity. His family members changed their attitude to recognize his effort by appreciation and collecting photos of him from newspapers.
The success of the man is also attributed to his lifelong partner, Margaret, who support him to chase for his passion.
"Margaret taught me a lot, for example, how to count the beats in music and how to express my emotions in performances," said Chris.
Margaret also feels grateful that she had met Chris.
"It would be a dilemma if I have to choose between being Chris's work partner or his loved one," Margaret said. She mentioned that although it is difficult to balance work and personal life, the workplace is where they get to know each other and their love began to sprout and growth.
The couple works together with the goal to introduce knife fire dance to everyone in Hong Kong.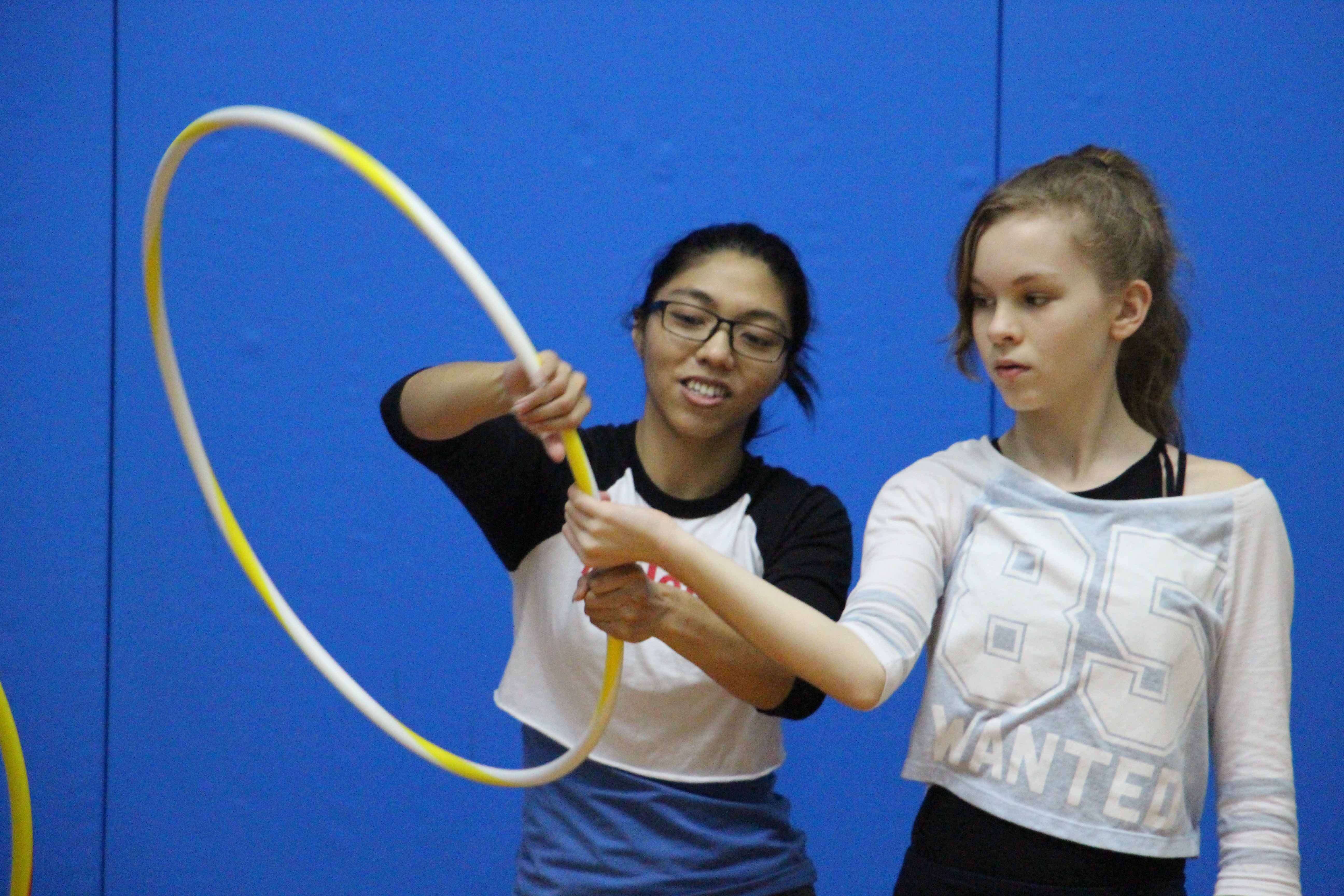 In 2015, Hong Kong Circus received the funding of the Community Cultural Ambassador Scheme from the Leisure and Culture Services Department. Chris and his wife went to 16 public housing estates to promote the fire knife dance.
As the pioneer of the circus in Hong Kong, Chris hopes to pass on this traditional Samoan cultural dance to the young generation.
"I have the endless passion for providing a platform to let people learn and exchange skills in circuses," he said.
Maggie Chan Yuet-ka, 18, is a student of Chris who has been trained at Hong Kong Circus for two months. Her dream is to become a flyer performing on a trapeze.
"Hong Kong Circus leads me to the right track to chase my dream," she said, "I get training for both physically and mentally."
Maggie feels thankful to Margaret who encourage her to "believe in believing" when people look down at her.
"Chris contributes a lot to the development of circus in Hong Kong, he even sacrificed his personal time for it," Maggie said.
Talking about the social perception that one's passion often withered after it becomes his career, Chris does not agree with it.
"Follow your heart and walk your own way, it is not necessarily a case when you know how to balance between work and life," he said.
Although Chris failed to do some high-level actions due to the decrease in flexibility with age, he does not consider it as a limitation to his dream.
"It does upset me, but I have never thought of giving up because I believe in the power of perseverance. If I failed to do the stunt after a hundred times of practice, I will practice for a thousand or even one million times," said Chris.
His passion towards fire knife dance never wilts.
(Edited by Winnie Ngai and Connie Fong)