29 years since Tiananmen massacre: dozens went for an "alternative" vigil while 115,000 gathered at Victoria Park
By: Katherine Li、Ezra Cheung

Edited by: Holly Chik、Angie Chan

2018-06-05
While 115,000 people gathered at Victoria Park for the 29th time to memorialise the 1989 Tiananmen Square crackdown in Beijing, some 150 people participated in an "alternative" vigil outside the Cultural Centre in Tsim Sha Tsui yesterday.
This June 4th Tiananmen Square candlelight vigil took place at the Hong Kong Cultural Centre in Tsim Sha Tsui in front of the Freedom Fighter statue on Monday evening. It aimed to serve English-language speakers in Hong Kong, said organisers Michael Mo Kwan-tai and Danny Chan Tsz-chun. It was the first June 4th vigil in Hong Kong that was conducted entirely in English.
"We want to hold this event at an international standard, to show the people of Hong Kong that we have not forgotten," said Mr. Mo, who was also an Amnesty International Hong Kong campaigner previously.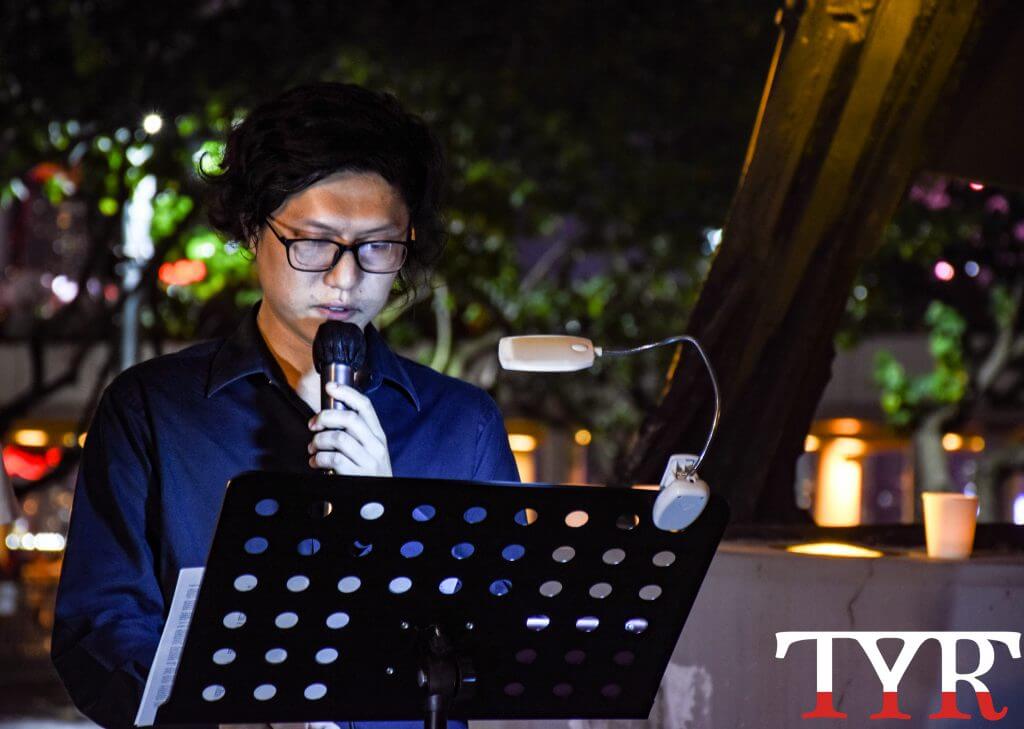 This alternative vigil focused on raising international awareness and supporting "the souls who fought for freedom beyond our borders". The organisers urged the international society to investigate into the June 4th Incident.
Mr. Mo read aloud poems written by Liu Xia, widow of dissident Nobel Peace Prize laureate Liu Xiaobo. He also paid tribute to Su Changlan, Chinese women's rights activist who supported the 2014 Umbrella Movement and "the hundreds of human rights lawyers and activists still facing jail terms, surveillance and harassment on a daily basis".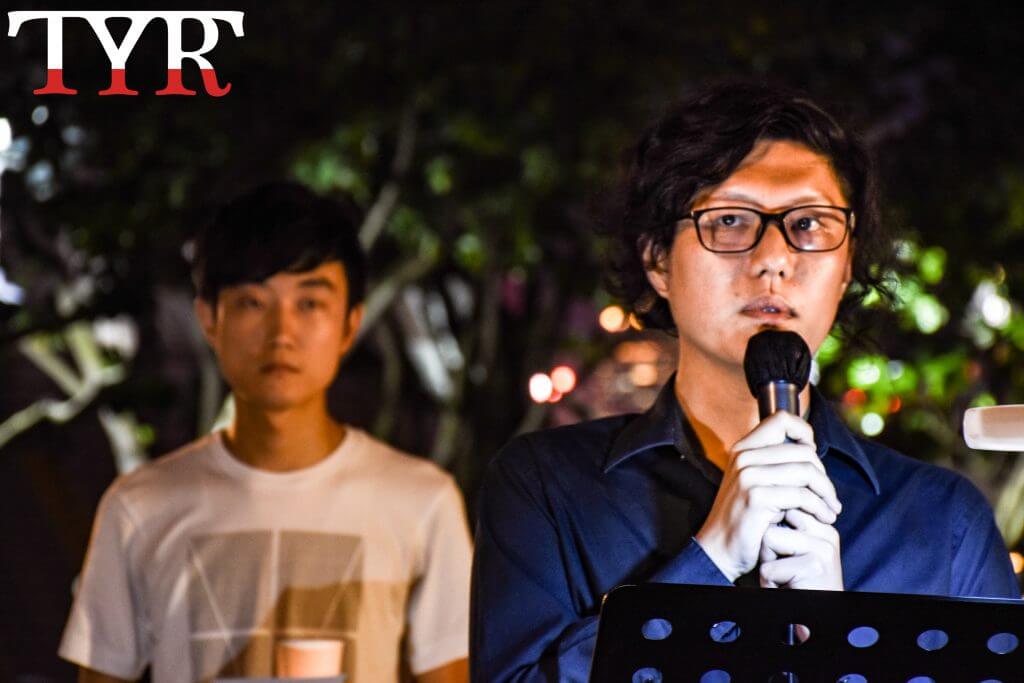 Regarding the fact that many still question whether it is helpful or necessary for this alternative vigil to be held, Mr. Mo felt that the operational goals of the Hong Kong Alliance in Support of Patriotic Democratic Movements of China increasingly dissuaded younger people from attending the candlelight vigil at Victoria Park, a conundrum which could be solved with an alternative vigil.
"I can actually feel that there are more young faces here," Mr. Mo said. "The turnout number is also close to what I have expected since many participants come and go."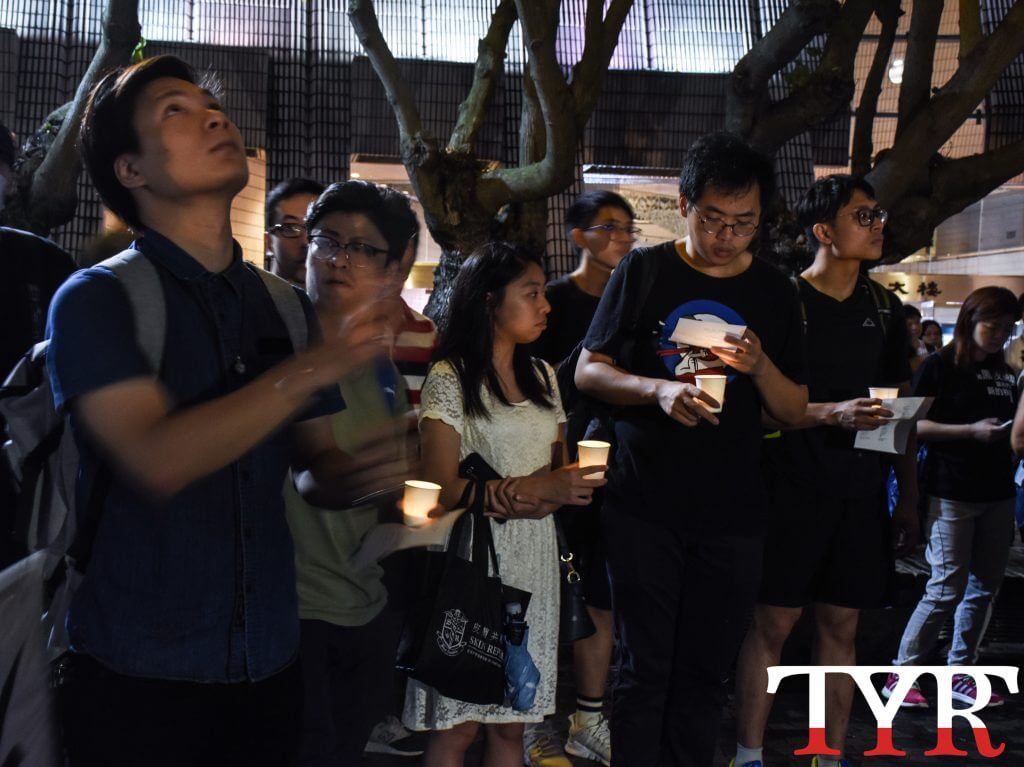 Sean Tierney, lecturer in communications at both the Chinese University of Hong Kong and the Education University of Hong Kong, attended the vigil at Cultural Centre. He thought it was necessary to have a new approach to handle the June 4th Incident.
"I also appreciated that the Tsim Sha Tsui vigil was not 'approved' by the police or the Leisure and Cultural Services Department," said the lecturer who has been living in Hong Kong for three decades. "If a government tells people 'you can gather or protest here at this place, for this many hours,' then why should the government listen to people?"
"It will be easier for their message to reach more people because of English," Mr. Tierney explained the reason why he had chosen the alternative. "I cannot say if it will gather more attention. The Causeway Bay vigil has a 29-year head start!"
Hong Kong local Tango Chan came to the alternative English vigil with his foreign friends. He said that would be easier for his friends to understand because the one at Victoria Park is primarily held in Cantonese and Putonghua.
Hong Kong-born Japanese Yuuji Izumo also shared with The Young Reporter the reason behind his reluctance to join the candlelight vigil in Causeway Bay. "I don't like the way in which the Hong Kong Alliance in Support of Patriotic Democratic Movements of China binds the identity of Hong Kong people and the democratisation of China together," he said.
"There are different ethnic groups in Hong Kong," Mr. Izumo added. "And they do not necessarily love China."
However, in the vigil at Victoria Park, some attendees whose first language is not Cantonese were unaware of the fact that there was an alternative vigil held in English. Some also expressed their unwillingness to attend a separate vigil.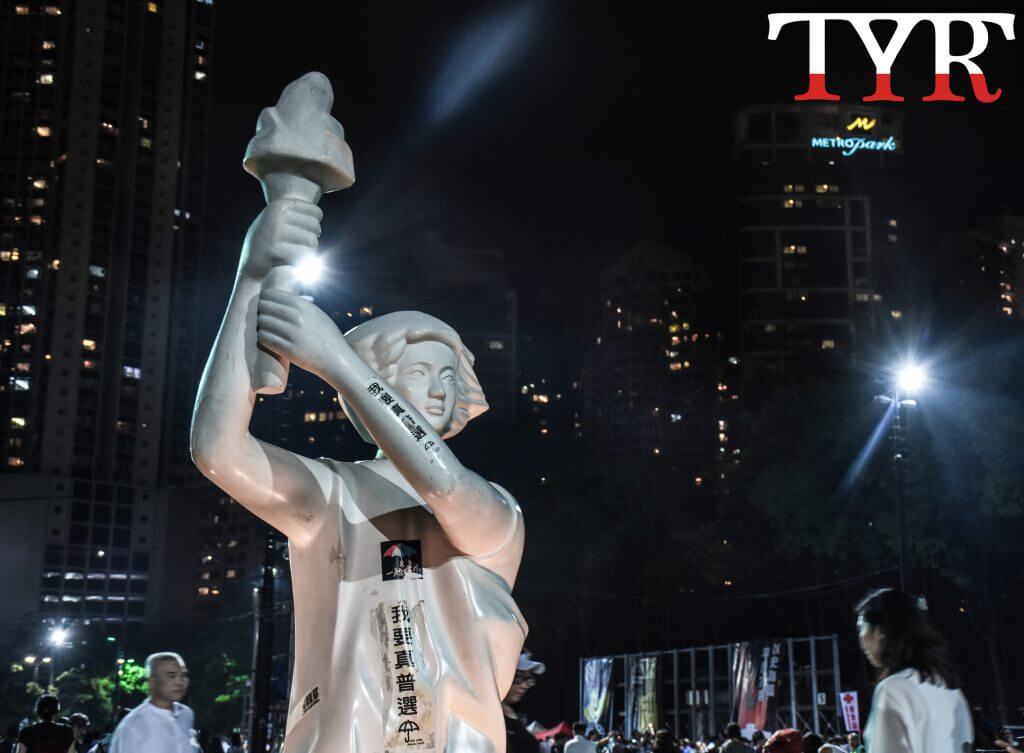 "I am not aware that there was an alternative vigil in Tsim Sha Tsui," said Andrew Ireton, a first-time attendant of the June 4th vigil who has made Hong Kong his home. "If there is another one next year, I will definitely consider attending the vigil in English."
Peter Sabine, who has been attending this event in Victoria Park for the past 12 years, said that he did not know about the vigil held in English.
Still, Mr. Sabine said he was not interested in attending it because he thinks that everyone should gather in one place, so that political divide amongst the parties in support of democracy can be set aside.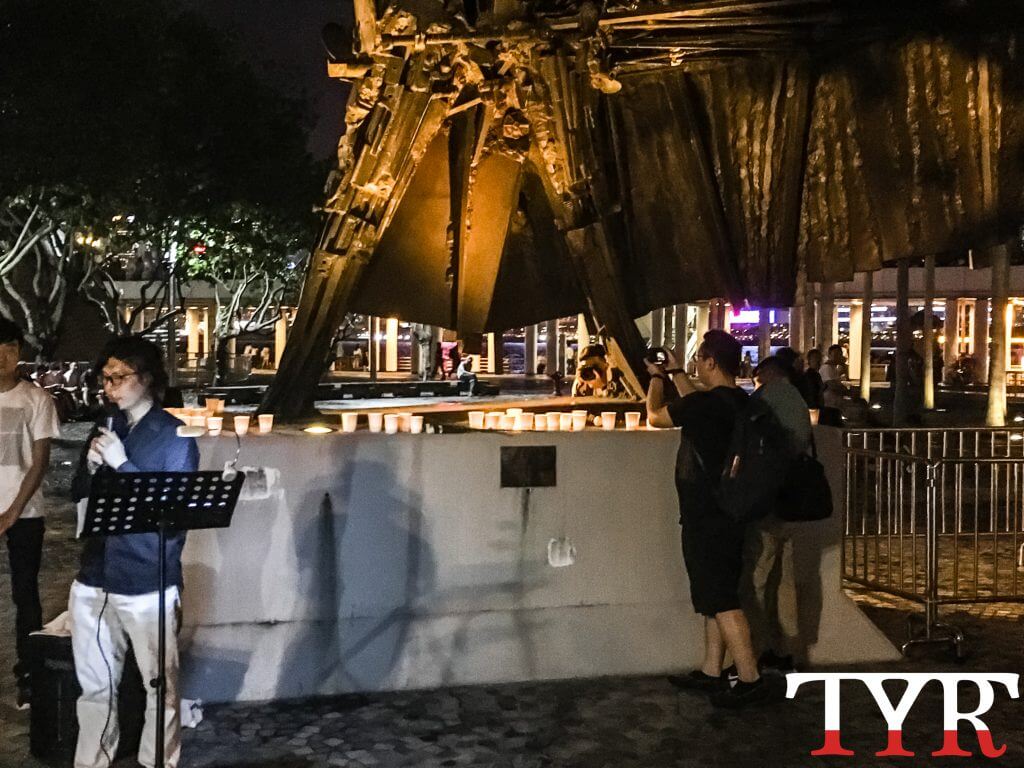 "As I feel increasingly a part of Hong Kong, I come here because I've been reading about dwindling numbers and I want to make sure that this event does not get forgotten and disappear," said Swati Maheshwari, a former television journalist from India who attended the event for the first time.
"I had no idea about the alternative vigil in Tsim Sha Tsui, but even if I did, I still would have wanted to come here for that it is important to show solidarity," Ms. Maheshwari added.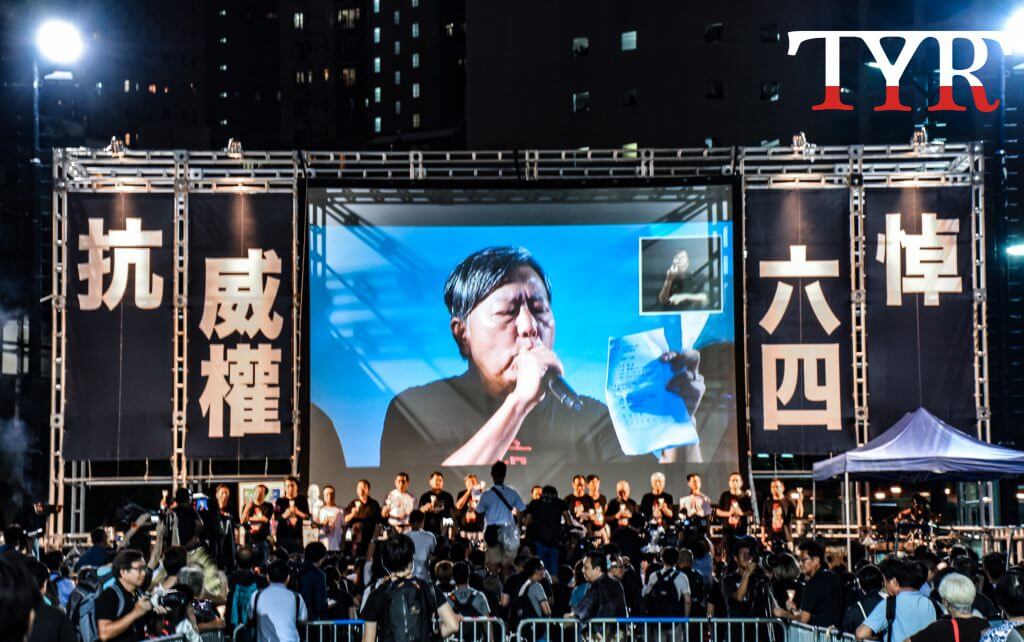 The annual Victoria Park commemoration has been organised by the Hong Kong Alliance in Support of Patriotic Democratic Movements of China since the first anniversary of the 1989 Tiananmen Square crackdown. Some of the Alliance's objectives are to rehabilitate the 1989 pro-democracy movement in Beijing and to end China's one-party dictatorship. The vigil is the most attended, reported and discussed event amongst all the annual memorials and commemorations.
An alternative vigil was first held by activists in 2013. From 2014 to 2016, rallies were also organised by nativist political party Civic Passion in Tsim Sha Tsui, Sai Wan Ho, Kwun Tong, Tuen Mun and Tai Wai respectively. The group claimed they had attracted more than 7,000 participants in 2014.