Running marathon in the dark
By: Oasis Li

Edited by: Hailey Man

2019-02-22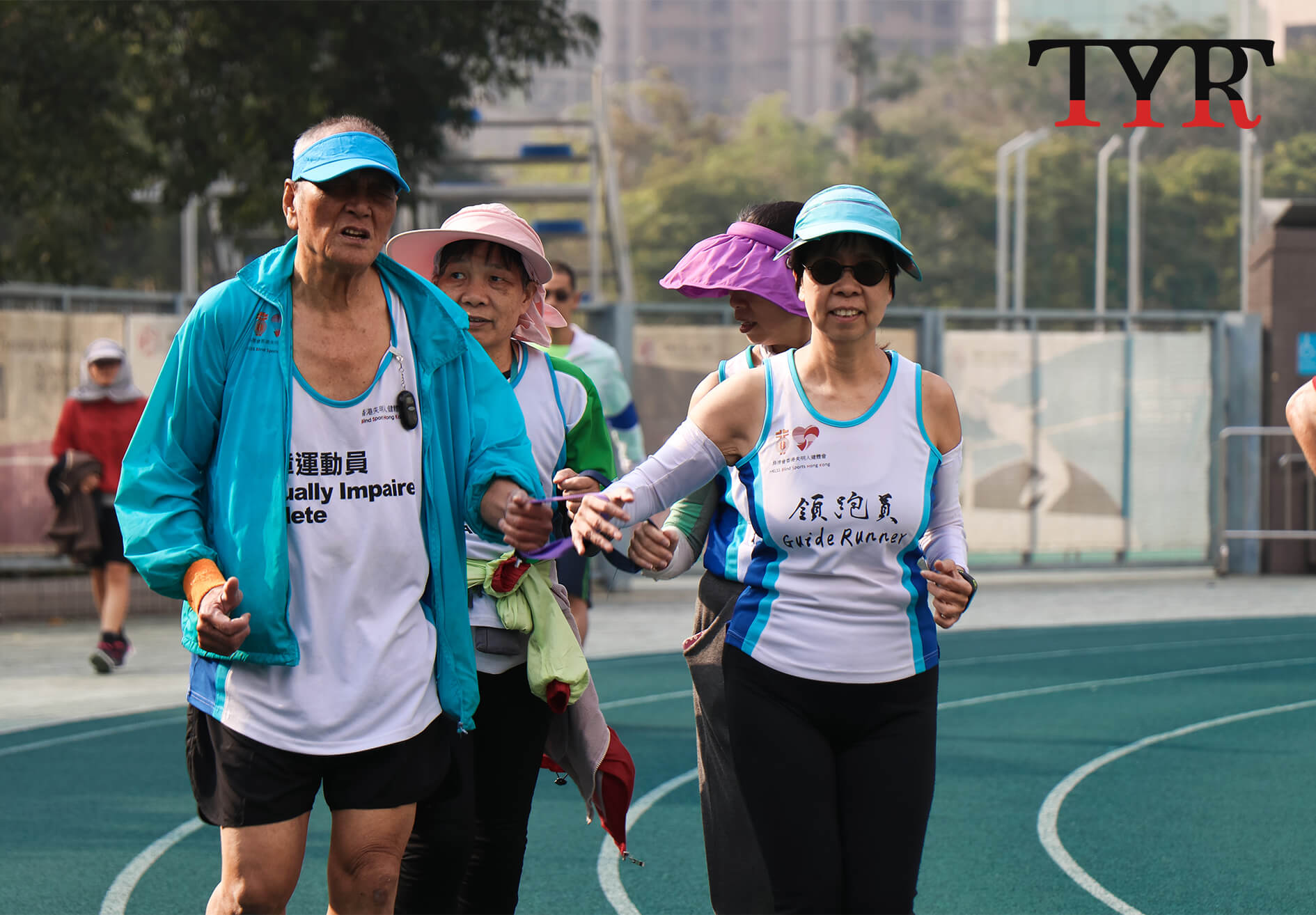 Nearly 3000 runners are limbering up for the Lunar New Year half marathon at Sha Tin Sports Grounds, including over 200 visually impaired athletes. Cheung Chi-pang, a 56-year-old man who lost his sight 20 years ago, has well prepared for the upcoming 21 kilometres long race.
"My families are always supportive of my identity as an athlete," he said, "they are so amazed that I can run for such a long distance."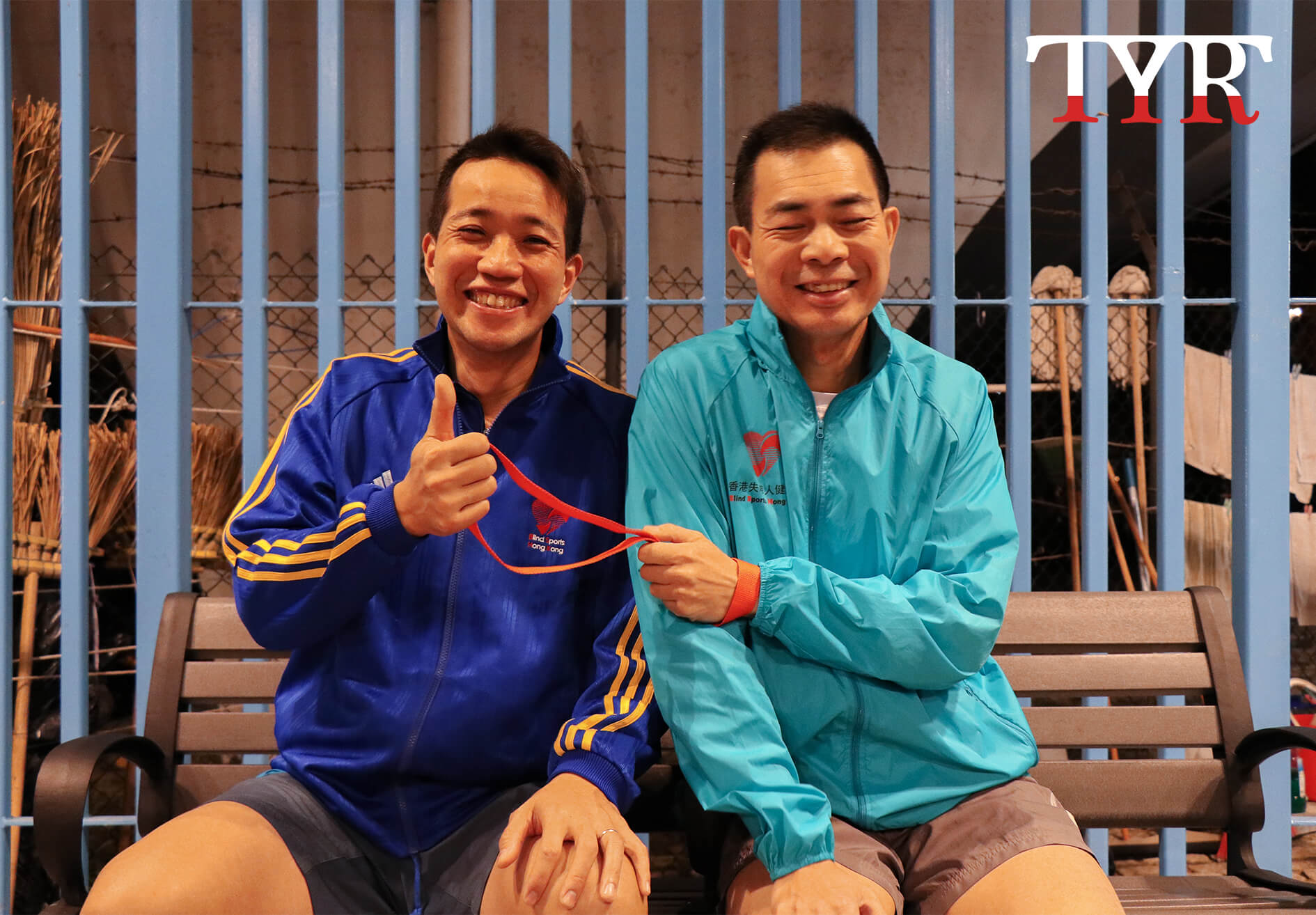 Mr. Cheung hardly did exercise until 2009. He still remembers the painful experience when he first gave running a try. Despite running as slow as possible, his atrophied muscles could not bear and the shins were severely inflamed as a result. After leaving the hospital, he strengthened his muscles by picking up exercise gradually under the guidance of coaches.
As a member of Blind Sports Hong Kong(BSHK), Mr. Cheung takes part in the training three times a week and has fulfilled 17 full marathon races in the past decade. He considers that making efforts to practice is the most essential skill to run better.
"An effective communication with the guide runner is also important, we will have perfect teamwork if we can tacitly understand each other," he added.
The younger man standing beside Mr. Cheung is Gary Wong Chi-sun, a policeman of Hong Kong and one of the 300 guide runners of BSHK. It is the second time that they cooperated to run the marathon.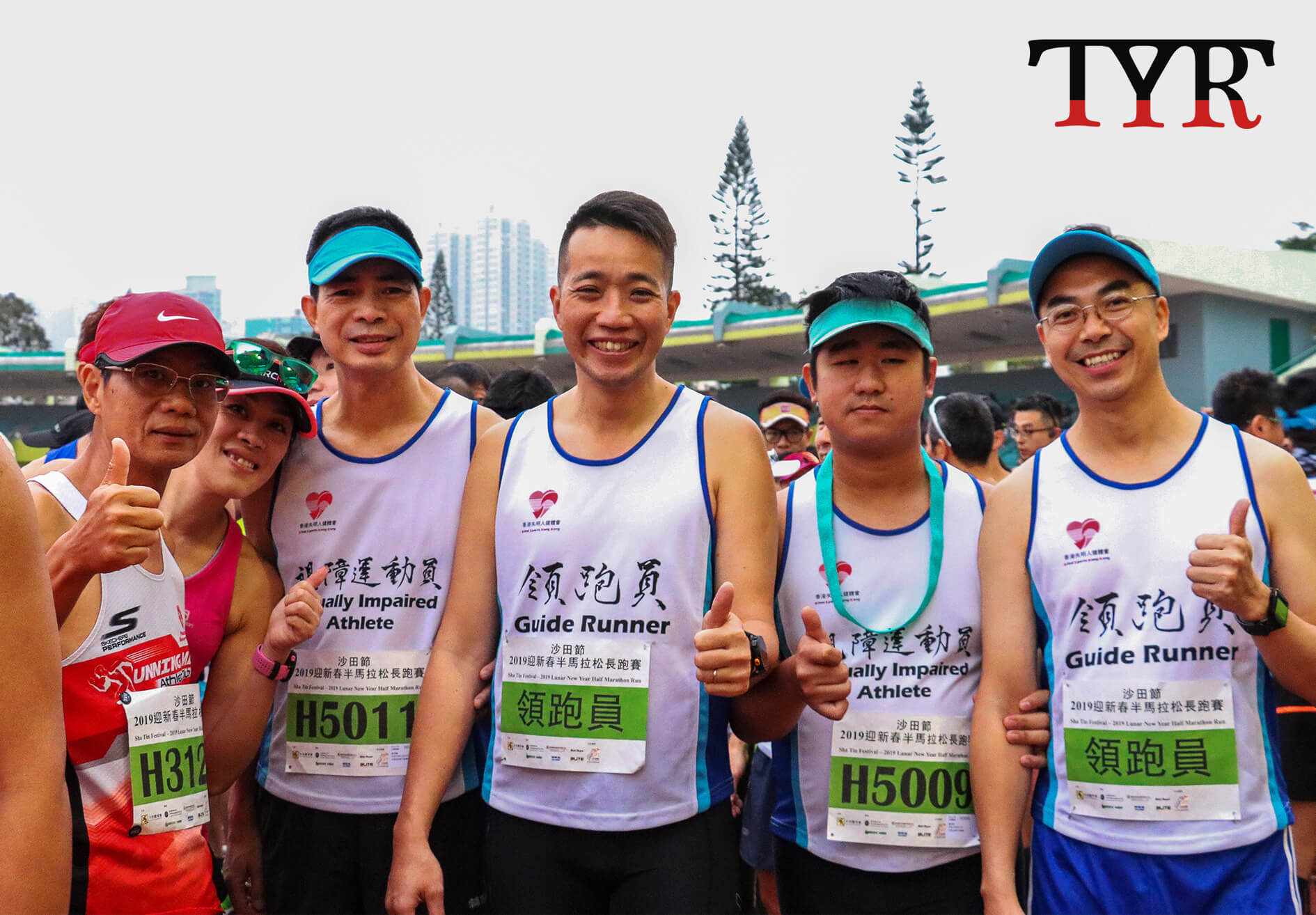 He happened to meet visually impaired athletes with special logos on their vests and volunteered to be a guider five years ago. The guide runner shows the orange hand strap that connects the visually impaired runner with him and explains that it helps the athlete to distinguish the direction when running.
"This hand strap can also be regarded as the establishment of a relationship," he added.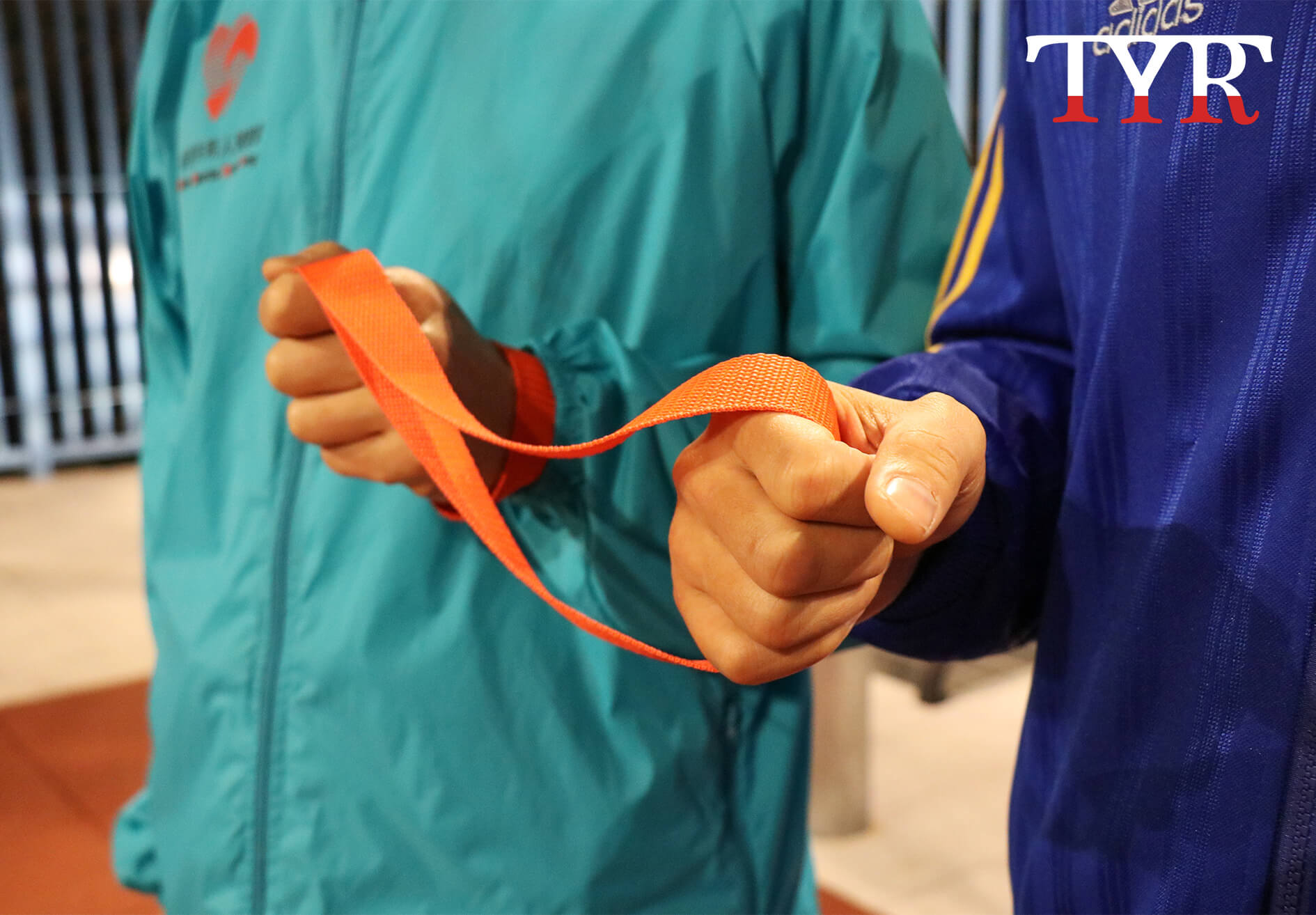 The guide runner said that it's their responsibility to inform runners the road conditions by using the clock orientation throughout the run.
"For example, twelve o' clock represents the straight ahead, nine o' clock represents the left hand and three o' clock represents the right hand," he explained, "In this way, we can guide the runner to avoid an obstacle or take a turn.
Mr. Wong found himself learn a lot from the visually impaired runners and hopes to integrate the life at the organization as a part of family activities. He always takes the whole family to the training field, blindfolds his 10-years-old son after the warm-up and encourages the little boy to run as other visually impaired athletes.
"I think it's a good way to teach children what perseverance is," the young father said, "They may not give up easily in the future when thinking of blind people running the marathon in the dark."
Mr. Wong is also a coach who is in charge of BSHK' s training at Tseung Kwan O on each Saturday morning. After testing the blood pressure, both visually impaired athletes and guide runners need to finish the warm-up, running and weight training within two hours.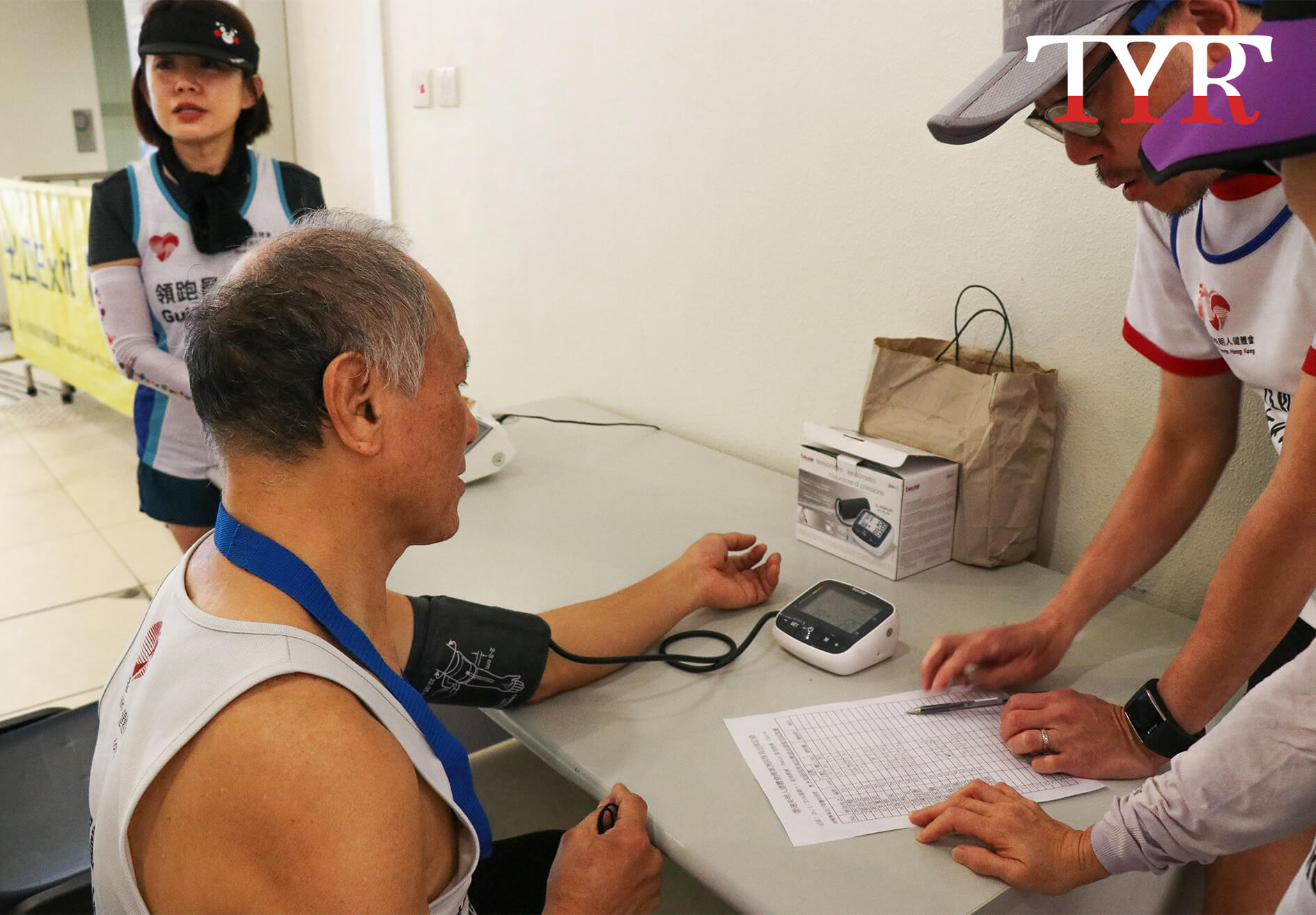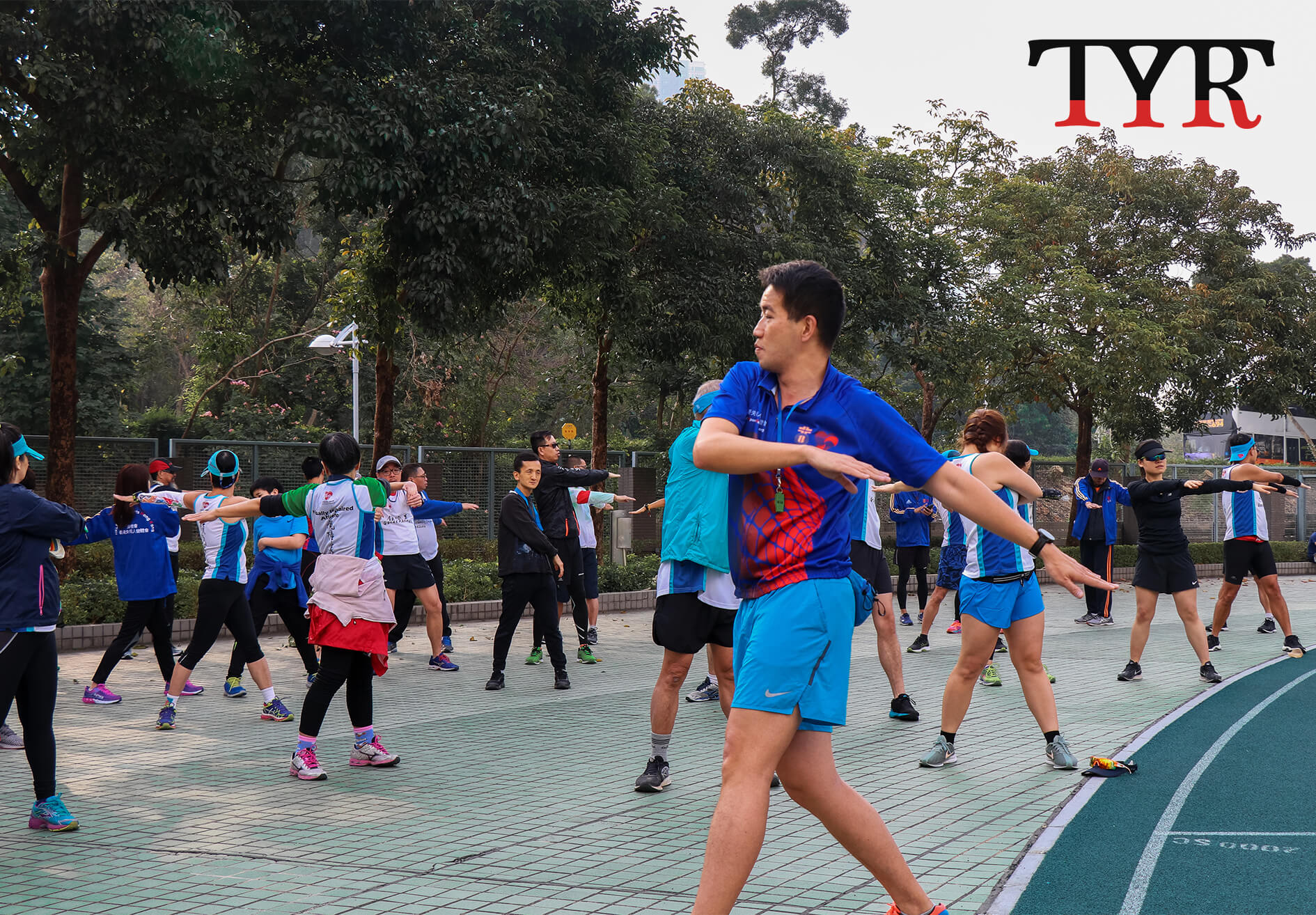 Lam Wai-keung, the chairman and head coach of BSHK, said that he helped a visually impaired organization to build up a small running team ten years ago. That is the embryo of BSHK, a non-governmental organisation that was formally founded in 2018.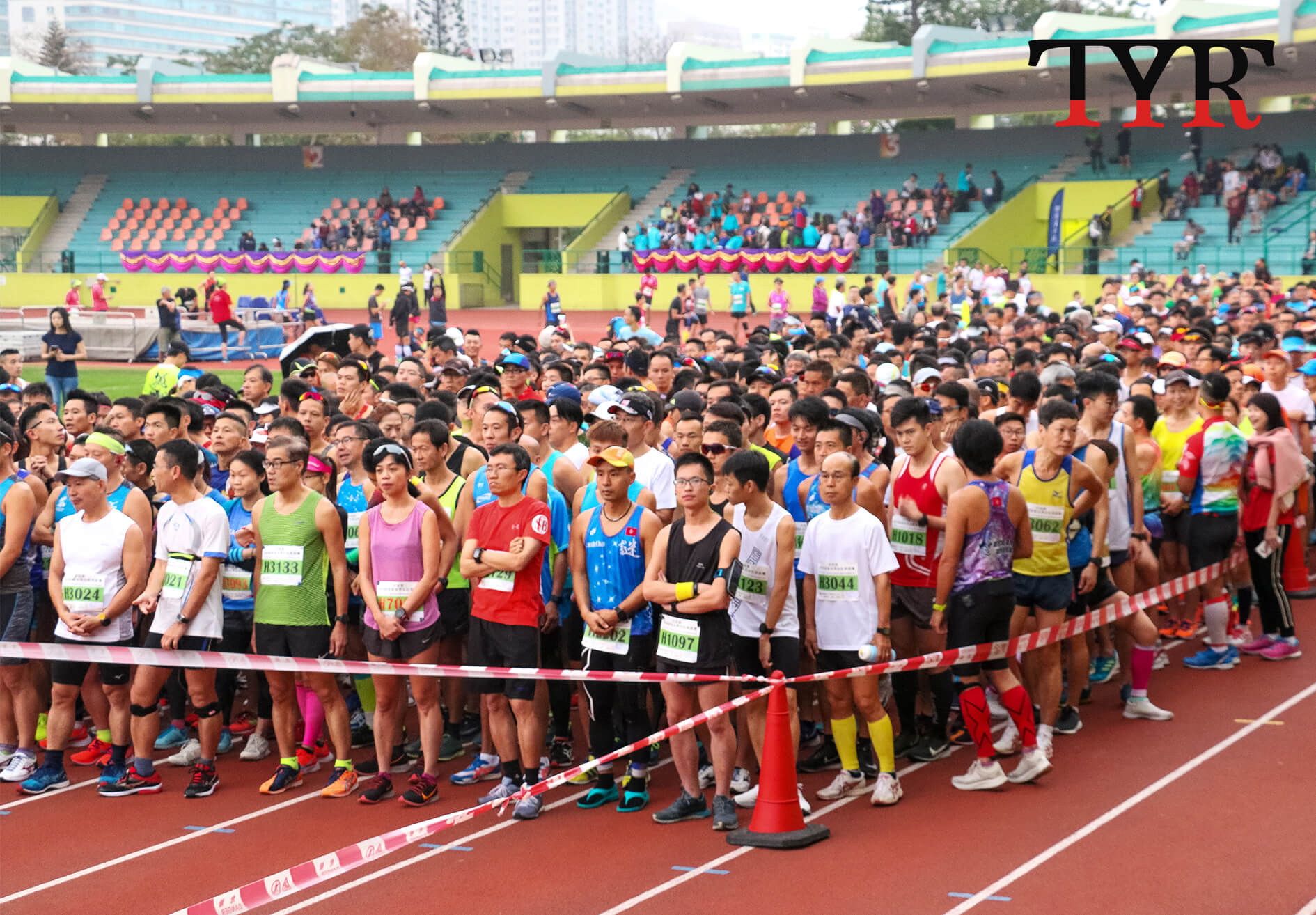 Now, the organization has nearly 160 visually impaired athletes, more than 300 guide runners and 30 coaches in total. Mr. Lam is a Physical Education teacher in a middle school and used to be the coach of Hong Kong track and field team. He trained competent guide runners into coaches to maintain the normal training of four teams in Hong Kong.
Besides teams at Shek Kip Mei, Sha Tin, Tuen Mun and Tseung Kwan O, he plans to establish the fifth team at Hong Kong Island at the end of this year. There are over 174 thousand visually impaired people in Hong Kong, the chairman said that the organization was making every effort to build up as many teams as possible to serve more people with visual impairment.
"We guide them from walking quickly to running slowly. Then encourage them to run a little bit longer," he said, "We will help them to apply for 10K, half and full marathon if they are willing."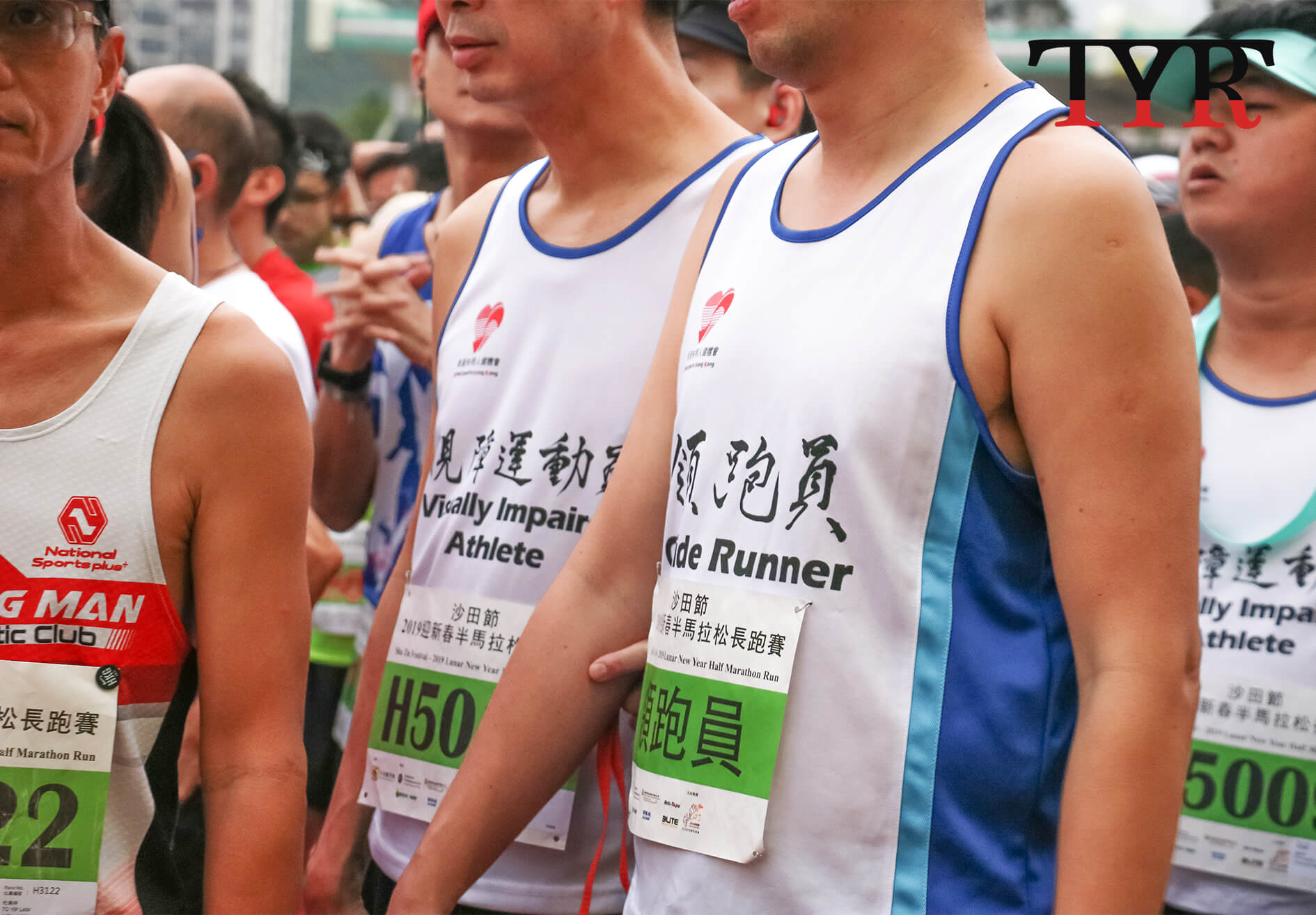 According to Mr. Lam, the organization needs to raise money to sponsor visually impaired athletes in competitions. He said that the organization has covered the entry fee of athletes for all races in Hong Kong in the past years.
The organization arranges runners to participate in international competitions in foreign areas every year, such as Taiwan, Japan and Malaysia. Athletes need to pay a fraction while the organization is responsible to cover the most part of entry, transportation and accommodation fee. Last year, BSHK got 200 thousand Hong Kong dollars to sponsor more than 75 pairs of athletes for the 2018 Chia Nan 2nd Charity Marathon.
"Even if we cannot get enough sponsorship, the organization can still achieve the goal of toning up bodies of visually impaired people," the chairman said optimistically, "Every coach and guide runner is voluntary to provide free training."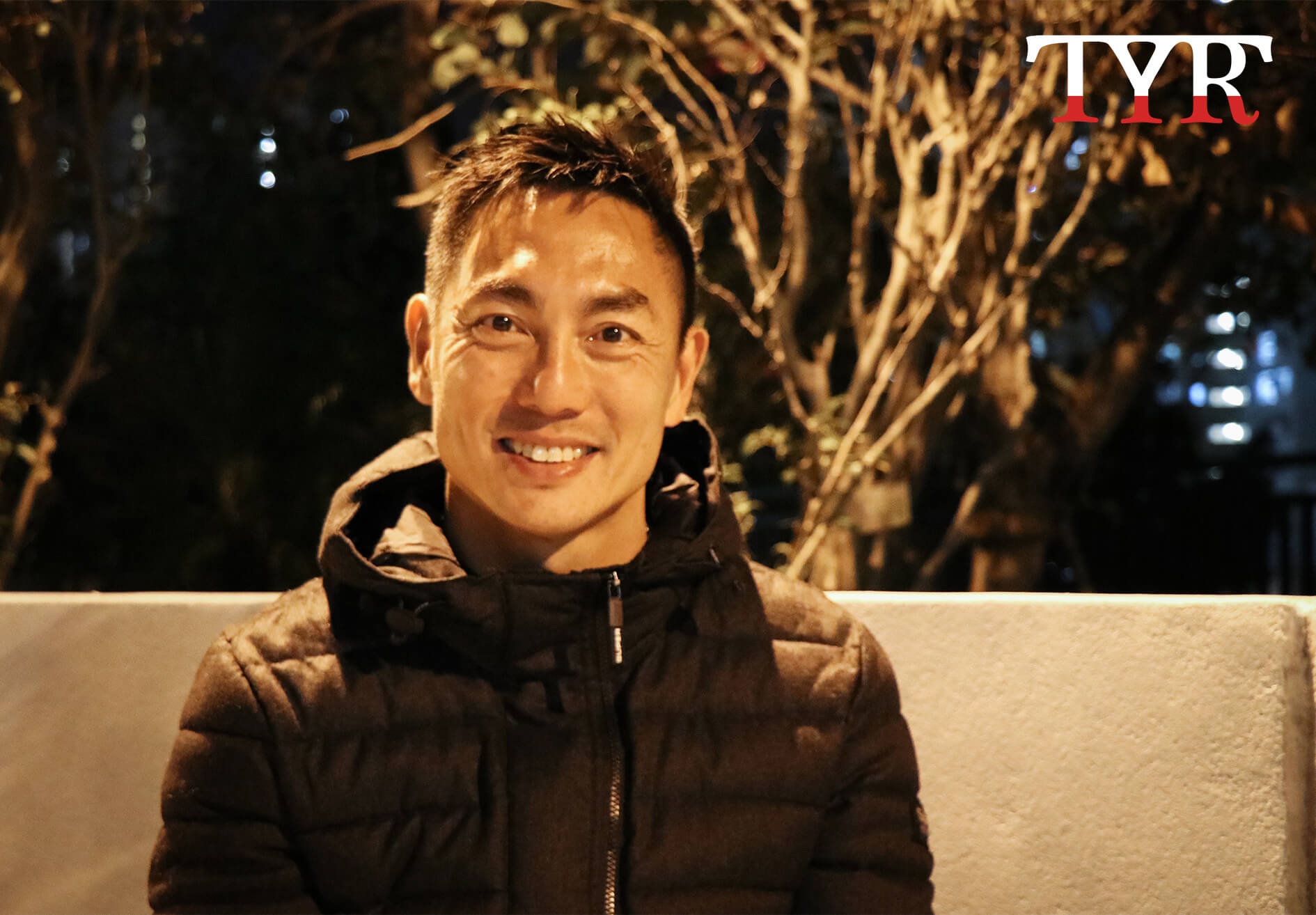 Mr. Cheung headed to Chia Nan, Taiwan with the organization and won the third place in the full marathon race last December. The achievement really motivated him. However, the prize itself is not the most important thing for him.
"It's not that necessary to compare with others," he said, "It's enough if I can do better than what I did yesterday."
He recalled that he used to be an introverted person who always isolated himself at home without saying a word. Running has given him more confidence in every aspect of his life.
He is currently a full-time guider at a blindness experience museum, teaching people with normal vision how to get familiar with the surroundings by touching, smelling and hearing. He gradually became a talkative man after chatting a lot in the training and working.
"Listen, now my voice has a sense of sunshine without depression," said the visually impaired runner.