Live streaming commerce triggers another wave of consumption
By: SHI Ruoshui

Edited by: Sunny Sun

2020-12-16
"Don't go to sleep! Stay awake! Or you will lose hundreds of yuan!" A male live anchor yelled on the mobile phone screen, banging a gong.
It was already 12 o'clock in midnight. Li Yuqing, a 20-year-old student from The Open University of Hong Kong, couldn't take her eyes off this live stream conducted by Austin Li, one of the hottest live streamers in mainland China.
Meanwhile, another 100 million viewers tuned in, just like Ms Li. 
Ms Li spent one thousand yuan on skin care products, pet supplies, and some luxuries from this live streamed show. It lasted seven hours and closed 8.809 million orders worth 690 million yuan.
"Live streamers can provide more detailed explanations of the goods during live streaming, as well a lower price and more freebies," Ms Li said.
This year's Double Eleven sales promotion activities have kicked off from Oct.21, with series of live broadcasts on the mainstream social media platform. According to the E-commerce live broadcast daily rank, the total revenue created by top 20 sales anchors from Taobao, Kuaishou, Tik Tok, reached 7.26 billion yuan on one day. This sales model releases huge consumption potential, drives the resumption of production and work, and becomes an important engine of traditional consumption and economic transformation.
In February, over 30,000 sales anchors accessed to Taobao per day. The number of new anchors can see 100%. New live broadcasts as well as a 110% year-over-year growth in Gross Merchandise Volume.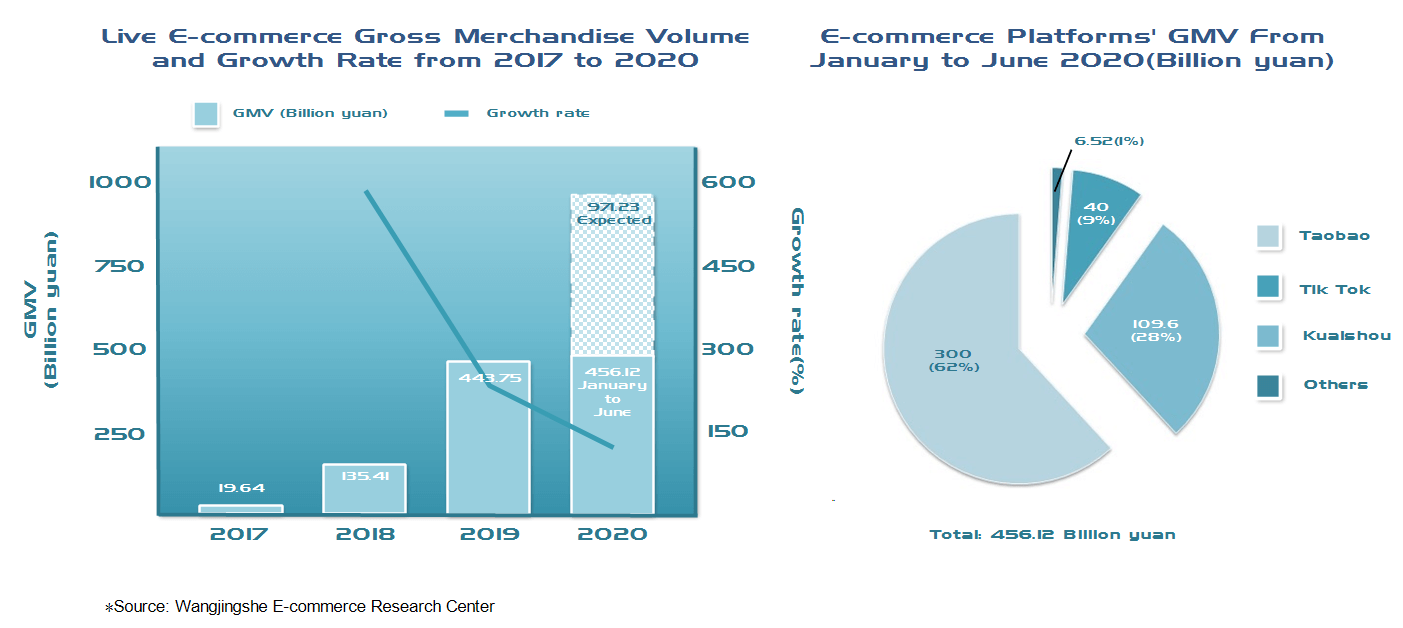 According to Sohu, Guangzhou Live E-commerce Research Institute and data provider Datastory jointly issued a live e-commerce trend report. The report reveals that the average of live views peaked in July at 2.4 million, but the average of each live streaming sales was at the lowest point during the same period, and turned to rise in August. It indicated that there were bubbles in July when many audiences crowded into live e-commerce, who were curious about this new consumption pattern but do not purchase. Now the market returns to rationality and the optimisation of efficiency instead of the extensive layout. 
Zhang Zhian, who is the professor of Sun-Yat-Sen University and the director of Guangzhou Live E-commerce Research Institute, thinks that e-commerce live steaming is a new field for most enterprises to survive and develop in the 5G era.
"The spread of 5G technology has made it possible for the Internet to transmit large amounts of data at high speeds without delay. And the new world with strong interactivity and high personalisation is bound to emerge," he said.
In traditional consumption patterns, consumers need to pick a favoured item among a huge number of goods, while in the live e-commerce, goods are provided by the merchants to reach consumers through live streaming. Based on user portraits, sellers can analyse consumers' needs through user portraits and directly deliver the information of commodities according to their preference. 
Fu Yingyin has been working as a sales anchor to sell cosmetics and jewelries at Tik Tok during the epidemic for two months. After three days of training, she started live streaming at least 6 hours per day.
"Businesses can get more benefits through live e-commerce, because the consumers who stay to watch the live streaming are definitely interested in the products and have desire to buy," Ms Fu said.
In order to attract consumers, sales anchors usually use some techniques to introduce or describe the goods.
Ms Fu said that they would initially entice customers to stay in the studio with cheaper products, and then sell them at a higher price. They sometimes lie about the price of an item, then lower the price later, pretending to provide a deep discount to attract consumers to purchase. 
In a research done by Iimedia, the intuitive display of goods is the most attractive factor for live e-commerce to consumers. Liu Yitong, a 27-year-old full-time sales anchor from Tik Tok, said that they would try these products in front of camera to let consumers have a sense of experience since they can just see the items through the screen. 
To stimulate their consuming desires, she would give suggestions about how such clothes can fit in different occasions and body shapes, "Once you have listed these points, think about how to describe in vivid language. For example, we would say 'you will be the center of attention in this dress', or 'it is perfect for a sorority party'."
In order to retain customers, there is a "golden three minutes" rule for live streamers, which requires their language and description to be extremely lively and interesting, otherwise the consumers may leave the live streaming.
Another sales tactic is called sec-killing within limited time, which will lead to impulse shopping of consumers due to the nervous atmosphere.
"It is cumbersome that I have to get my refund until the end of prepayment period after making the full payment.  " Li Yuqing complained.
As an emerging industry, live e-commerce is not highly professionalized now, most of the sales anchors have limited knowledge about e-commerce.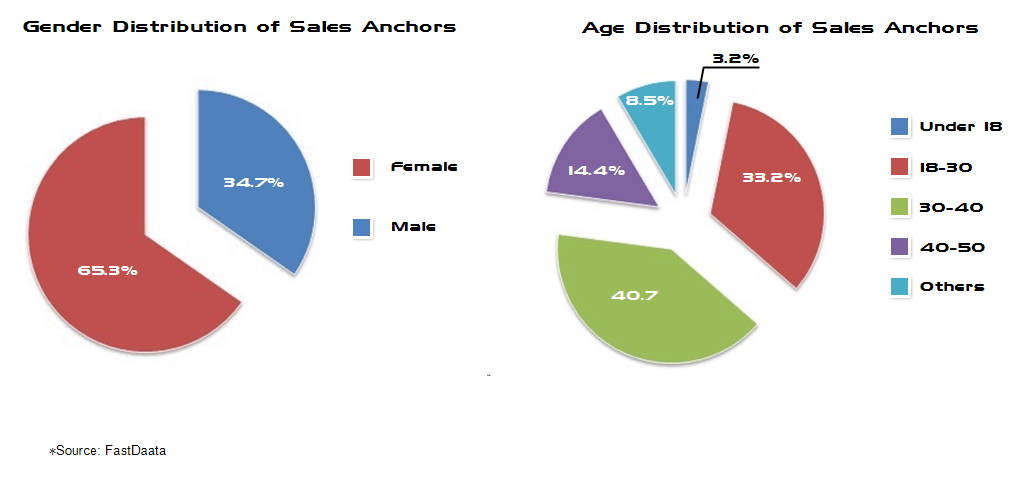 During the thee-day course, Ms Fu only received general broadcasting training demonstrated by other anchors, including how to read from a teleprompter and practiced what they learned with new account. The techniques in a live streaming can only be learned through imitation and previous experiences. 
Professor Zhang suggested that the government should establish a systematic talent cultivation system and promote vocational certification, so as to enhance the professionalism and level of live streamers.
Mr. Zhang said that live e-commerce is becoming a cultural phenomenon more than a simple economic issue since it integrates "items" and "people." He described live e-commerce as 'humanity in the digital era'.
"Also being a part of online shopping, the presence of human in live streaming commerce is magnified compared with traditional online shopping when sales anchors' description of goods is essential in the process of selling. As a new industry, it is expected to become an important engine for future economic development," he said.