Party rooms break COVID rules
By: Alice Wan、Anson So、Michael Wong、Willison Mak

Edited by: Jasmine Tse

2021-02-15
The Hong Kong government ordered the closure of party rooms on Nov. 22  last year after an outbreak linked to the Starlight dance club. But some party rooms have since neglected the restrictions and continued to serve customers as usual.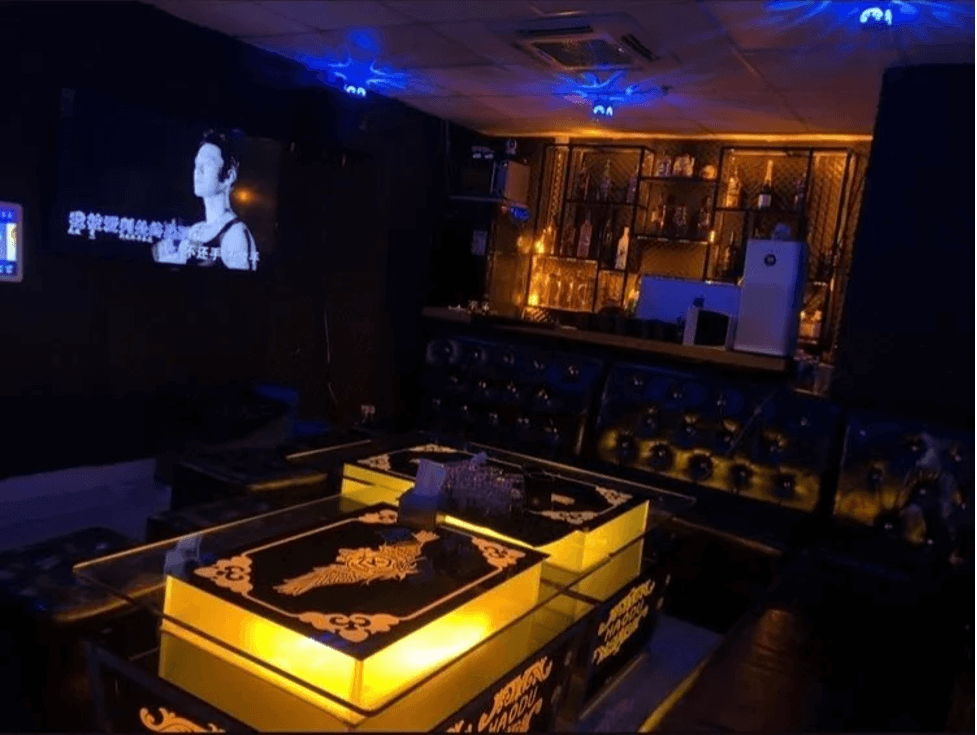 Kt_partyroom in Kwun Tong, for example, is still available for booking through direct messaging on Instagram.
"If you do not want to reserve the entire room (minimum price of HK$2,500) and there is another group of customers that night, you need to share the room with strangers," the owner told us on the chat.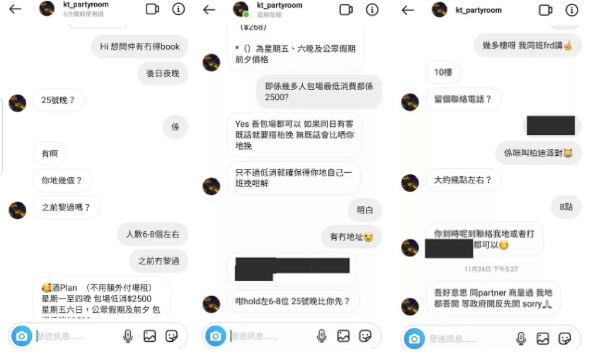 We were able to make a reservation for Nov. 25,  three days after the government suspension on party rooms took into effect.
Some party rooms allow more than four people to gather despite ban
According to the Hong Kong Party Room Association Facebook post, a party room is defined as a place that provides physical indoor venues for short-term commercial lease for private events, be it leisure, entertainment or for business. The premises must be independent premises with a fixed address in Hong Kong. Reservations are necessary and they must not provide accommodation, food or sell alcohol.
Government regulations on party rooms have changed repeatedly since March, but many ignore the rules and allow more guests than what's legal under social distancing measures.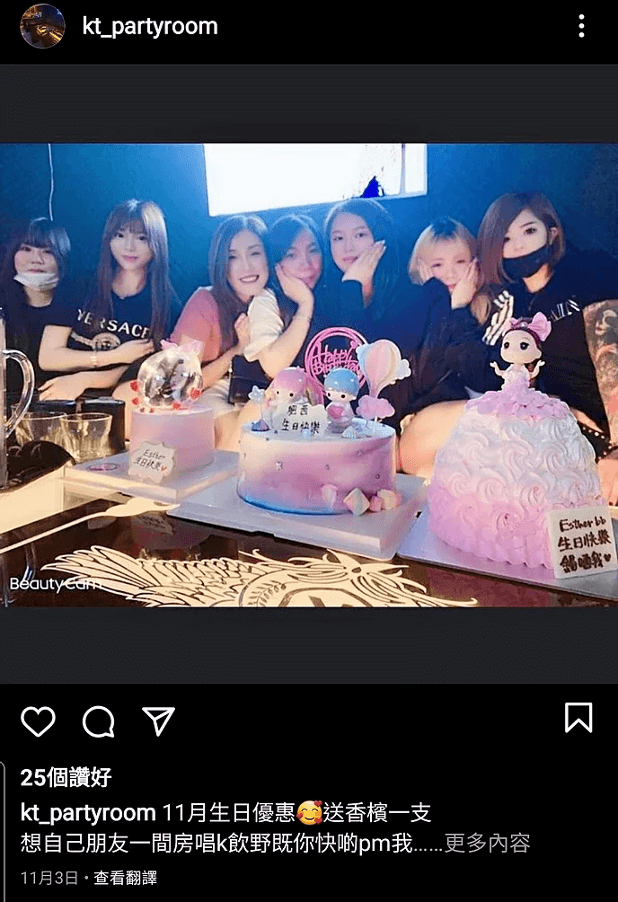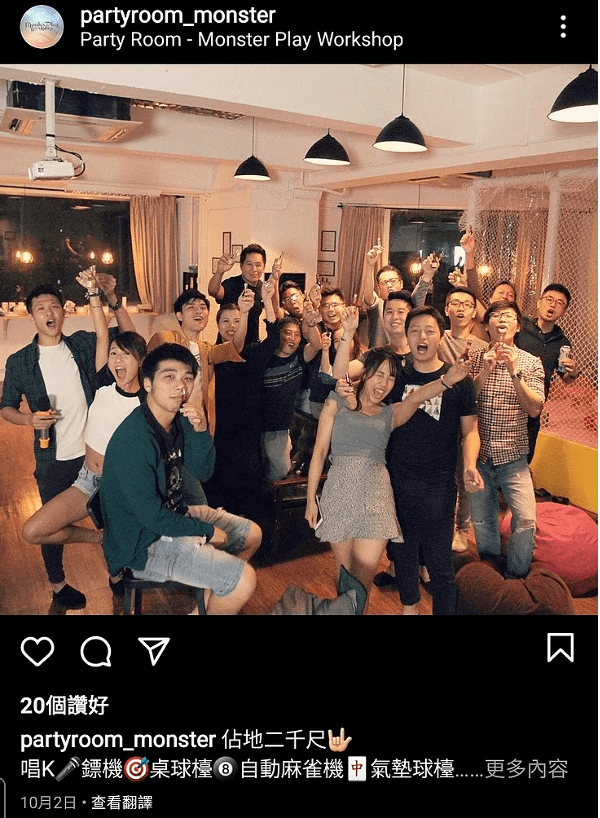 Photo credit: Partyroom_monster's Instagram
In October, when social distancing rules were already in effect, more than 20 people, none of them wearing masks, posted photos of their gathering on Instagram. They proudly said that the premises were 200 square feet, with karaoke, mahjong and more. Many were holding drinks.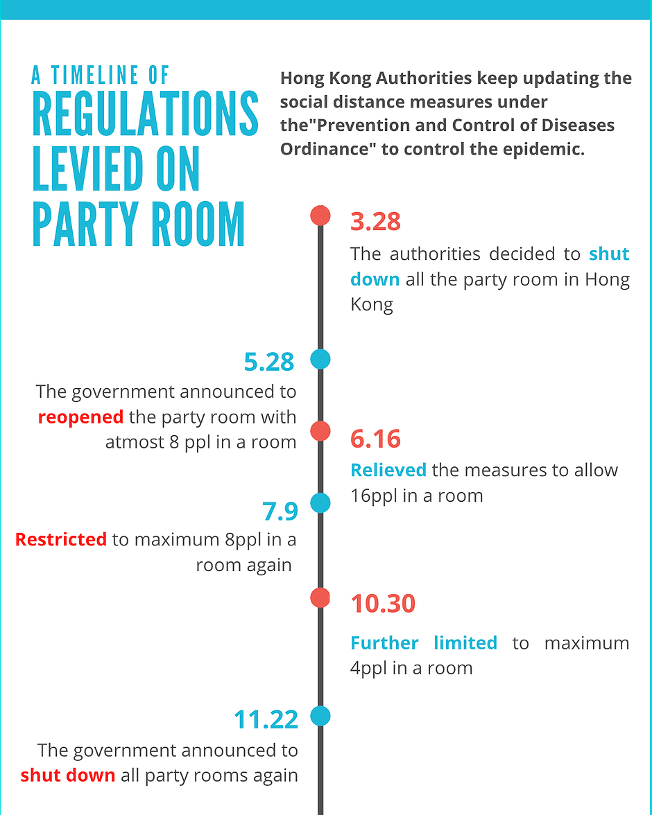 On Feb. 12, 11 out of 19 people in a family tested positive for COVID-19. They were all in the "Hot Pot Party Room Group".
Lam Hon Yin, president of the Hong Kong Party Room Association, said party room owners could just close the door if the police show up to check their licenses since some are classified as private property.
"Although that's against the regulations, some party room owners would still choose to stay in business," said Mr Lam. ​
​There are around 500 party rooms in Hong Kong, of which 100 are members of the Hong Kong Party Room Association. 
"We can only urge our members to abide by the regulations, but we cannot enforce them," said Mr Lam. 
Kt_party room is located in an industrial building in Kwun Tong. 
According to the Guidance Notes for the Management of Indoor Air Quality in Offices and Public Places, the international ventilation standard rate of carbon dioxide is 8 to 10 litres per person per second, which may minimize the risk of long-distance airborne infections. 
Li Yu-kwok is a chair professor of Building Environment at University of Hong Kong who focuses on indoor air quality and building ventilation. "Party rooms are similar to other crowded entertainment areas. When you adapt to the environment, you may not smell any peculiar smell in it after staying in a closed space for a long time, " Prof. Li explained
He said a bigger space may reduce the risks of transmission through normal breathing, but ventilation plays an important role. 
"Although I cannot smell your exhaling breath if you keep a social distance with me, I can still inhale the air you breathe if the ventilation is bad in the space," he said. 
 From the picture provided by kt_partyroom's owner, people can sing karaoke inside the rooms. This may increase the risk of airborne infections.  
Alcohol consumption is also encouraged in party rooms. 
Kt_partyroom's owner sent their alcohol menu to us. The drinks include whisky, cognac and beer. Customers can also bring their own alcohol. ​
Following an outbreak at Insomnia, a bar in Lan Kwai Fong, back in March last year, many have been forced to close. When they were allowed to reopen, police were constantly checking that they stick to social distancing rules.
 Party room licensing problem 
Party rooms have become increasingly popular for private functions in Hong Kong in recent years. They offer alcohol and arcade games to VR devices and gambling tools.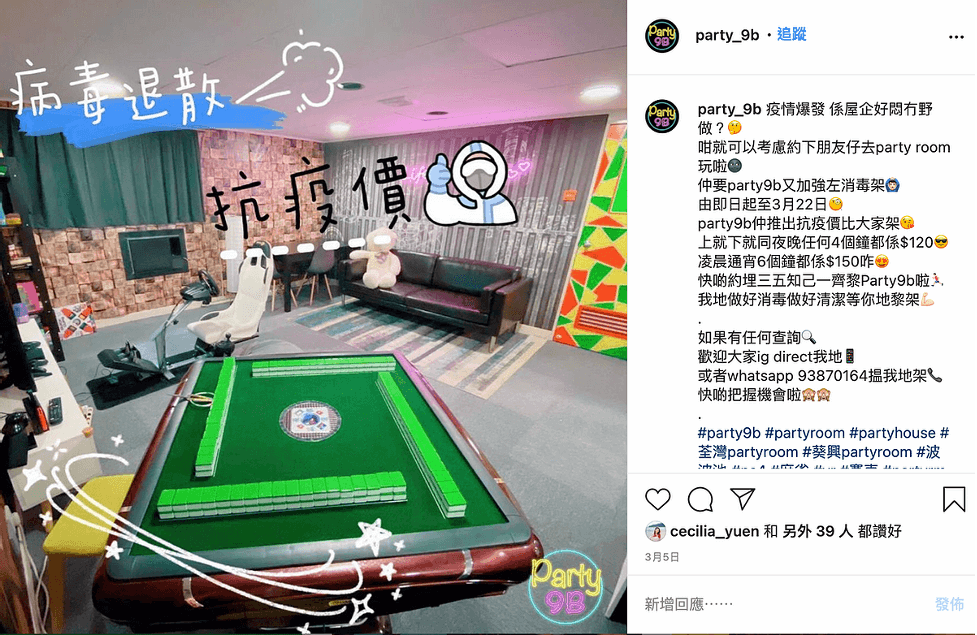 There is no specific license for party rooms. Instead, owners need to apply for individual licenses based on the services they provide. However, many have not done so.
A Hong Kong start-up website revealed that some party rooms listed for sale did not own the appropriate licenses for their services.
Under the Places of Public Entertainment Ordinance (Cap. 172), anyone operating a place for public entertainment must have a license issued by the Licensing Authority. The Dutiable Commodities Ordinance (Cap. 109) requires anyone selling alcohol for consumption to obtain a liquor license.
The Gambling Ordinance (Cap. 148) also states operating any place for illegal gambling is a crime.