LIVE: Hong Kong Budget Address 2021-22
By: Shameel Ibrahim、Jasmine Tse

Edited by: Simran Vaswani

2021-02-24
Introduction
This year's Budget Address comes after the city suffered an economic shrinkage of 6.1% in 2020 due to the coronavirus pandemic. Financial Secretary Paul Chan Mo-po is expected to forecast an economic growth from 3.5% to 5.5%.
Mr Chan will deliver the Budget Address today (Wednesday) at 11am.
His speech will include supporting enterprises and employment, reviving the economy, focusing on land and housing among other things.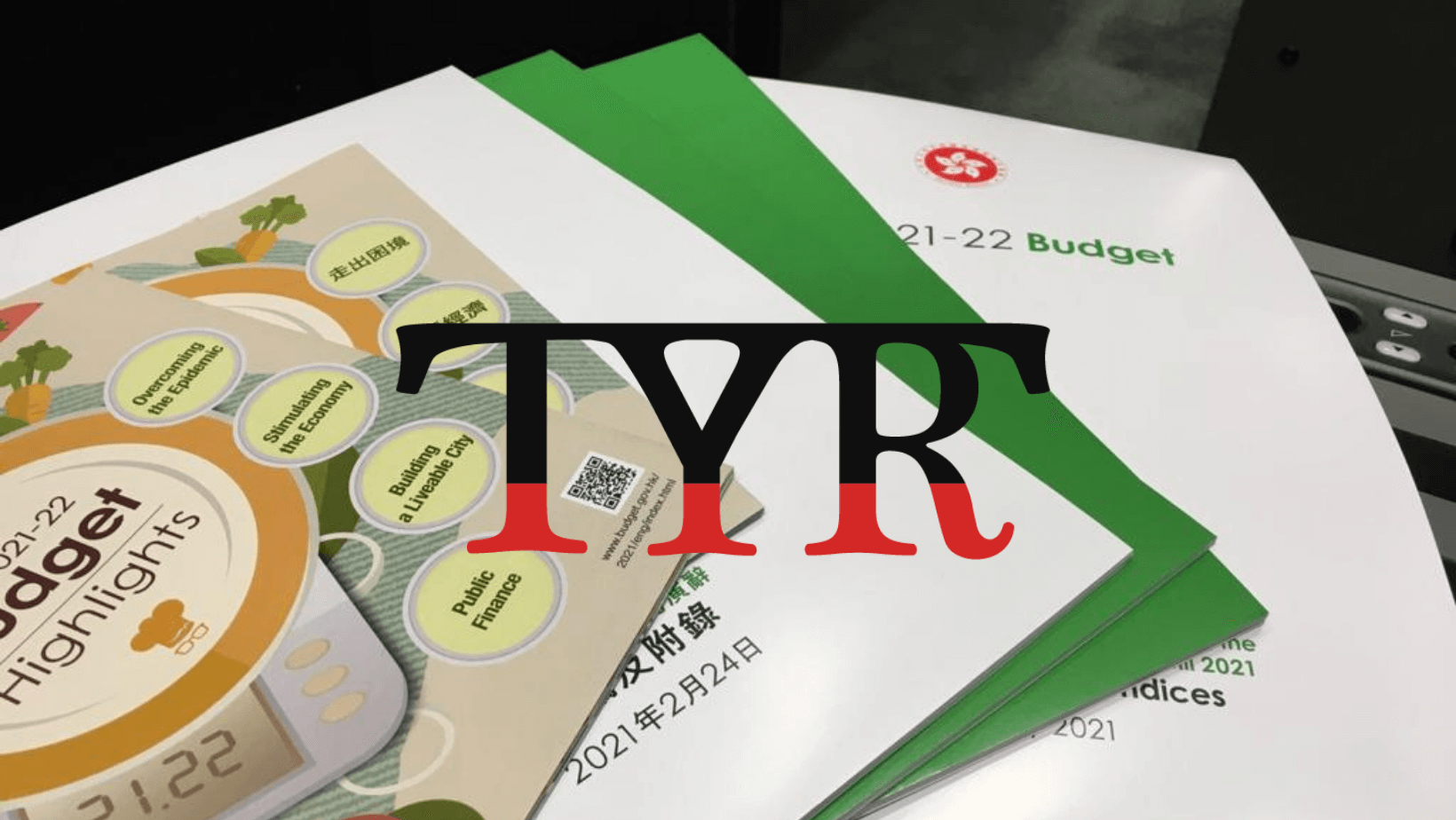 12:53pm
This concludes the live coverage of Hong Kong Budget Address 2021. Stay tuned for more in-depth coverage on our website and social media platforms.
12:52pm
The govt's revised estimate on its revenue is $543.5 billion, lower than the estimates by 5.1% or $29 billion, mainly due to the lower land premium. #BudgetAddress2021 @hkbutyr

— Shameel Ibrahim (@shameel_ibrahim) February 24, 2021
HK govt revenue for 2020-21 was lower than estimated (by $29 billion) while govt expenditure was higher than estimated (by $89.3 billion) @hkbutyr #budgetaddress2021

— Jasmine Tse (@jasmineytse) February 24, 2021
12:48pm
The govt will not revise rates of profits tax and salaries tax, two of the major sources of revenue for the govt, due to financial woes by the public as well as businesses. #BudgetAddress2021@hkbutyr

— Shameel Ibrahim (@shameel_ibrahim) February 24, 2021
12:46pm
"This is not the time to introduce new taxes," said Financial Secretary Chan @hkbutyr #budgetaddress2021

— Jasmine Tse (@jasmineytse) February 24, 2021
12:42pm
Govt spending on livelihood, policy areas of education, social welfare and health care will not be reduced, said Paul Chan.#BudgetAddress2021 @hkbutyr

— Shameel Ibrahim (@shameel_ibrahim) February 24, 2021
12:38pm
He added that the city will record a deficit for a number of years after achieving a surplus for 15 years.  #BudgetAddress2021 @hkbutyr

— Shameel Ibrahim (@shameel_ibrahim) February 24, 2021
"I expect that the fiscal deficit will be $101.6 billion, accounting for 3.6 per cent of GDP, due to the counter-cyclical fiscal measures and the continued increase in recurrent expenditure", Paul Chan said. #BudgetAddress2021 @hkbutyr

— Shameel Ibrahim (@shameel_ibrahim) February 24, 2021
12:32pm
It will be used for "strengthening support for people in need in the community as well as enhancing public awareness of the importance of mental health."

— Simran Vaswani (@Simran_TYR) February 24, 2021
The govt will provide additional recurrent funding of $147 million to enhance child and adolescent psychiatric, community psychiatric and psychogeriatric services of the HA, Paul Chan said. #BudgetAddress2021 @hkbutyr

— Shameel Ibrahim (@shameel_ibrahim) February 24, 2021
12:28pm
HK$380 million for Leisure and Cultural Services Department
to expand and renovate football pitches, a popular sport, says Financial Secretary. #BudgetAddress2021 @hkbutyr

— Simran Vaswani (@Simran_TYR) February 24, 2021
12:27pm
The govt has injected a payment scheme of $7.1 billion to phase out 40,000 Euro IV diesel commercial vehicles by the end of 2027. The govt also plans to update the Clean Air Plan for the city in mid-2021 to set up long-term goals#BudgetAddress2021 @hkbutyr

— Shameel Ibrahim (@shameel_ibrahim) February 24, 2021
12:26pm
HK$500 million is being set aside for improving facilities in Hong Kong country parks. #BudgetAddress2021 @hkbutyr

— Simran Vaswani (@Simran_TYR) February 24, 2021
2021-22 Budget:
Government will reserve one billion for the Recycling Fund and extend its application period to 2027, said Financial Secretary Chan Mo-po @hkbutyr

— Yvonne Tung (@yve_tung) February 24, 2021
12:25pm
#hkbutyr #Budgetplan2021
Government will release HK$250,000 subsidies for electronic vehicles, with supporting facilities of 60,000 private residential charging sites and 50,000 parking spaces

— wangyichun (@wangyichun3) February 24, 2021
12:21pm
HK is aiming to achieve carbon neutrality before 2050. A more concrete plan to come out in mid-2021 @hkbutyr #budgetaddress2021

— Jasmine Tse (@jasmineytse) February 24, 2021
The govt aims to have the first batch of 6,000 public and private housing units available by 2030. On the completion of the whole project, 20,000 units will be provided, half if it comprising of public housing units.#BudgetAddress2021 @hkbutyr

— Shameel Ibrahim (@shameel_ibrahim) February 24, 2021
12:20pm
The HK Gov expects to create 316,000 public housing units within the next decade. #BudgetAddress2021 @hkbutyr

— Simran Vaswani (@Simran_TYR) February 24, 2021
12:19pm
2021-22 Budget:
On average, there will be 18,000 private housing units available in the coming five years, said Financial Secretary Chan Mo-po @hkbutyr

— Yvonne Tung (@yve_tung) February 24, 2021
12:13pm
HK govt to inject $1 billion into creative industries, said Financial Secretary Paul Cham Mo-Po @hkbutyr #budgetaddress2021

— Jasmine Tse (@jasmineytse) February 24, 2021
12:11pm
2021-22 Budget:
Government will propose to the Legislative Council to allocate funds for rebuilding the Air Mail Centre, said Financial Secretary Chan Mo-po @hkbutyr

— Yvonne Tung (@yve_tung) February 24, 2021
12:11pm
Financial Secretary, Mr Chan says he is confident The Hong Kong International Airport will become the busiest cargo airport in the world again once the epidemic ends. #BudgetAddress2021 @hkbutyr

— Simran Vaswani (@Simran_TYR) February 24, 2021
12:09pm
#hkbutyr #Budgetplan2021
FinTech companies will be supported by HKMA's two trends of funding investment in 2021, in terms of innovative financial products in the market.

— wangyichun (@wangyichun3) February 24, 2021
12:06pm
2021-22 Budget:
Eight virtual banks have been approved to set up in Hong Kong, said Financial Secretary Chan Mo-po @hkbutyr

— Yvonne Tung (@yve_tung) February 24, 2021
12:04pm
$4.75 billon injected into the Innovation Technology Fund, Paul Chan said.#BudgetAddress2021 @hkbutyr

— Shameel Ibrahim (@shameel_ibrahim) February 24, 2021
12:00pm
Unemployed Hongkongers will be offered low-interest bank loans of HK$80,000 maximum. Principals and interests can be repaid over a period of up to five years with a 1% interest rate annually, Mr Chan announces. @hkbutyr

— Sara Cheng (@SaraCheng0330) February 24, 2021
11:59am
The government proposes launching a two-year Pilot Insurance‑linked Securities Grant Scheme. The amount of grant for each issuance will be HK$12 million maximum, Mr Chan says. @hkbutyr

— Sara Cheng (@SaraCheng0330) February 24, 2021
11:58am
2021-22 Budget:
Government aims at developing CMU into the major financial custody platform of Asia and the globe, said Financial Secretary Chan Mo-po @hkbutyr

— Yvonne Tung (@yve_tung) February 24, 2021
11:50am
The Green Bonds programme was launched in the 2018-19 Budget with the aim to "finance public work projects with environmental benefits."@hkbutyr

— Sara Cheng (@SaraCheng0330) February 24, 2021
11:50am
The government purposes to double the Green bonds' borrowing ceiling to $200 billion to allow for further issuance totalling $175.5 billion in the coming five years, Mr Chan says. @hkbutyr

— Sara Cheng (@SaraCheng0330) February 24, 2021
11:50am
Retail bond market: The eligibility of silver bond will be lowered by 65 to 60 years old@hkbutyr #BudgetAddress2021

— Janice Lo (@janicelo_cl) February 24, 2021
11:49am
Bond market: Hong Kong's bond market is ranking third in Asia@hkbutyr #BudgetAddress2021

— Janice Lo (@janicelo_cl) February 24, 2021
11:46am
Green and sustainable finance: The government has offered government's green bonds last month and Paul Chan said that the government has the plan to issue green bonds regularly@hkbutyr #BudgetAddress2021

— Janice Lo (@janicelo_cl) February 24, 2021
2021-22 Budget:
Government will issue Green Bond at regular intervals, said Financial Secretary Chan Mo-po @hkbutyr

— Yvonne Tung (@yve_tung) February 24, 2021
11:43am
Additional funds will be provided to Cultural and development industries to benefit the youths@hkbutyr #BudgetAddress2021

— Janice Lo (@janicelo_cl) February 24, 2021
11:41am
Due to the rise of unilateralism, Hong Kong should actively promote multilateralism to strengthen our relationship with the global economies@hkbutyr #BudgetAddress2021

— Janice Lo (@janicelo_cl) February 24, 2021
11:39am
#HKBudget2021 Additionally, the government will seek this month's funding of HK$1 billion for vaccination indemnity fund from the Legislative Council's Finance Committee. @hkbutyr

— Esten Eriksen Amalvy (@estenamalvy10) February 24, 2021
11:39am
Hong Kong should make good use of the "One Country, Two Systems" principle and strengthened national security to enhance its role on the front of China's economic development, Mr Chan says. @hkbutyr

— Sara Cheng (@SaraCheng0330) February 24, 2021
11:38am
2021-22 Budget:
Government will issue HK$5000 consumption vouchers to Hong Kong residents aged 18 or above and new migrants by stages, said Financial Secretary Chan Mo-po @hkbutyr

— Yvonne Tung (@yve_tung) February 24, 2021
11:36am
2021-22 Budget:
Government will consider lifting group gathering restriction on tourism industry, said Financial Secretary Chan Mo-po @hkbutyr

— Yvonne Tung (@yve_tung) February 24, 2021
#HKBudget2021 Chan says the government will be ramping up surveillance and testing efforts, which currently test around 100,000 people per day. @hkbutyr

— Esten Eriksen Amalvy (@estenamalvy10) February 24, 2021
HK$1.5 billion will be injected into the Dedicated Fund on Branding, Upgrading and Domestic Sales to promote Hong Kong to the world, Mr Chan announces. @hkbutyr

— Sara Cheng (@SaraCheng0330) February 24, 2021
"Hong Kong has been affected by the deterioration of the China-US relations, and experienced the blow from the social incidents and the ravages of the pandemic." says Mr Chan. #BudgetAddress2021 @hkbutyr

— Simran Vaswani (@Simran_TYR) February 24, 2021
11:33am
The government, this year, will continue to pay the examination fees for school candidates sitting for 2022 HKDSE@hkbutyr #BudgetAddress2021

— Janice Lo (@janicelo_cl) February 24, 2021
11:27am
#HKBudget2021 In total, the HK Government has used HK$300 billion on anti-epidemic efforts. @hkbutyr

— Esten Eriksen Amalvy (@estenamalvy10) February 24, 2021
11:22am
The government, this year, will continue to pay the examination fees for school candidates sitting for 2022 HKDSE@hkbutyr #BudgetAddress2021

— Janice Lo (@janicelo_cl) February 24, 2021
11:21am
Business registration fees for 2021‑22 will be waived, Mr Chan says. The measure is in a bid to support enterprises. @hkbutyr

— Sara Cheng (@SaraCheng0330) February 24, 2021
11:20am
Chief Executive Carrie Lam and her senior officials were first in Hong Kong to receive the SinoVac jab on Feb 22.

— Simran Vaswani (@Simran_TYR) February 24, 2021
11:20am
Measures to support enterprises and to safeguard jobs include reducing profit tax by 100% subject to ceiling of $10,000, waiving business registration fees, continuing to waive 15% of sewage and water charges, etc.@hkbutyr #BudgetAddress2021

— Janice Lo (@janicelo_cl) February 24, 2021
11:18am
HK$9.5 billion will be set aside for supporting enterprises. @hkbutyr

— Sara Cheng (@SaraCheng0330) February 24, 2021
11:15am
Hong Kong's economy expects positive growth in the coming year, Mr Chan said, but it will still face "significant challenges" in the first half of the year. @hkbutyr

— Sara Cheng (@SaraCheng0330) February 24, 2021
11:15am
#HKBudget2021 Hong Kong has added HK$7B to the anti-epidemic fund in order to further assist the battle against COVID-19. @hkbutyr

— Esten Eriksen Amalvy (@estenamalvy10) February 24, 2021
11:14am
"The government's top priority is to put the pandemic in control so that each business sector can resume back to normal as soon as possible," said Paul Chan.@hkbutyr #BudgetAddress2021

— Janice Lo (@janicelo_cl) February 24, 2021
11:13am
Hong Kong will still face economic challenges in the first half of the year, but is expected to gain a "stronger momentum" in the second half. #BudgetAddress2021 @hkbutyr

— Simran Vaswani (@Simran_TYR) February 24, 2021
11:12am
Paul Chan forecasted that the economy will regrow by 3.5% to 5.5% this year and added that the economy outlook is positive@hkbutyr #BudgetAddress2021

— Janice Lo (@janicelo_cl) February 24, 2021
11:09am
Paul Chan said that the global economy will start to see an improvement in the later part of this year as vaccines are available in most countries@hkbutyr #BudgetAddress2021

— Janice Lo (@janicelo_cl) February 24, 2021
11:07am
This year's #BudgetAddress main aim is to "stabilize economy and relieve people's burden" says Paul Chan, Hong Kong Financial Secretary. #BudgetAddress2021 @hkbutyr

— Simran Vaswani (@Simran_TYR) February 24, 2021
11:00am
Financial Secretary Paul Chan Mo-po will deliver his fifth budget address today at the Legislative Council@hkbutyr #BudgetAddress2021

— Janice Lo (@janicelo_cl) February 24, 2021