Pop Mart wins as blind box mania sweeps through Chinese youths
By: Zhu Zijin Cora 朱子槿、Zhou Yichen Gloria 周奕辰

Edited by: Zhu Zijin Cora 朱子槿

2021-02-27
Anna Wang Kai-cen, a 27-year-old wealth manager, is one of the beneficiaries in China's mystery or blind box craze by snapping up the toys and shares of Pop Mart International Group Ltd. (9992), the most famous blind box retailer in China.
"I first entered the Pop Mart shop in Beijing two years ago, just out of curiosity why my friends bought so many of their toys," said Ms Wang. Twenty minutes later, she got her own toy, a vinyl doll dressed in a yellow suit with big blue eyes called Molly.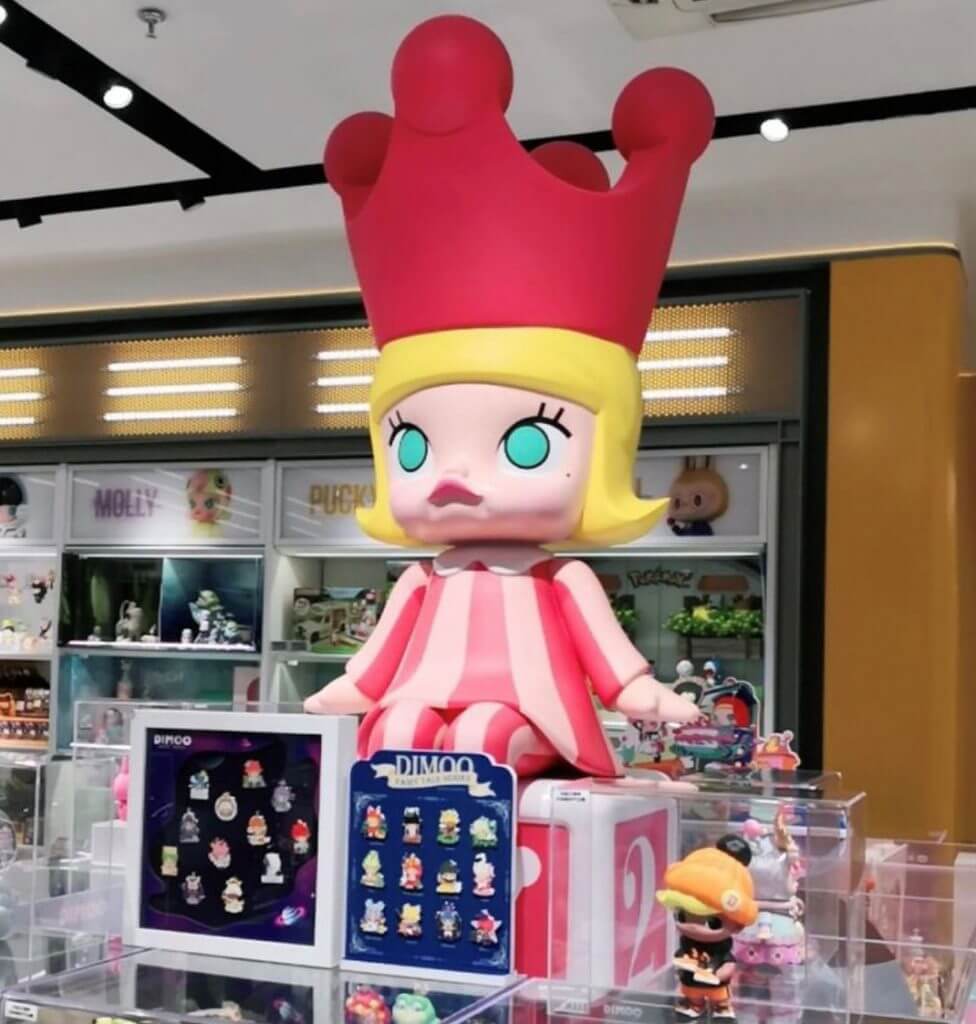 Since then, apart from buying toys, Ms Wang started to pay attention to the designer toymaker and seller behind, Pop Mart, which went public in Hong Kong on Dec. 11 last year.
The young wealth manager is among hundreds of thousands of investors betting their money on this Chinese largest designer toymaker, setting eyes on the behind "new economy" growth opportunities. 
Within one day after IPO,  Ms Wang earned more than HK$70,000 by selling her some 2,000 new shares of Pop Mart, thanks to the blind box mania, which is taking over China by storm.
Shares of Pop Mart jumped to a high of HK$89.60 in December, more than doubling its initial public offering price of HK$38.50, boosting the total market value of the company to more than HK$120 billion. The stock closed at HK$89.9 on Friday.
"Of course I know its toys are popular among us young generation, but I didn't expect their stocks are also that popular in public," Ms Wang said. 
The "first blind box stock"
Pop Mart is famous for its blind box selling strategy. Customers will not know what the toy looks like until they unpack it, sharing the same nature with toys in a capsule called Gashapon, or "niu dan'' in Hong Kong. 
It only depends on luck or how much money customers spend if they want to get the sought-after models. The chance for unveiling a "hidden figurine" or limited-edition is as low as 0.7%, making it more valuable as it will have to spend at least 8496 yuan (HK$10,160) on average for getting one.
The blind box has become a craze in mainland China. Pop Mart, as the "first blind box stock",  sold 1.36 billion yuan (HK$1.63 billion) worth of blind boxes in 2019, accounting for 47.2% of the blind box market in China, according to research platform Leadleo. 
The figurines collection has surpassed sneakers and video games as the most popular hobby among Generation Z, young people born after 1995, Alibaba's online store Tmall said in a 2019 consumer report.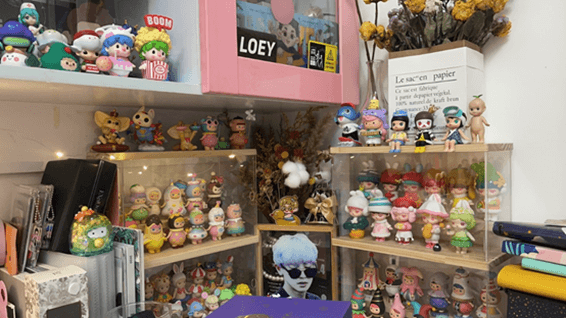 Pop Mart is known for toys designed by artists and infused with pop cultures and trendy contents. Behind each toy character is the intellectual property, the backbone of the company. The company now has 93 IPs, including 12 proprietary, 25 exclusively licensed and 56 non-exclusively licensed ones.
"The proprietary IPs account for a high portion of the total revenue," said Zeng Zhi, an analyst from Haitong Securities, which recently gave a hold recommendation of the stock.
"The company also has close contact and collaboration with top artists to produce blockbuster IPs such as Molly, PUCKY, Dimoo, and The Monsters, to maintain its leading position," he said.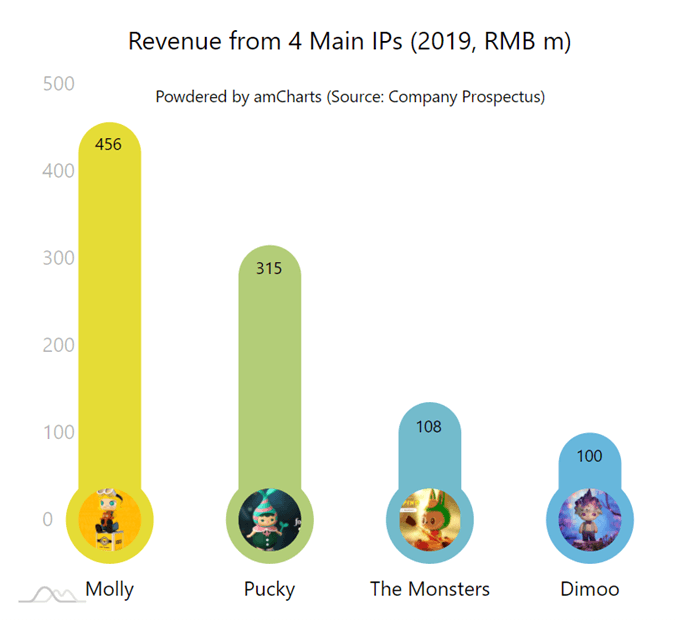 Policy risk and bubble concerns
State-owned  Xinhua news agency described feature collectors' behaviour of continuously purchasing blind boxes until they get the whole set of toys as irrational and comparable to gambling.
About 200,000 people bought blind boxes on Tmall in 2019, each spent 20,000 yuan (HK$23,919) on average,  Xinhua said in a news article last December. "Once you enter into the abyss of blind boxes, your wallet will become like a stranger passing on the street," it said and called for tightening up regulations.
Increased concerns that Beijing might crackdown on the meteoric company increased, dragging Pop Mart shares down 9.9% in a single day to HK$77.7 on Dec. 28, three days after the Xinhua article was published.
When asked for comments about the state media criticism, Pop Mart did not respond to the question sent via email.
"As the company grows, there must be regulations established to guide the whole industry," said Zhang Xiao, an analyst from Great Wall Securities, which recently gave a buy recommendation of the stock. "As a leading company in the industry, Pop Mart is expected to lead the benign development of the industry with standard operation."
The company's target customers are the young generation aged between 15 to 40 years old, who "seek emotional value from expressing personality and attitude and sharing a passion with others", it said in the prospectus. 
Capital game
Despite questions about the company's true value, Pop Mart gains recognition from major investors. Before its IPO, the ten-year-old company had already received a series of investments of about $68.3 million (HK$529.5 million).
One of the main reasons is because of the company's satisfying performance. It is the fastest-growing pop toy company in China in terms of retail value, according to the report from Frost & Sullivan, a research firm hired by Pop Mart for its IPO preparation.
The total sales increased by 225.4% to 514.5 million yuan (HK$615.3 million) in 2018, and further grew by 227.2% to 1.7 billion yuan (HK$2 billion) in 2019, the IPO prospectus said.
Both CITIC Securities and GF Securities, the leading Chinese investment banks, recently issued a buy recommendation for Pop Mart, optimistic about its future development based on the company's integrated platform and high public recognition in China.
Another reason, said Cui Peng, co-founder of a Beijing investment company, along with other analysts, is because there is a lack of "groundbreaking companies" in the market and all investors are seeking for the next new economy driven model, such as tech giant Alibaba back then, which could enhance the industry efficiency and fundamentally change the market.
"But unfortunately, we still haven't seen such a company," said Mr Cui. "So there is more capital in the market than truly innovative companies."
Under such unbalanced circumstances, investors will easily flood money into the "relatively good" company, such as Pop Mart, and push the share price much higher than its worth, he said. 
The Price to Earnings ratio of Pop Mart was briefly reached over 200, compared to the 39 times PE ratio of Japanese Bandai company which produces Gashapon and 48 times of a similar US toy company Funko.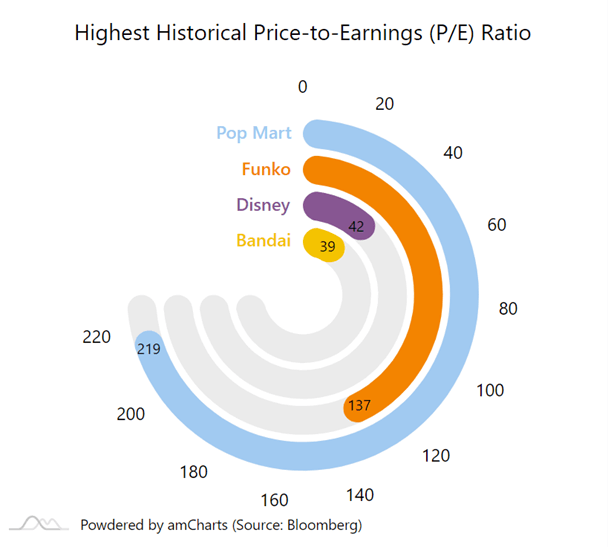 "Funko's initial PE ratio was also high, but after soaring, its PE Trailing Twelve Months has now fallen to zero due to huge losses in the first quarter of 2020," said Mr Cui. "Pop Mart's PE ratio will slowly return to the average range after a period of time."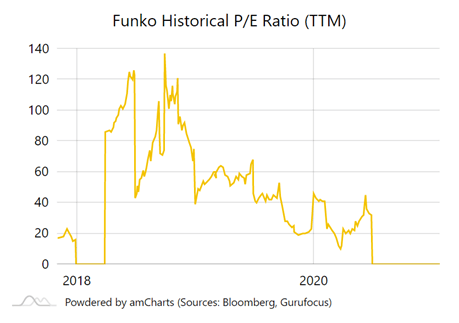 "Although many people market Pop Mart as a representative of the new economy, it's really not," said Mr Cui. "It's just an above-average company with a rapid growth rate."
The buzzword new economy refers to industries that are believed to be the driving force of economic growth and productivity, the financial website Investopedia said. 
Ms Wang just ordered a special set of cosmetics on Tmall, whose brand collaborates with Pop Mart. "Everything is so cute," she said. "Maybe all the money I earned from Pop Mart shares will soon be back to their account."