Poly University Makes Contribution to China's First Mars Landing
By: REN Ziyi David

Edited by: Robin Ewing

2021-05-21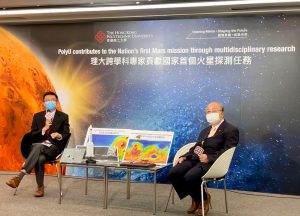 The Hong Kong Polytechnic University analysed the topography of the landing area and provided the Mars Landing Surveillance Camera for China's Tianwen-1 Mars exploration mission, two professors said in a press conference today.
"We evaluated the elevation and the slope of the selected landing area," Bo Wu, the Associate Head of the Department of Land Surveying and Geo-Information, said at the press conference.
His team used AI-based deep learning to extract and analyze the density of craters and rocks.
"Two million rocks and 670,000 craters were picked for density analysis," he said, "to guarantee the safety of landing."
Chair Professor of Precision K.L. Yung said he designed the surveillance camera to ensure the landing is smooth. The camera, which weighs 390 grammes, can bear an impact of 6,200g and work under -70 degrees celsius, he said.
"The temperature on Mars is low, which has different requirements on the camera compared to the normal ones," said Prof Yung.
He said he had to guarantee that the quality of pictures captured by the surveillance camera remains high regardless of the environment, which is challenging.
"The biggest difficulty is that we don't have our own data like the US or Europe, and the time is tight," Prof Wu said. "We only have one and a half months to analyze the images sent from Beijing."