Hospital Authority: Vaccines Prevent COVID Variations; Recovered Only Need One Jab
By: REN Ziyi David

Edited by: Robin Ewing

2021-05-20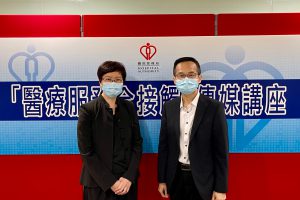 Both BioNTech and CoronaVac vaccines reduce the risk of infection from the British and South African variants, though the effectiveness is lower, the Hospital Authority said at a press conference today.
The efficacy of BioNTech against the British variant is 89.5% while the one against the South African counterpart is 75%, according to Qatar research.
CoronaVac, the Chinese-made vaccine also known as Sinovac, which is around 50% effective according to some tests in Brazil, is only 30% effective against the South African virus variant, said Dr Owen Tsang, the Medical Director of the Hospital Authority Infectious Disease Centre.
"Sinovac is just so-so in dealing with the South African virus,"  he said, "but getting vaccinated would definitely be protective."
No data is currently available to show the effectiveness of the vaccines against the Indian variant, which has been discovered in more than 17 countries.
"Since the variant is relatively new, many clinical manifestations are not clear," said Dr Tsang.
Dr Tsang also said that natural infection could prevent reinfection at 84%. 
Symptoms after reinfection, such as feeling tired and breathing with difficulties, are much lighter compared to the first infection.
"Those who have been infected only need one shot for further protection," he said, "and I believe even one shot could protect most people from being infected."
Hong Kong had the first reinfection case in the world in August. The 33-year-old man was infected early in March and tested positive again after staying in Spain for a week. He recovered in five days.