The Unsung Hero of Hong Kong
By Celia Lai
Wearing a pair of thick glasses with a phone in hand, Joseph Lai Hung-Fat walks around the university campus like every other student. But Joseph is actually a "super hero" named KNIGHT in the cyber world.
KNIGHT dresses up like Batman but in a remade version: blue cloak and mask, grey shirt and a pair of glasses. Unlike the cartoon character who saves the city with advanced technology, KNIGHT draws animation and makes videos.
The 25-year-old illustrator has captivated nearly 70,000 subscribers on Youtube and 20,000 followers on Facebook in three years with his drawings for copypasta, an internet slang for disseminated forum post.
Inspired by Japanese comics, Mr Lai illustrates his characters with distorted faces which readers find entertaining. " The way I present my work makes me different from other illustrators," he says.
The young illustrator selects some copypastas with political elements in an attempt to mock Hong Kong's political and social problems. One of his pieces named Mark Six portrays the frustrating life that an ordinary Hong Konger leads.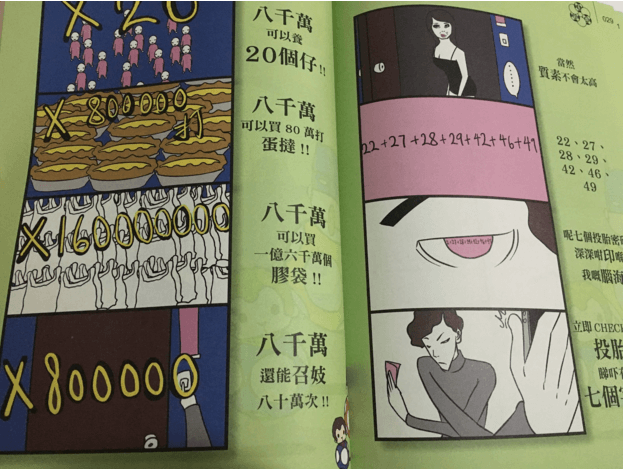 (KNIGHT depicts the miserable life an average Hong Konger leads: Mark Six is the mere breath gap to taste hope under the invisible control of hegemony.)
"Politics is everything," he says. "Yet Hong Kong people are extremely apathetic to politics. I want to arouse my readers' attention to current issues by presenting politicians in a humorous way."
Mr Lai is among the voices speaking out on the adverse effects of the Copyright (Amendment) bill. Critics call it the Internet Article 23, equating it with the controversial national security law.
He posted a comic in which KNIGHT is blindfolded and bound with the Chinese characters of Internet Article 23 as background, symbolizing the restriction on free speech.
"What I did was to spread the news so that more people notice it. With the power of the media, it would trigger an online debate and even influence the traditional media," he says.
Mr Lai believes that Internet Article 23 poses a threat to freelance artists and ordinary citizens. "They will have no power to get rid of the accusation of copyright infringement. They may even not notice committing any crime," He said.
Yet the plight of the cartoonist also comes from the readers.
"Celebs get thousands of 'likes' simply by posting pictures of themselves," he said. "People in Hong Kong are too busy to consume words. That's why we (artists) have to keep generating extraordinary ideas to catch their eyeballs."
He said drawing cartoons is all about timeliness. " Even if you're just half day late, people are no longer interested to the topic. Then what you do is in vain," he said.
The daytime student keeps posting every three days, or more frequently, in an attempt to form a "habit" for readers to see his work. "Out of sight, out of mind," he said. "I cannot slack back as readers forget you if you're not updating."
Doing a signing in this year's book fair though, Mr Lai still tried to cover his face with KNIGHT's mask for a photo shoot.
"I'm shy to face the public. On top of that, I want to draw a fine line between Joseph and KNIGHT like what Batman does," he said.
(Edited by Choco Chan)