Hong Kong Craft Beer: Local Style
by Henry Wong and Sing Lee
Hong Kong craft beer brewery, Mak's Beer, has  been promoting their products for half a year. The based brewery's latest offering: "Cantonese beer" which they hope will attract local drinkers.
The brewers got their inspiration from Yim Tin Tsai Village, a historic neighborhood in Hong Kong that produces  salt. The ingredients include traditional Chinese herbal tea,  wolfberries and longan fruit.
"It's called 'Cantonese beer' because we want to build a relationship with our community and educate local people on how to appreciate craft beers," said Mark Mak, co-founder of the company.
Mak's brewery hosts free factory tours twice a month. Twenty per cent of their beer is offered for free at business and cultural events in order to promote their brand.
Mak's beer is not alone. City Brew's beer "Kong Girl", for example, uses the nickname for Hong Kong women in their branding.
The Bottle Shop is one of the largest retailers of craft beers  in the city They stock local brands such as Gweilo, Mak's  and Moonzen.
" Some of the beers include creative local ingredients such as goji berries and chilies to spice up the drink,"  said Joey Chung Wing-yi , the brand and event manager at the Bottle Shop.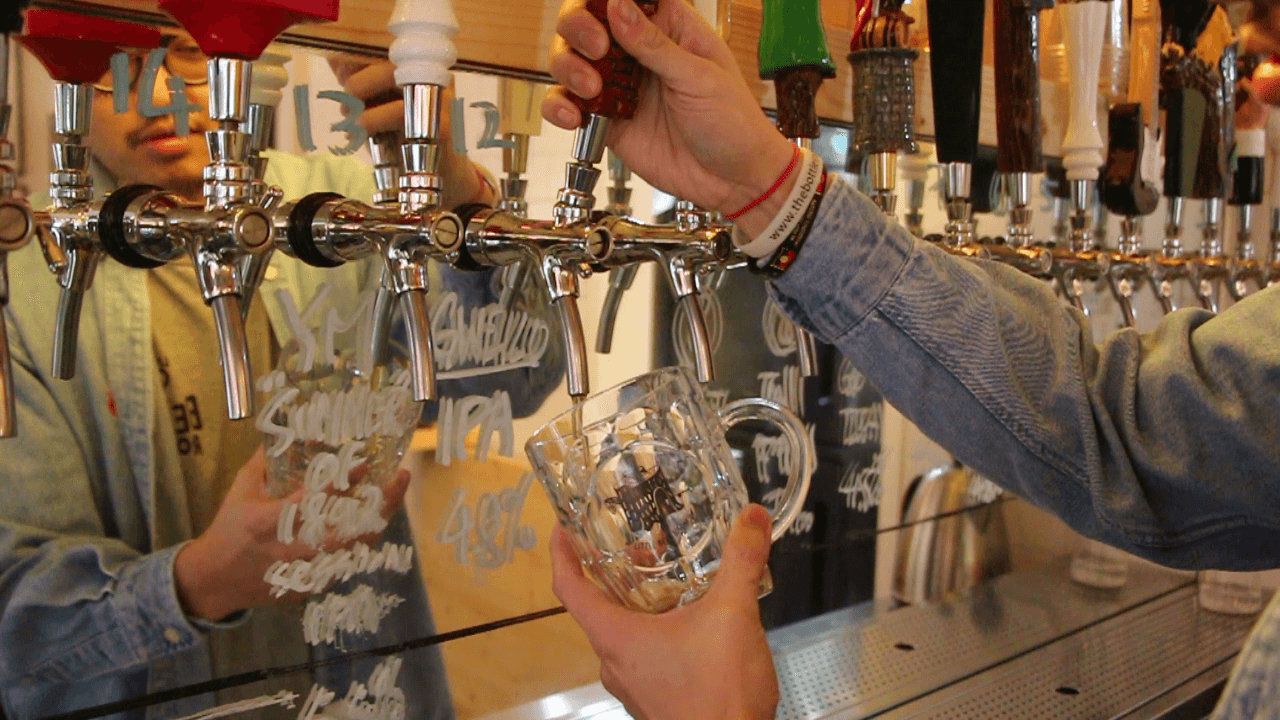 But the cost of production is an issue for some of the breweries. Mak's produces 4000 bottles a month and they are priced higher than most commercially available beers.
"The competitiveness is about branding and the  craft beer trend in the city," Mark Mak said.
Ms Chung at The Bottle Shop believes craft beer market will become as popular as coffee and red wine in Hong Kong.
"There is increasing demand for local craft beers and as more bars stock them, locals became more supportive of this emerging industry," according to Ms Chung.
"The average price of a bottle of local craft beer is between $25 and $40.That's acceptable and close to the price of imported beer, " said Ms Chung.
"Compared with imported beers, locally brewed liquors have room for improvement, for example, in terms of their complexity, taste and consistency in quality," she said. "However, local beers are getting better and better. It just takes time."
But Ms Chung believes more needs to be done to  promote local craft beers. She has suggested that local brewers should unite to build a stronger beer culture.
"It will be better if our city has a specialised magazine on local beers, just like in Taiwan and Japan, so that people can learn more about the industry," said Ms Chung.
Justin Poon is the bartender at the Little Beer Room, the on-tap counterpart of The Bottle Shop. He says local brews taste fresher than imported ones, because there is no extensive shipping time.
"Many tourists are really interested in trying local craft beers, but they do not find the drinks taste particularly good," he said.
But Mr Poon is optimistic about the future of the industry, but he believes it is crucial to promote local breweries to local people.
"If the public love local beers, the brewers will be motivated to produce more and better craft beers, and eventually the business model will be sustainable," Mr Poon said.
(Edited by Charlotte Yang)