PolyU students go on hunger strike against paper-covered "democracy wall"
By: Ezra Cheung、Katherine Li

Edited by: Holly Chik、Raphael Blet、Michelle Ng

2018-10-05
"The university's management has pushed us to the point of desperation," said students starting a hunger strike.
Two student leaders from Hong Kong Polytechnic University announced this evening they were to go on a hunger strike, to protest against the school management's decision to take control of the "democracy wall" initially managed by the university's student union.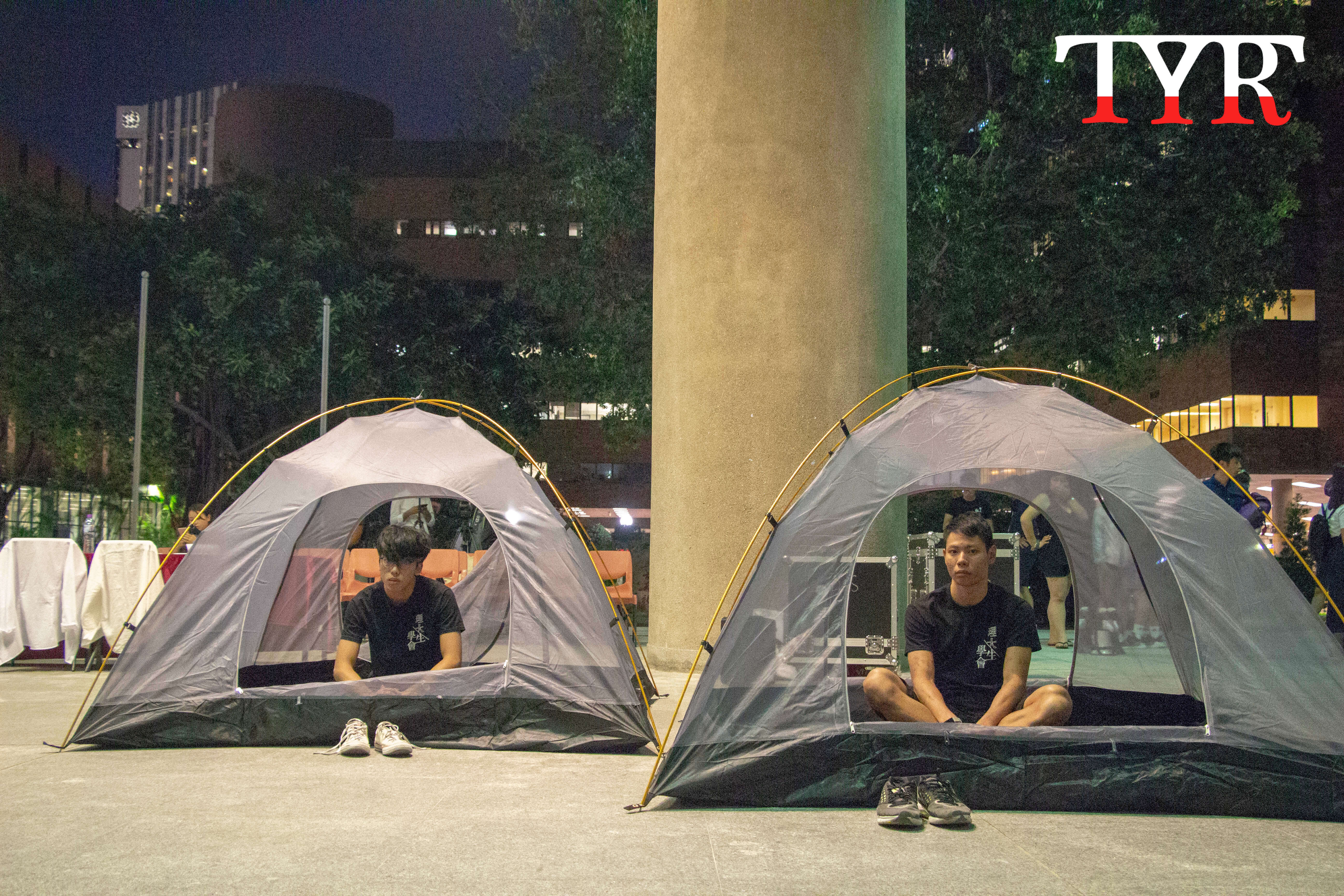 The conflict began on September 24, four days before the fourth anniversary of the mass pro-democracy Umbrella Movement, as some students stuck messages supporting the city's independence onto the notice board, commonly referred as "democracy wall".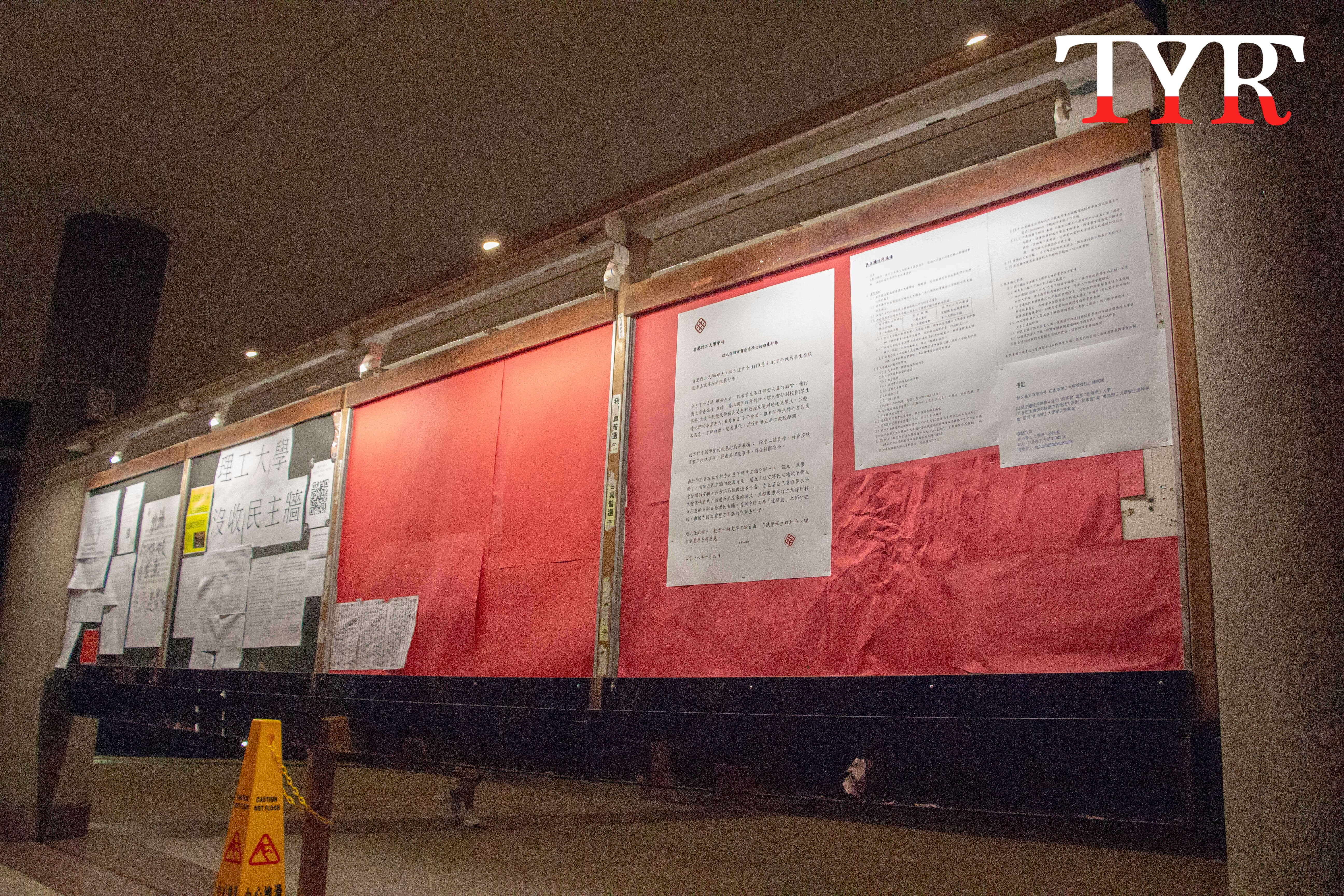 PolyU management covered half of the board with large sheets of red paper on Tuesday. Students were enraged claiming their freedom of speech was being stifled.
Several dozens of students gathered when the student union held a press conference at the university's main podium at 8:30 pm on Friday following their protest on Thursday demanding the vice president an explanation as to why the management decided to cover the wall.
The student union's president Wing Lam Wing-hang and the student union council chairman Victor Yuen Pak-leung announced that they were to "start their hunger strike immediately" at the podium.
"The university management has pushed us to the point of desperation... They are numb to conscience," the student union said in their open letter. "The school has been dismissive to the student union council representatives."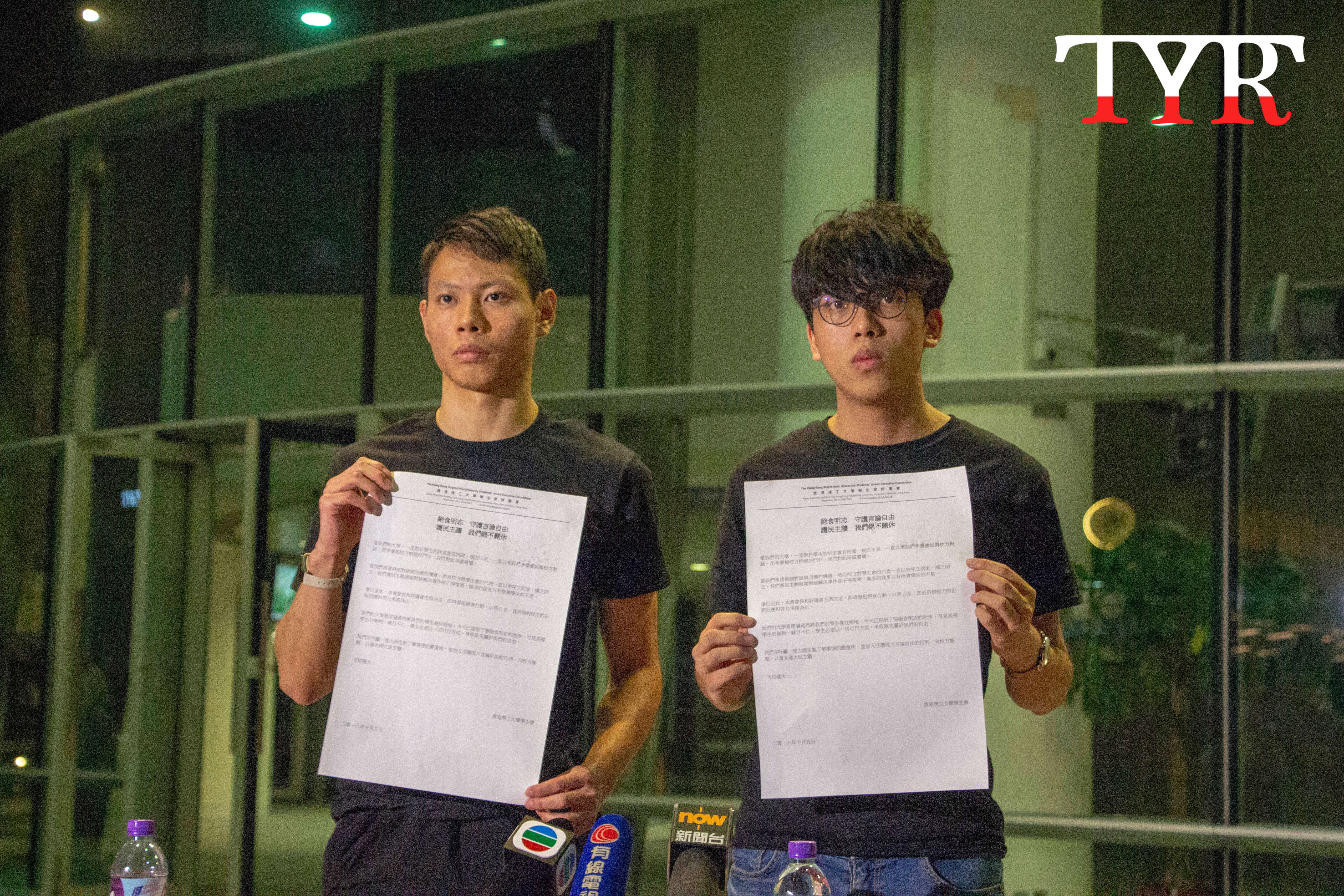 Mr. Lam said the student union had collected more than 4,000 signatures against the school's decision.
"We do not compromise on freedom of speech," Mr. Lam added.
Kate Liu, 24, an urban planning PolyU student from the mainland, thought the action the university took was "mild".
"Students having their own views is good," she said. "But the university should be with the government in fighting against Hong Kong independence."
During the press conference, a security guard passed a note from the university's facilities management office.
"You did not obey the university's regulation on facility use and violated the student code of conduct," the note reads. "The university will reserve the right to pursue disciplinary actions."
There have been concerns in Hong Kong that academic freedoms were being increasingly squeezed as Beijing tightened its grip upon the semi-autonomous city.
Recently, pro-democracy academics, including lawmaker Cheng Chung-tai, who taught social sciences at PolyU, and Benson Wong, political science assistant professor at Hong Kong Baptist University, warned they had been sidelined and sacked.
Some claimed their contract renewals had been obstructed out of their political stance.
Reported by Ezra Cheung
Additional reporting by Katherine Li
Edited by Holly Chik and Raphael Blet
Photos edited by Michelle Ng