18/19 Policy Address: "Lantau Tomorrow Vision" project fuels anxiety among residents
By: Cara Li、Vanessa Yung、Yetta Lam、Katherine Li

Edited by: Kenji Chan、Raphael Blet

2018-10-10
Reported by Akane Nakasuji, Cara Li, Vanessa Yung and Yetta Lam
Chief Executive Carrie Lam Cheng Yuet-ngor unveiled her 2018 policy address today, announcing the launch of a new development project named "Lantau Tomorrow Vision".
The project will create artificial islands to increase the number of residential units and improve people's livelihoods, she said, in a city where the estimated average waiting time for public housing is five years and three months.
The government study on phased reclamation near Kau Yi Chau and Hei Ling Chau, two islands west of Lantau, with a total area of about 1,700 hectares is to start soon.
The reclamation could create 400,000 residential units accommodating a population of more than a million, putting Lantau's population on par with that of Hong Kong Island, with 70% of the blocks planned to be public housing units.  
With a land mass of 147 square kilometres, Lantau Island is almost twice the size of Hong Kong Island and four times the size of Macau.
The policy address stated that the project would incorporate the government's long-term vision of a carbon-neutral community making wider use of renewable energies and technologies.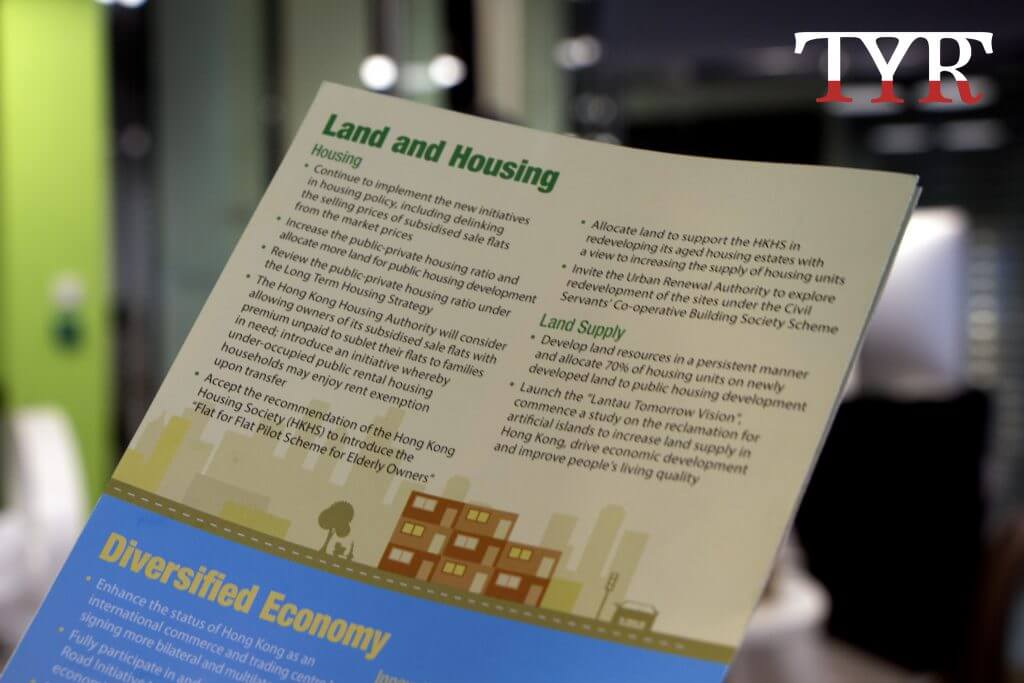 But these new plans aren't all received with enthusiasm.
"We need to prioritise fixing-up the New Territories before building up a new island," said Southern District Councillor and Designing Hong Kong CEO Paul Zimmerman, referring to the unresolved land disputes in the New Territories.
Green groups Greenpeace and WWF held a public speech outside the Legco,  requesting the government to prioritize the use of brownfield sites.
Samantha Lee Mei-wah, Associate Director of WWF Marine protection Hong Kong Branch, said that the damage to oceans would be irreversible.
"The environmental evaluations made by companies are no longer to be trusted. We need to invite independent institutions, such as universities, to do an environmental evaluation of marine life or landscape," Ms. Lee said.
Mrs. Lam described Lantau island as a "double gate" to the world and Greater Bay Area cities given its strategic position. Lantau Island is home to the Hong Kong International Airport, which is soon to be connected to Zhuhai and Macau through the world's longest sea bridge.
According to the policy address, Lantau will serve as the home for the future aerotropolis and the third core business district with the aim to promote economic development. With the geographical advantages, the artificial islands will link up the Central area with Lantau via a new transport system.
"We hope that the Hong Kong government can have a better land planning scheme, regarding what happens after the land reclamation and the direction to take for Hong Kong's development," Ms. Lee said.
Some residents expressed strong disappointment towards the government's handling of Lantau's future.
"It's a shameless money grab by the already wealthy and an environmental crime. [Hong Kong] is rapidly losing its essential green spaces to greedy, immoral developers" said Liz Hemmings, a Lantau resident.
"Some local businesses may get a boost but it is more likely that they will be ousted by bigger, slicker operators with more ready cash. The end result will be a soulless cityscape that indigenous and long-term residents will neither want nor be able to afford" she said.