Online concerts becoming a growing trend in China amid COVID-19
By: SHI Ruoshui

Edited by: Cassie Zhang

2020-12-16
It was Nov. 3, He Xun was supposed to have self-study class in the classroom instead of putting on nice make-up and opening NetEase Music on her smartphone in the dormitory. It was her first time skipping the class just for watching the online concert of Arashi, a J-POP idol group. 
Ms He is a 19-year-old student who lives in Baoding, a northern city in Hebei Province near Beijing. She has been a fan of Arashi since middle school and dreamt of watching the live concert. 
In February, Arashi announced that the concert scheduled for April at Beijing's Bird's Nest stadium would be cancelled due to the epidemic, so as the concert in May at National Arena of Japan. To meet their fans' expectations, Arashi decided to conduct an audience-free concert on their debut anniversary day, with no recording provided.
"As they will suspend the group activities from the end of 2020, this online concert might be their last concert so I couldn't miss it at all," Ms He said. Although unable to attend the concert personally, she still took out her hand lantern and turned off the lights, pretending to be sitting in the Arena.
In the wake of the COVID-19 outbreak, live shows, unfortunately, became a victim at the hands of gathering restrictions. According to the China Association of Performing Arts, the COVID-19 outbreak in the first quarter of this year led to the cancellation of 20 thousand performances nationwide and a box office loss of more than 2 billion RMB.
When the artists can't perform normally and fans feel down because of the cancellations of musical events, online concerts popped up with the ubiquity of digital music and advanced technology.
Tencent Music Entertainment Group has launched TME Live by utilizing a variety of scenes, innovative performance modes, as well as the fastest and most advanced digital audio and video technology.
Until now, TME Live has facilitated 25 performances with renowned local and international musicians, orchestras and festivals. JJ Lin's show on Oct. 19 drew 7.83million viewers, which is the highest-rated show on TME Live now. The next performance provided by TME Live is from Billie Eilish, an American singer who also planned to perform in Shanghai, China but failed because of the epidemic.
The fluency of the online concert is one of the biggest issues that both the performers and organizers are concerned about. Ms He was afraid that the network congestion would lead to an imperfect experience. 
"The delay at the beginning of the live broadcast made me panic, worrying the concert would be annoying due to a delay in the network signal, but surprisingly it went smoothly throughout." 
Lin Jingwen, a music critic from QQ Music, said 5G is one of the dominant technologies supporting the smooth running of online concerts. "The strong stability and low latency of the 5G network improved the picture quality experience of online concerts," said Lin.
According to Han Xia, head of the information and telecommunications administration bureau under the Ministry of Industry and Information Technology, Chinese telecom enterprises have built more than 500 thousand 5G base stations, with over 100 million 5G terminals connected.
Users from all over the world can use various communication tools to enjoy online concerts with the convenience of the Internet, without the limitation of time and space. 
According to NetEase Cloud Music, Arashi's concert drew 510,000 spectators, while the National Arena of Japan can only hold 70 thousand people, and even the Bird's Nest can only hold a maximum of 100,000 people. 
In addition, online concerts solved the problem of buying tickets. "Fans don't have to fight for tickets and there will be no scalpers bidding up ticket prices. Most importantly, it won't be as expensive as a live concert," said Lin. 
On Damai, a live entertainment ticketing marketing platform from China, the cheapest tickets of an event usually cost 280 RMB, not counting round-trip travel or accommodation. According to CBN Data, the average ticket price for cultural and performing arts on Damai has kept increasing since 2012 and reached 444 RMB in 2016.

In contrast, the free performances provided by TME Live concerts are highly praised. The two charity concerts with Rainbow Choir and Eason Chan won the "MBIA Music Industry Contribution of the Year Award'' at the BME Forum Music & Finance Annual Conference. Even Arashi's online concert on NetEase Cloud Music charged 60 RMB, which is much cheaper than its usual fare of 600 RMB. 
However, online concerts cannot supply audiences with an atmosphere to interact with their idols in person, or be surrounded by people who share the same music interests. 
Ms He feels lonely when looking at the screen all alone, "I really wanted to share some feelings but there was no one available."
Liu Ziyi, a 27-year-old drummer from an underground band, held an offline viewing event in Shenzhen by renting a party house, with 42 people joining to watch the Japanese rock band ONE OK ROCK's concert on Nov. 7. After the concert, they made some comments and played games during dinner, sharing an exciting night with like-minded friends. 
"I can't imagine staring at the electronic screen alone especially when listening to rock music. There should be people screaming together." 
Mr Liu said they didn't know each other at first but could talk about everything because they shared the same interests.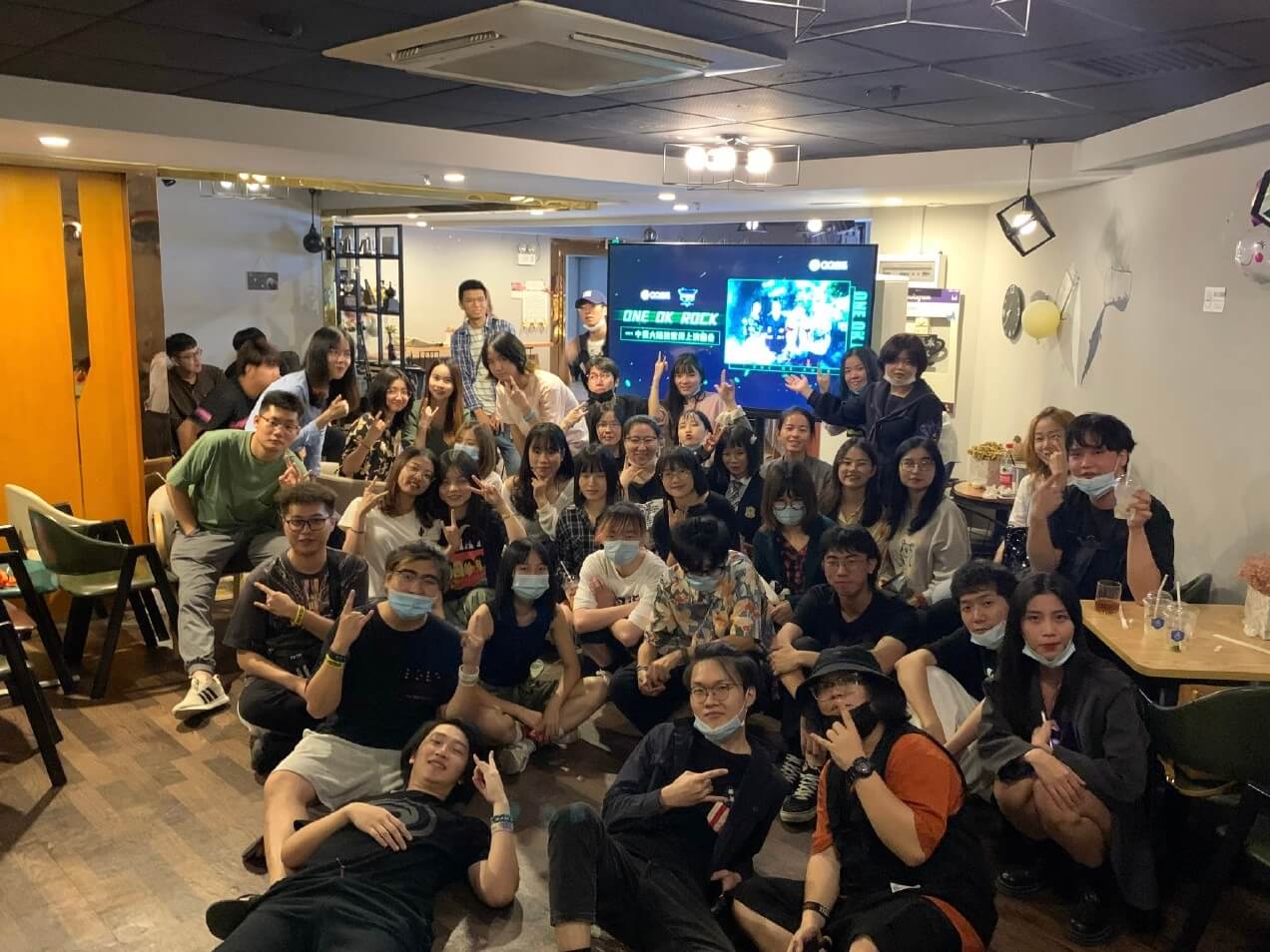 Another music platform NetEase Cloud Music also launched a Cloud Village Bedroom Music Festival, enabling remote performances of independent musicians. 
The musical festival attracted cumulative views in excess of 16 million, with a total of 85 groups of musicians participating in the online performance in one month after its start in February, according to NetEase Music. It also offers currently unknown musicians the opportunity to reach out to audiences and increase their visibility.
Compared with the professional concerts of TME Live, NetEase's online music festivals are more interactive. Audiences are able to communicate with the performers via pop-up comments, which leads to a higher degree of interactivity.  
The first phase of the Music Festival was a live audio broadcast, where the musicians did not show their faces and audiences interacted only with text and voice. But later it transformed into live video streaming. Now people can watch the live at 7:30 pm every week from Tuesday to Saturday. 
With the progress of science and technology, live broadcasting facilities are relatively advanced, which can fully meet the needs of people watching online. But Mr Lin thinks the more crucial task is to provide the audience with a more immersive experience. 
"During the pandemic, users have become accustomed to watching livestream concerts, and this trend is likely to persist in the next normal, but the unique atmosphere that live concerts provide is completely irreplaceable," Mr Lin said.