My day in Chungking Mansions: Disconnected "country" in Hong Kong
By: Zhu Zijin Cora 朱子槿

Edited by: Moon Lam

2020-12-30
The elevator in this 17-storey behemoth of a building with more than 4,000 residents and hundreds of small businesses, can only hold five people. Waiting for an uncrowded one needs both patience and luck. 
After 10 minutes, I give up and enter the stairwell to walk six numbers of flights downstairs. The walls are covered with graffiti. Through the window, I can see nothing but pipes with black stains. 
Nearly half a century ago, Chungking Mansions was one of the most upscale buildings in Tsim Sha Tsui. But now, this complex has become a low-priced gathering place for minority groups and asylum seekers.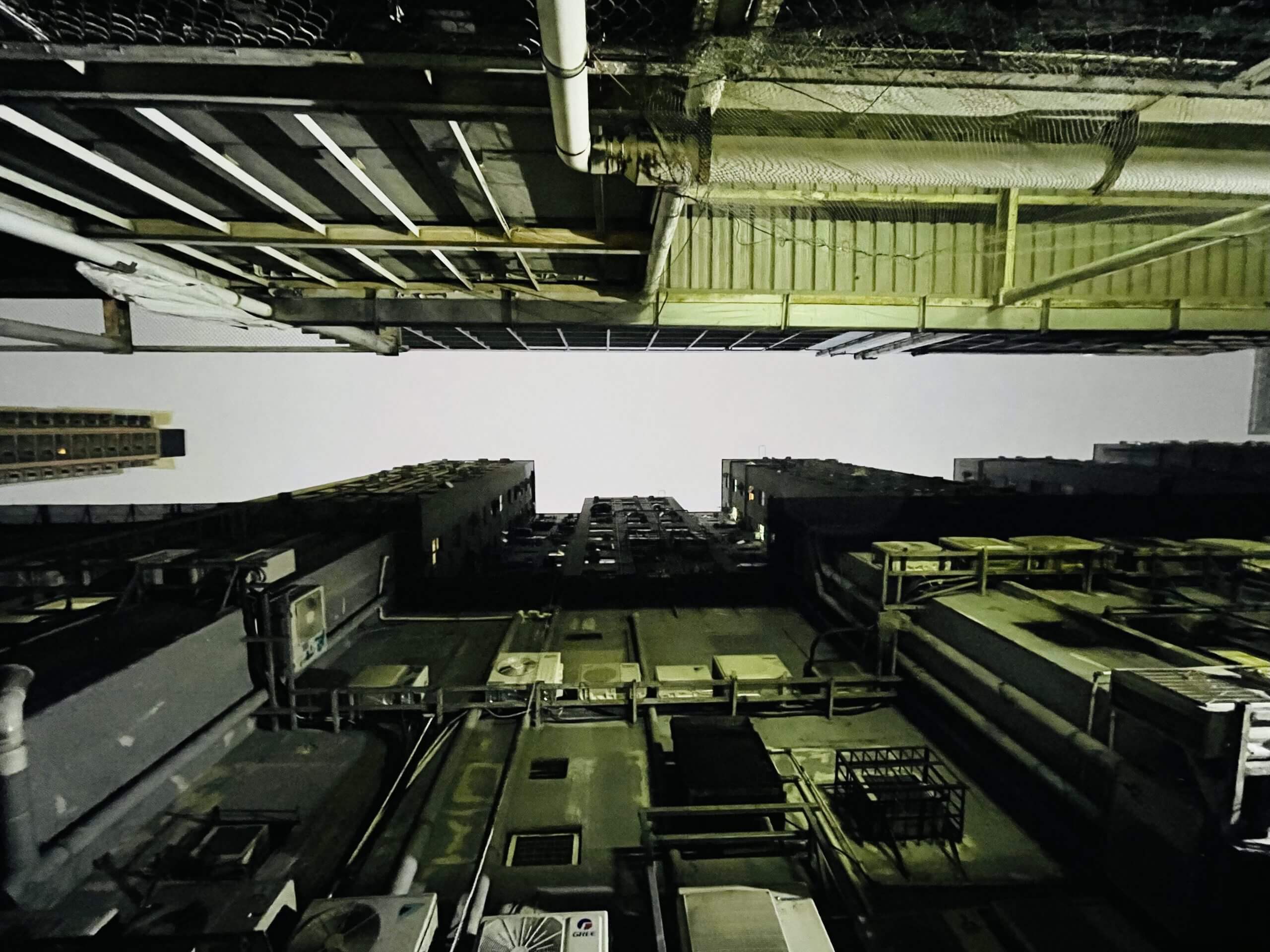 Before the pandemic, it used to see about 10,000 visitors every day. They come here for authentic food, affordable rooms, drugs, and prostitutes. For decades, some local people have viewed the complex filled with crimes and violence, as another "Kowloon Walled City," which was known for its high density and lawlessness.
But fewer visitors amid the pandemic have made this building further disconnected from the outside world. I'm here to spend 24 hours, to get inside the look of this building and its people. 
It's 5 pm on Sunday. Outside the stairwell on the ground floor, about 10 Africans are drinking beer and watching football on the television with loud music.
I feel nervous in this unfamiliar place with so many corners and aisles, which are like scattered puzzle pieces. So I choose to stand still and look around to figure out the direction. 
Luckily, someone is waving at me. I tell him that it is my first-time visit and ask for his advice. This 37-year-old Indian grocery shop owner, Muddassar Ahmed, is keen to give me an introduction.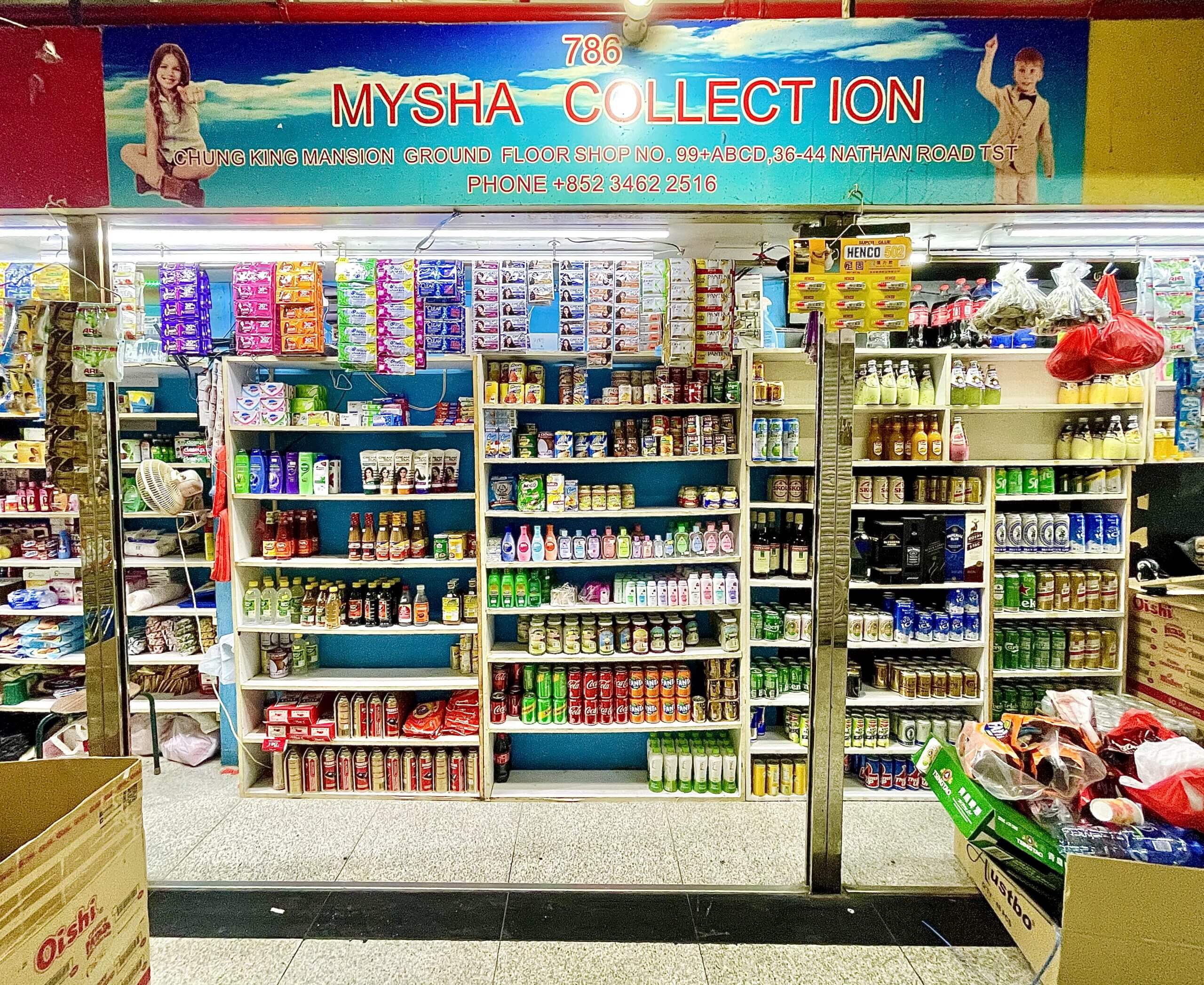 This five-block complex has more than 3 hundred stores. Most are run by African and Indian migrants and are known for affordable prices and a wide range of options. 
Mr Ahmed sells goods from snacks to lipsticks. One bottle of water, which sells around HK$9 outside, costs only half price here. The laundry house, computer room, and worship place can be found around his store.
"You can get everything here. It's just like a country. You don't need to go outside," Mr Ahmed says. He adds that most stores and restaurants are on the first two floors, catering to all daily needs.
Right above my head, there's a surveillance camera. It's just one of the other 400 cameras installed by the government due to safety, as Chungking Mansions has made headlines because of drugs, fights, and rape cases. Last year, a South Asian man was slashed in Mr Ahmed's store. 
"But it doesn't mean the whole building is unsafe," he says. He was several meters away from the injured man when the attack happened, but he didn't get hurt. "Danger goes for dangerous people. Most of us just do our ordinary business without any trouble," he says.  
"Of course, there are still bad things that happened. But other places outside also have crimes, not just here," he says. 
The overall safety is better now because of security cameras, Mr Ahmed says. But while I'm talking with him, about half of his customers come to buy "smoking paper," thin rolling papers for handmade cigarettes. Mr Ahmed explains many people use it for marijuana. 
People here call Mr Ahmed "Sunny Bhai." Sunny is his nickname, and "bhai" means "brother" in Hindi. He is close to residents here and the police in other districts, because of his "naughty" gangster past. But now he says the police come for assistance. In his Whatsapp messages with them, one police officer also calls him "brother."
However, when the police first meet him, some of them are cold, which he says is common for minority groups. 
"When we go into shops, there's always someone following us, to see if we're going to steal something," says Jeffrey Andrews, 35, the city's first registered ethnic minority social worker. "That's the society we live in. We pay the price for our colour, which is unfair." 
Mr Andrews, an ethnically Indian who was born in Hong Kong, has worked at the non-governmental organisation, Christian Action, in Chungking Mansions for 12 years, helping ethnic minorities and refugees.
Christian Action set up this Centre for Refugees in 2003. It has provided basic living assistance, education training, and psychology services to nearly 15,000 refugees and asylum seekers, Christian Action's report says. 
Minority groups continually face barriers in daily life, from seeking accommodation to employment, the Equal Opportunities Commission reports. But few of them file complaints to the government because they don't want to be viewed as "trouble-makers." Another reason is that they think such complaints lack effectiveness for solving the long-existing discrimination in this international city, the report says. 
"We have made some progress in tackling discrimination during the recent years, but that's too slow," Mr Andrews says. 
Having experienced three generations in Hong Kong, Mr Ahmed also sees some improvements. Twenty years ago, locals stepped away from him in the MTR, but now such problems don't exist.
About 8 percent of the Hong Kong population are ethnic minorities, in a total of 580,000.  Most of them are Filipinos, Indonesians, and South Asians, according to the 2016 Population By-census. 
Some minorities have been marginalised due to language barriers and biases, the Equal Opportunities Commission says in the report. Besides, the "one-side" media also make it difficult for people to know ethnic minorities, especially the ones in Chungking Mansions, Mr Andrews says.
He organised visiting tours to the building last year to raise awareness of Chungking Mansions and the residents there. The activity received warm responses from the public, Mr Andrews says. 
He explains that many residents and shoppers distributed water to protesters during the social movement last year, making more people change their minds and connect with ethnic minorities. Local people also gathered at Chungking Mansions to support their business as a way of saying thank you.
"But the pandemic has made almost every effort back to zero," Mr Andrews says. He ceased the tour this year. "The Covid-19 enlarges the gap between people outside and inside."
Now only a few local visitors are coming here, especially under the fourth wave of Covid-19 infections and tightened social distancing rules. I've met local couples who come here for a curry. 
"I didn't want to come here at first, because I thought the hygiene was bad and I don't understand their language," Tom Ho Ka-kei, sitting at the table next to me, says. The 26-year-old comes with his Indian friend. "But I see them sanitising their hands, so I'm less worried. And the food is cheap! I spent around HK$100 for four dishes."
There are 18 licensed restaurants, most of them serving Indian, African and Chinese food. On the upper floors, there are also many unlicensed restaurants, some of them require special codes to get in.
The "Uncle's Center" restaurant has eight different curry options. I spend HK$60, less than half of the price outside, for their best-selling Mutton Tikka Masala, a creamy mutton recipe with gravy, and Chicken Chettinad with naan - a traditional Indian flatbread. The spicy sauce of this chicken curry is perfect for bread. 
For the accommodation, I've booked a twin room at Holiday Guest House on the sixth floor for HK$250. Apart from two single-size beds with thin mattresses, my 8-square-meter room also has a television, small fridge, air conditioner, and bathroom, which does not separate the toilet from the shower.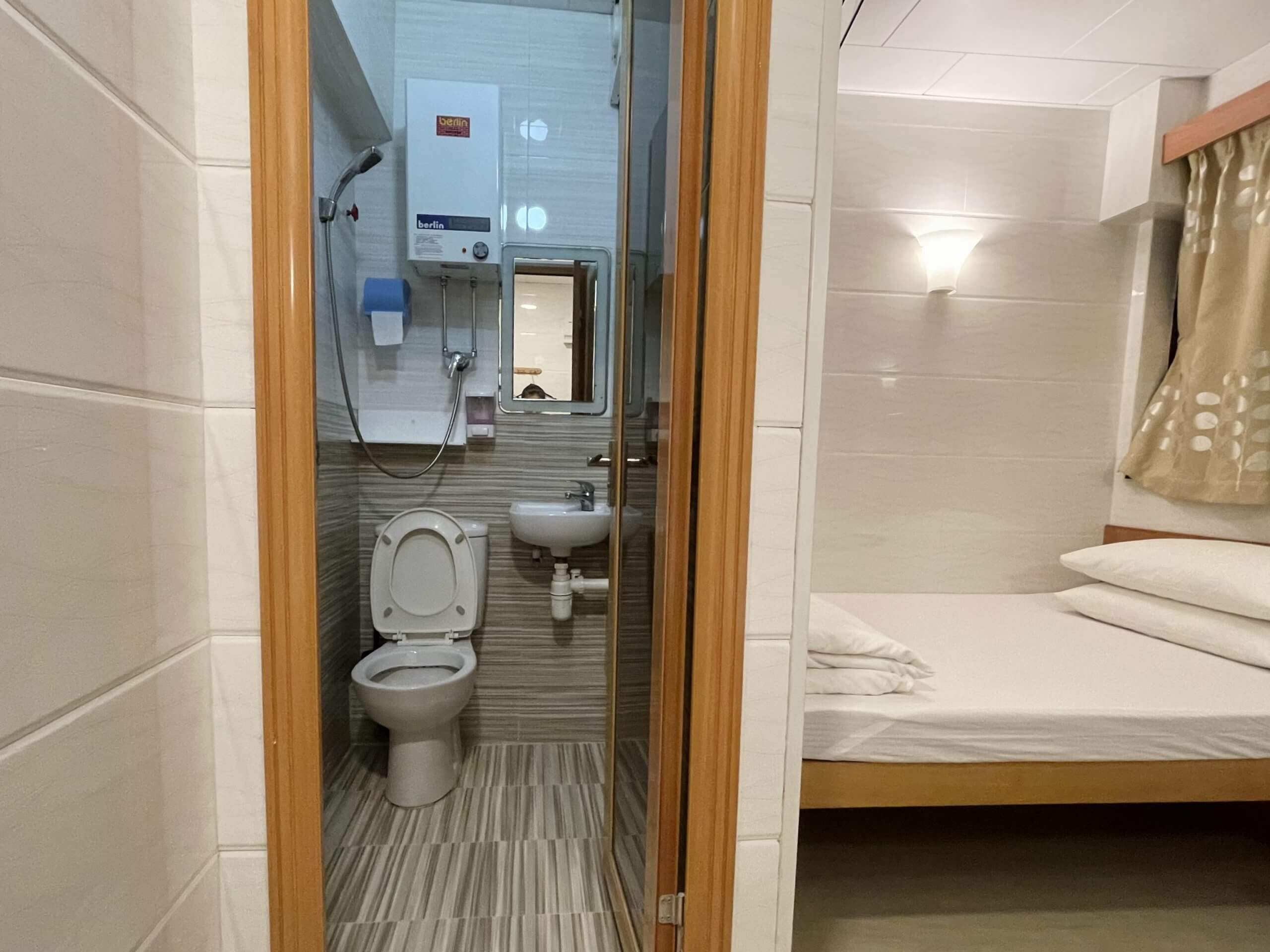 "It's Sunday, many domestic helpers come here to spend their day-off," the 60-year-old Nepalis owner, Qurung Khiman Dhoj, says.
Because of the social distancing ban, the domestic helpers are not allowed to gather in a big group. "It's the cheapest place they can get," he says. A single room costs HK$100 per day.
There are about 180 guest houses in the building, which normally cater to traveling backpackers and those unable to afford rooms in the city's pricier hotels. 
When I check out the next day, the owner tells me to use another "faster elevator." But still, I end up walking downstairs.