Hong Kong stock rises second week driven by Alibaba's rebounds
By: REN Ziyi David

Edited by: Shameel Ibrahim

2021-10-08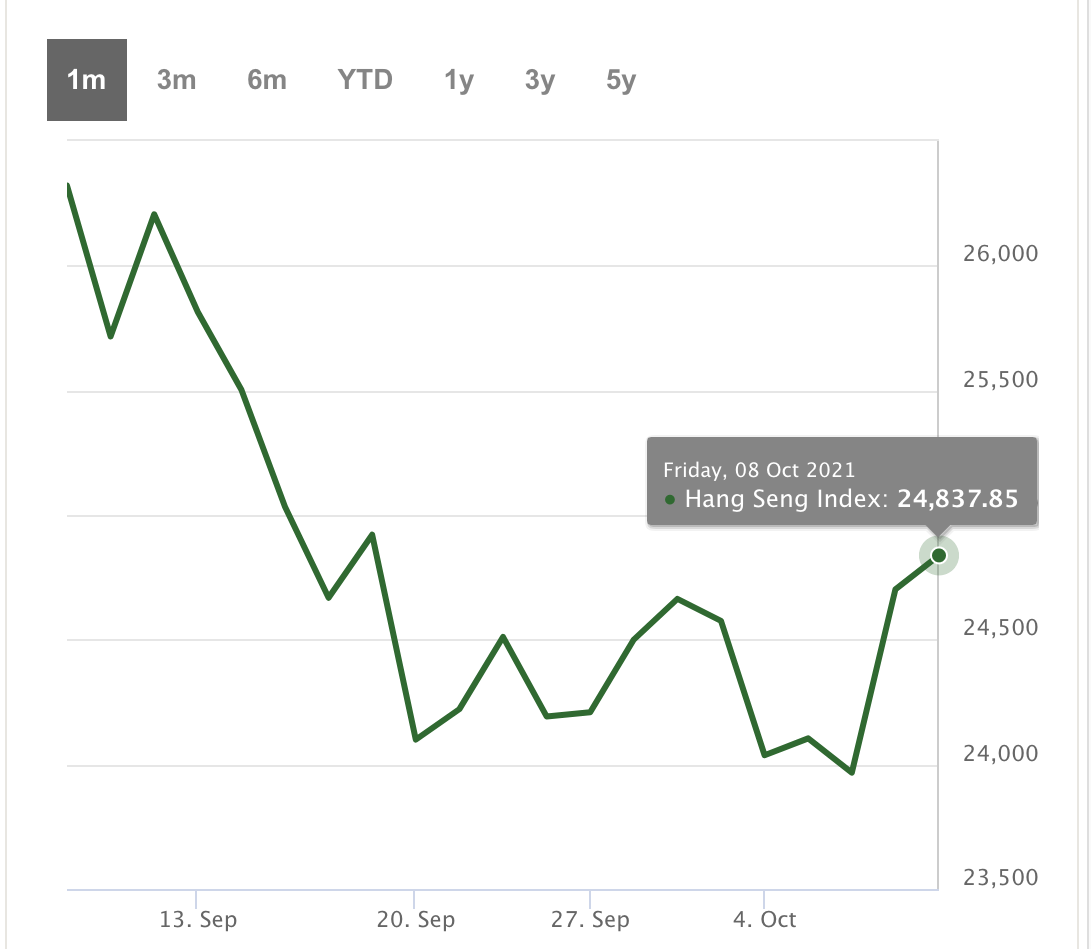 The Hang Seng Index closed (HSI) at 24,837 points on Friday with a 0.55% gain as the Chinese tech giant Alibaba (9988) continues to recover from its historical low point on Oct 5, after the positive sign released by the purchase from a big investor.
Alibaba jumped 5.5%, Tencent (700) increased 2.2%, phone maker Xiaomi (1810) increased 1%, and food delivery giant Meituan (3690) surged by 2%, despite receiving a 3.4billion yuan fine from China's anti monopoly act, with Hang Seng Tech Index outperformed by rising 34 points.
The stock price of Alibaba in Hong Kong leaped 7.2% after Daily Journal released the deal message on Thursday — the firm needs some common stocks to maintain "cash equivalent" other than US Treasuries, since "the current U.S. Treasury rate of return is so low," according to Daily Journal's Statement, rallying up the prices of other China concept tech stocks as well. HIS surged more than 3% yesterday.
The HSI opened high in the morning and closed low during the noon break, dragged by a 6% incline of WuXi Biologics, and moved back to positive as tech companies remain the gain.
AAC Technologies Holdings (02018) dived the most by 13%, with an estimated 51% to 61% drop in the third interim net income. At the same time, the sports stocks retreated, believing to be the fatigue in the retailing market. Li Ning (02331) decreased 5.8%, and Xtep (1368) dropped 6%.
The HSI fell to its supporting level of 23,000 in September, while Alibaba (9988) has plunged 32% since the start of the year before Charlie Munger's overweight. The 97-year-old billionaire American investor's newspaper publisher and investment firm Daily Journal expanded the position in Alibaba (BABA) by nearly 83%, owning more than 302,000 shares with $45 million stakes worth.
Chinese tech companies have lived under the shadow of the clashes between China and the US. Meanwhile, the Chinese government has struck China's tech companies with several antimonopoly acts since May, including the crackdown on Alibaba, while Munger expressed appreciation for such an act. He praised the government for "[doing] the right thing."
 "That turned out to be exactly the right thing to do. And I think they will continue to allow people to make money," said Munger in June, "so my hat is off to the Chinese."