Greater transparency needed as Hong Kong aims to transform into a green finance hub
By: WANG Jingyan 王婧言

Edited by: Vikki Cai Chuchu

2021-12-09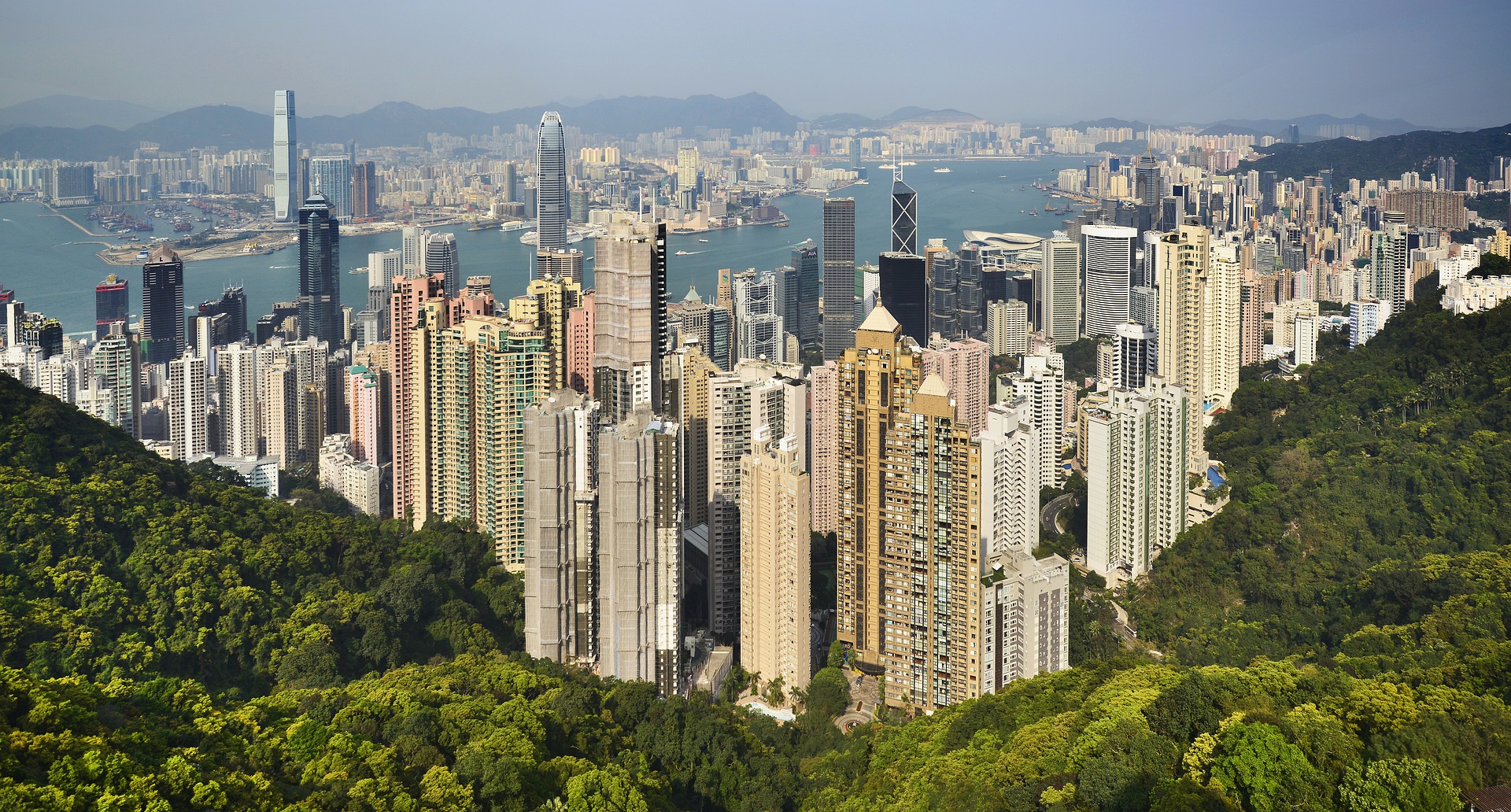 "Greenwashing" is a new buzzword featured at the COP26 climate summit in Glasgow. It's part of the slogan of teeanger climate activist, Greta Thunberg.
Greenwashing refers to a false impression or providing misleading information about how environmentally friendly a business of a product might be.
Hong Kong has been trying to reposition itself as an international green financial hub since 2018. But the process finally stepped out this year as the government and industries seek to address disclosure issues in the green and sustainable investment market as a way to stamp out "greenwashing".
Stephen Phillips, director-general of investment promotion in InvestHK, a department of the government responsible for foreign investment in Hong Kong, told The Young Reporter that  the city "has an important role to play as a green finance centre".
"A number of listed companies also, very strongly committed to both raising green capital, but also being compliant around bringing standards," he said, " and Hong Kong obviously serves not only Hong Kong and the rest of China, but also a place in which companies raise money from across the whole of Asia."
A report conducted by Standard Chartered Bank in 2020 found that among 1085 respondents from Hong Kong, Singapore, the United Arab Emirate and the United Kingdom, 59% of them who put money in sustainable investment said they would consider investing 5% to 10% in sustainable investing, and 75% said they would consider increasing their investment to 25% or more due to the pandemic.
However, Alvin Li, Group Financial Consultant of TAL Group, said many investors may take a wait-and-see attitude towards green investment mainly because it is still under development.
"The green bond market is still relatively new, still in the embryonic stage, and the secondary market is not fully developed. Investors have doubts about the liquidity of the market," he explained.  
"A lot of the feedback we are getting is that investors are very interested in investing their money in sustainable-related investments, but the number of people who have deployed funds into these vehicles is relatively quite small," said Mary Leung, the Head, Standards and Advocacy, Asia Pacific at CFA Institute, a global association of investors.
"One of the potential reasons is because there are just too many jargons out there. People don't understand what it means by being green or sustainable," she explained.
"And therefore having a framework to allow investment managers to articulate how they approach certain sustainability or ESG (Environmental, Social and Governance )issues help investors understand what they are buying into," she added.
Mr. Li also said that investors should pay attention to greenwashing.
"Investors can make money while taking responsibility to improve the environment (through green investment)," he said, "but (they) should be careful because some issuers are holding a post without qualifications. They are not really green.
The lack of transparency and fears of greenwashing are common deterrents for green investment around the world, not just in Hong Kong.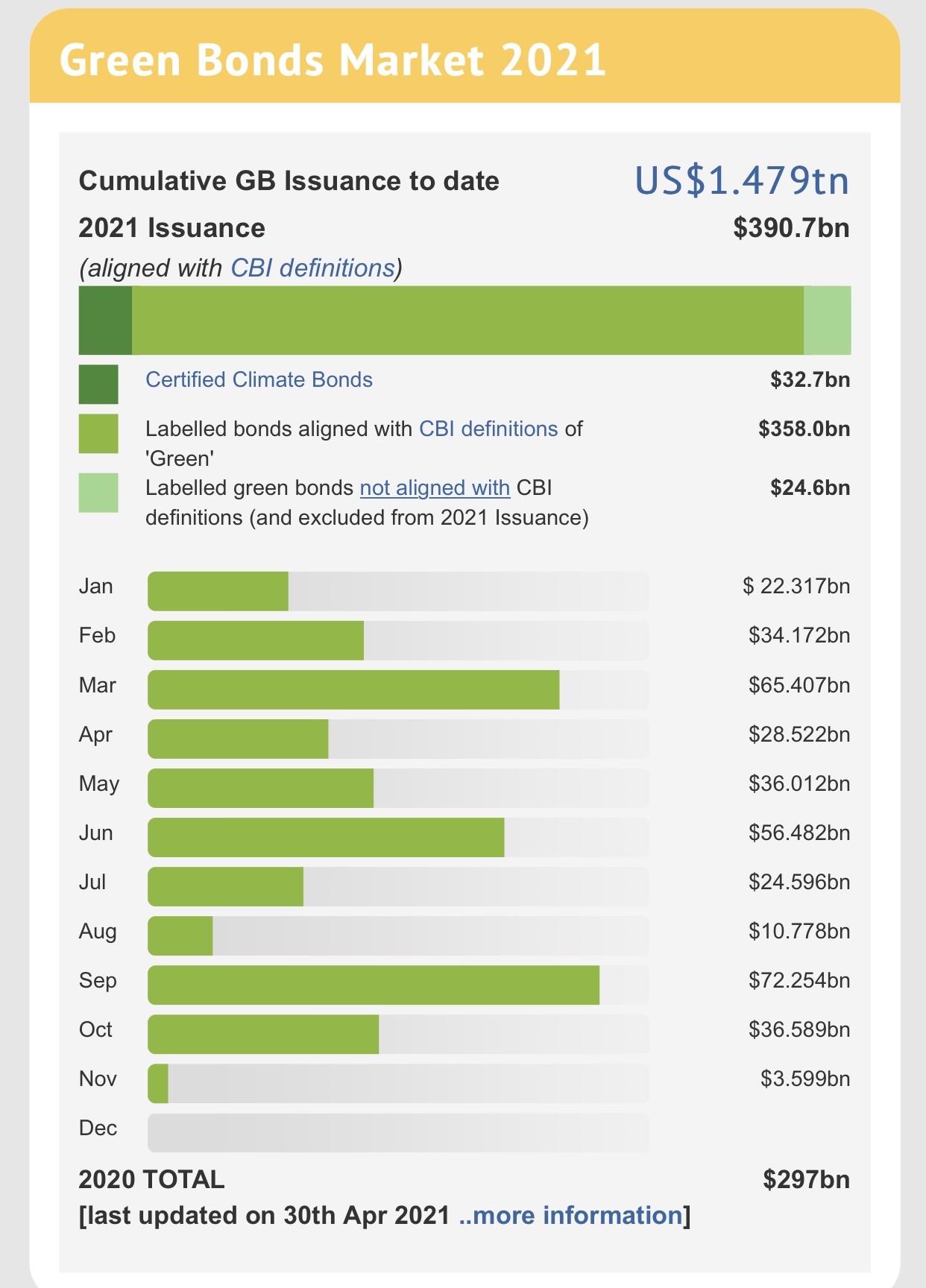 The epidemic has promoted a global rethink on sustainability and the relationship between people and nature and thus adding renewed interest in green investment.
The enthusiasm for investment soared during the pandemic. So far in 2021, US$1.325 trillion of ESG debt has been issued which includes US$855.34billion of ESG bonds and US$469.88billion  of ESG loans, nearly double the US$754.3billion of ESG debt in 2020 globally, according to Refinitiv data.
Still, a total of 60% of institutional investors encompassing US$25.9 trillion in assets felt greenwashing was the most significant obstacle to their sustainable investment inversions, according to a report by Schroders in 2020.
Alongside the investment challenges to greenwashing, almost half of the investors said that a lack of transparency and reported data was restricting their ability to invest sustainably, an increase of 40% a year ago, according to the Schroders' report.
Ashley Ian Alder, chair of the International Organization of Securities Commissions board, said in the COP26 that different regulatory regimes and voluntary disclosure have led to fragmentation of global sustainability reporting.
He also said at the summit that the inconsistency in regimes and disclosure standards would confuse investors, resulting in mispricing, capital misallocation and greenwashing.
The Hong Kong Securities and Future Commission established the Green and Sustainable Finance Cross-Agency Steering Group in May 2020, hoping this cross-divisional working group would help with policies in developing Hong Kong as a green finance hub.
The group set tougher rules on the scrutiny and supervision of both local and international ESG funds in June 2021, which require more detailed disclosure of funds, including focus, investment strategy, asset allocation and benchmark to evaluate how the funded project is going.
To help enterprises with ESG report compliance with tougher disclosure requirements of Hong Kong Stock Exchange, many institutions have offered services.  
Allied Sustainability and Environmental Consultants Limited (AEC Group), a Hong Kong-based sustainability and environmental consulting firm, announced the launch of an online ESG management platform in late September.
"The platform aims to help enterprises manage their ESG data, and they can also use this platform to check the process towards their environmental-friendly goals," said Vima Mak, marketing and relationship manager of AEC Group. 
But a system of standards that applies to most green markets around the world, especially global standards on disclosure, is still not in place in Hong Kong.
Taurus Kwan, ESG Senior Consultant of AEC group, said that universal disclosure standards may help reduce investors' doubt about ESG and green financing products.
"The disclosure of information (about investment) is not enough", he said, adding that "transparency" of information is very important.
"We need to have a global standard for disclosure to reduce greenwashing," he added, "so that it can give people more confidence to invest."
Talents in this area were also very important besides a comprehensive disclosure standard, said Ms Leung. 
"We're looking at multiple disciplines across the entire ecosystem and the ability to scale," she said, " Hong Kong is an international finance centre, which basically hinges upon whether we can build on our own talents and whether we can attract talents from overseas."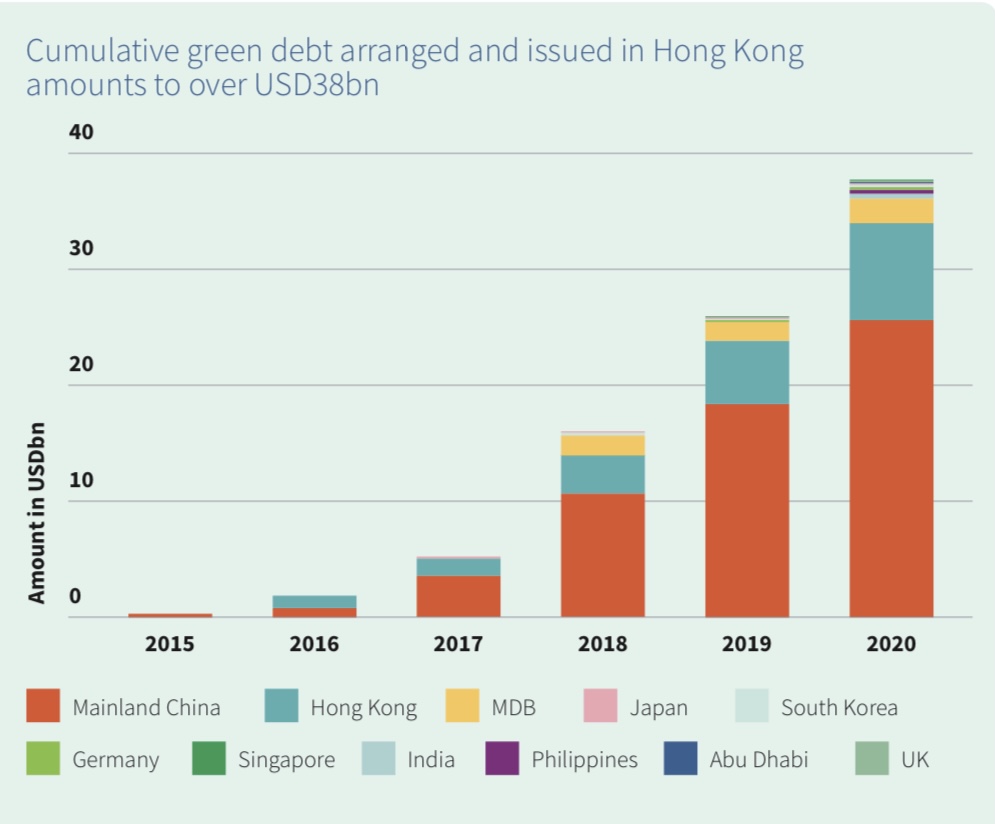 The Hong Kong government started launching a green bond offering of US$1 billion in May 2019, and it planned to issue HK$175.5 billion (US$ 22.5 billion) worth of green bonds in the coming five years, said Hong Kong's finance chief Paul Chan Mo-po at the ESG and Green Finance Opportunities Forum on Oct 20, 2021.
Some bond issuances would also be opened to retail buyers "to reap the benefits" of sustainable development.