Hong Kong immigration wave: the elderly left behind need more assistance
By: Tsz In Warren LEUNG、Rajnandini PANDEY

Edited by: Leona Liu

2022-11-11
Chow Suk-chen, 90, whose daughter has moved to Canada for more than a decade, used to be caught between the frustration of her daughter's departure and the desire to be a sympathetic mother.
 "You can't make them stay with you just because you're scared to be lonely. The kids will eventually leave you behind when it's time to go," she said.
An old Chinese saying is that while his parents are alive, the son may not go abroad for a distance. For thousands of years, this phrase, which emphasizes the responsibility of children to accompany their parents, has been enshrined as a guideline for the Chinese regarding old-age issues.  
However, as the number of residents leaving Hong Kong continues to rise for three years, more and more elderly people are being left behind in this city and need help from charities to face their old age.
The Census and Statistics Department (CSD) found in mid-August that 113,200 Hong Kong residents had left the city during the past 12 months, representing the highest since records began in 1997.
The number of Hong Kong residents aged between 24 and 59 has declined over the past year, with the largest drop in the population aged 20 to 24, at 36,000. People who have left the city are predominantly younger, according to the data from CSD. 
Only 13.2% of the respondents have immigrated with their parents, whose average age reaches 70 years old, while most of the immigrants choose to leave their elderly parents behind in Hong Kong, according to an online survey from UKHK, a project run by a British non-governmental organization called Welcome Churches to help people migrating to the UK from Hong Kong. 
For elderly residents whose families are overseas, the need for assistance to overcome the emotional problems caused by loneliness is common.
From May to July last year, the Senior Citizen Home Safety Association (SCHSA), a non-profit charitable organization which provides comprehensive support services to the elderly in need, had received a total of 92 cases involving empty nesters seeking help, around 20% of which were about emotional distress. 
The association said the average age of their clients is 80, and most of their mental stress is caused by loneliness and unhappiness after their offspring emigrated.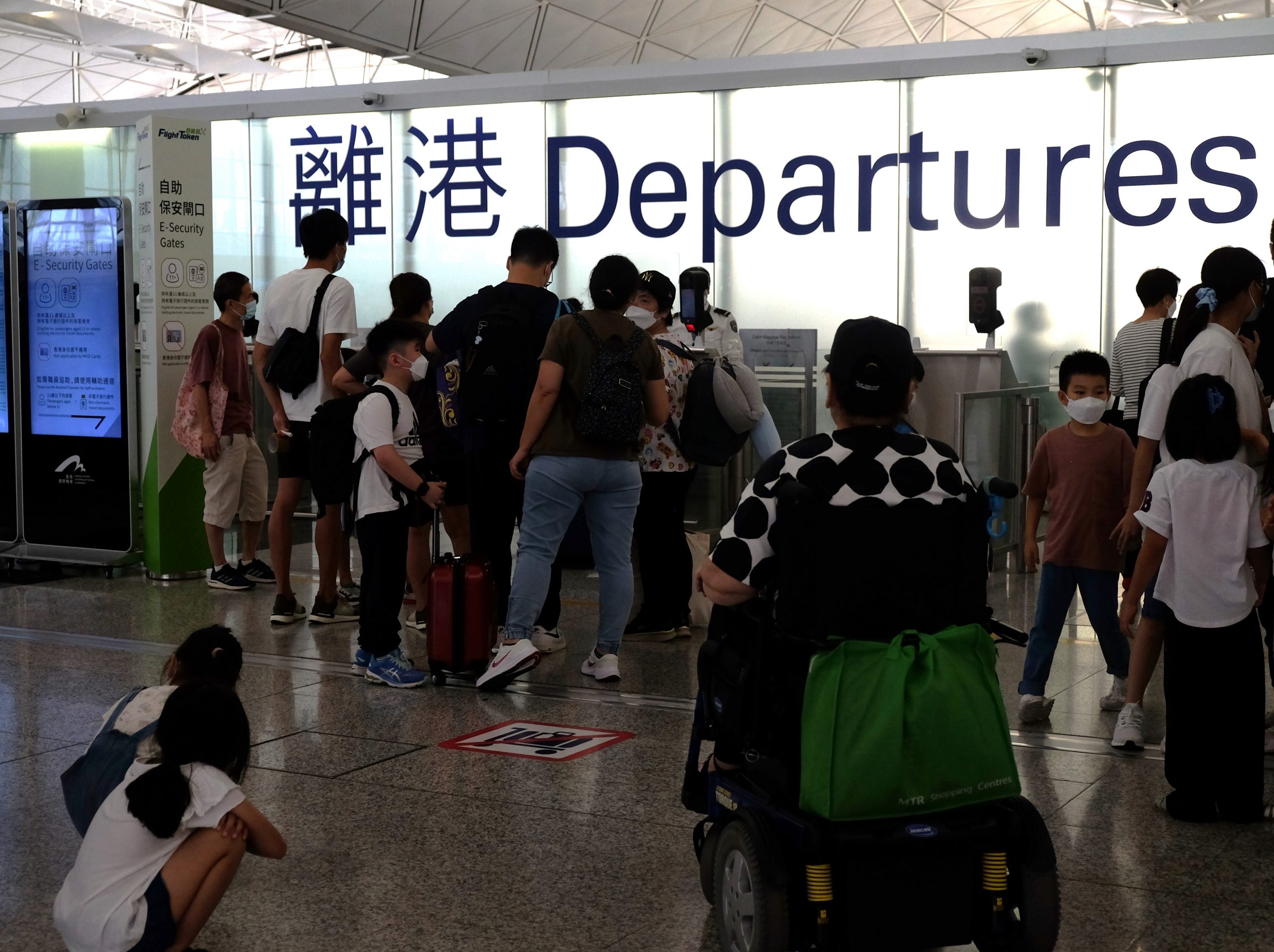 Chow's daughter has been worried about the unstable environment in Hong Kong and her husband has always wanted to emigrate for the child's future.
Chow chose to support her daughter and live with loneliness in Hong Kong, although feeling sad to be left behind because of her lack of adaptability and language-learning skills.
 "Even when my daughter lives far away from me, we'll keep in contact with each other frequently on the mobile phone. I know she would be happier to live with her family in Canada," she said. 
However, not all empty nesters are as open-minded as Chow and are able to reconcile themselves from negative emotions caused by children's immigration.
The SCHSA reported that in the case of emotional support for elderly people living alone, some became depressed and suicidal after learning that their children were going to emigrate.
Considering the needs of senior citizens for emotional relief in the face of the migration wave, the SCHSA has launched a regular monthly telephone greeting care service for the elderly in need since last year.
Apart from the psychological issue, personal health management is also a challenge for empty nesters with less family support and the outbreak of the epidemic.
76% of the elderly aged 70 or above in Hong Kong suffer from chronic diseases that require continuous medication and constant prevention of sudden illness due to complications, according to the data from the Census and Statistics Department.
However, the lack of close attention and companionship to parents by children of immigrants and the epidemic has exposed the elderly left behind to higher health risks.
A survey conducted by the City University of Hong Kong last year said the epidemic had increased the risk of elderly people going out for medical consultations.  In contrast, only 20% of elderly people surveyed have the confidence to use their smartphones to ask medical staff for advice from a distance.
Chow feels fortunate that she can still take care of herself, as she has gotten a personal emergency link distributed by the SCHSA to look for help if needed.
"I have gotten my personal emergency link that I will just press the link to look for help," she said. "I am lucky to take care of myself even when my daughter is living far away from me, as I know some others who are the same age as me are not able to do so."
The SCHSA provides 24/7 support service consisting of emergency aid, integrated care, around-the-clock vigilance service, health management, and day-to-day living assistance to the elderly through personal emergency link service. The association also provides training and workshops to the elderly and their family and caregivers.