Chinese cross-border investors suffer losses as Futubull and Tiger Brokers face corrective measures
By: Jiaxing Li、Lok Yi CHU

Edited by: Bella Ding、Yuhe WANG、Le Ha NGUYEN

2023-01-28
Investors in China have been in a weak market sentiment since China's securities regulator ordered the two major online brokerages Futubull and UP Fintech, also known as Tiger Brokers in Asia, to rectify their business last month.
Futu Holding Limited and UP Fintech Holding Limited have conducted cross-border securities businesses involving domestic investors without regulatory consent and will be banned from opening new accounts and soliciting new clients, said China Securities Regulatory Commission in a statement on Dec 30, 2022.
Existing Chinese investors can still trade via the brokerages but additional fund transfers through unlawful channels to their accounts will be banned.
"The sudden regulation brought uncertainty to my wealth, and I therefore chose to move my funds and not to use these two platforms anymore," said Allen Liu, a two-year user of Futubull and Tiger Brokers, adding that the government action affected his investment portfolio and caused some losses.
Ge Chenming, a cross-border securities investor on Futubull and UP Fintech, said that he suffered a sudden loss of CN¥160,000 (about HK$185,000) because of the fall in the US and platform stocks after the regulation.
"After the shut-down of these platforms, I have had difficulties buying US stocks because my English is poor and foreign platforms are hard for me to understand, " Ge added.
Shares of Futu and UP Fintech, both listed on Nasdaq, slumped around 30% to a one-month low at US$37.84 (HK$296) and US$3.20 (HK$25), respectively, one day after the announcement of CSRS. As of 26 Jan, the prices of Futu and UP Fintech have increased by more than 44% and 31% year-to-date, though both prices are still below the levels before the regulation.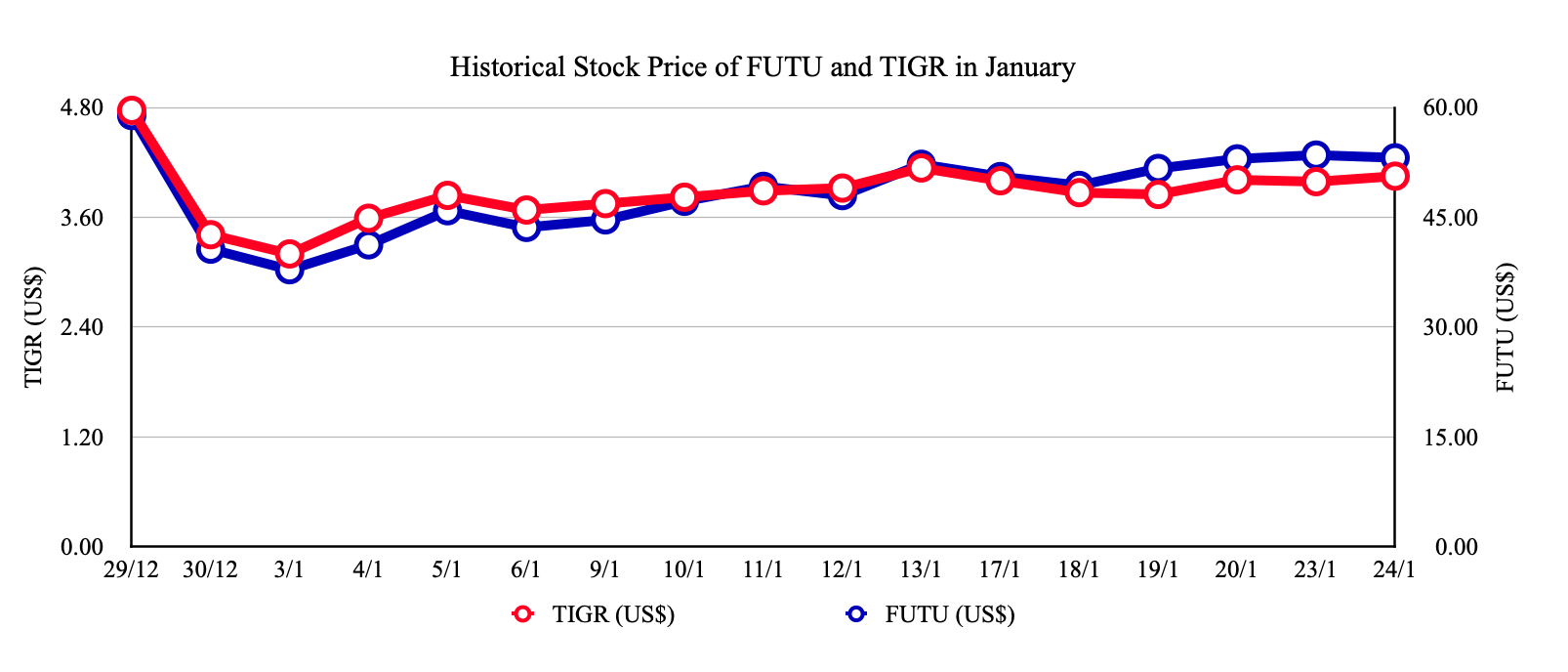 CSRC said it was illegal for Futubull and Tiger Brokers to provide investors with overseas stock speculation services, including stock trading on Hong Kong and US stock exchanges, without appropriate securities business licences in China.
Bob Heng, an investment manager in the China International Trust Investment Corporation, one of the Fortune Global 500 companies, said that this regulation will be beneficial to the investment business and amateur investors in China.
"This policy will make the money more transparent, and protect many investors who follow the trend and are not professional enough," said Heng, "I support this regulation, overall it is more good than bad".
CSRC hoped online securities trading platforms to standardise compliance and rectify illegal online cross-border securities business activities to create a legal investment environment in China.