HSI retreats from 11-month-high as mainland stock market resumes
By: Lok Yi CHU、Ho Yi CHEUNG

Edited by: Nga Ying LAU、Bella Ding

2023-01-31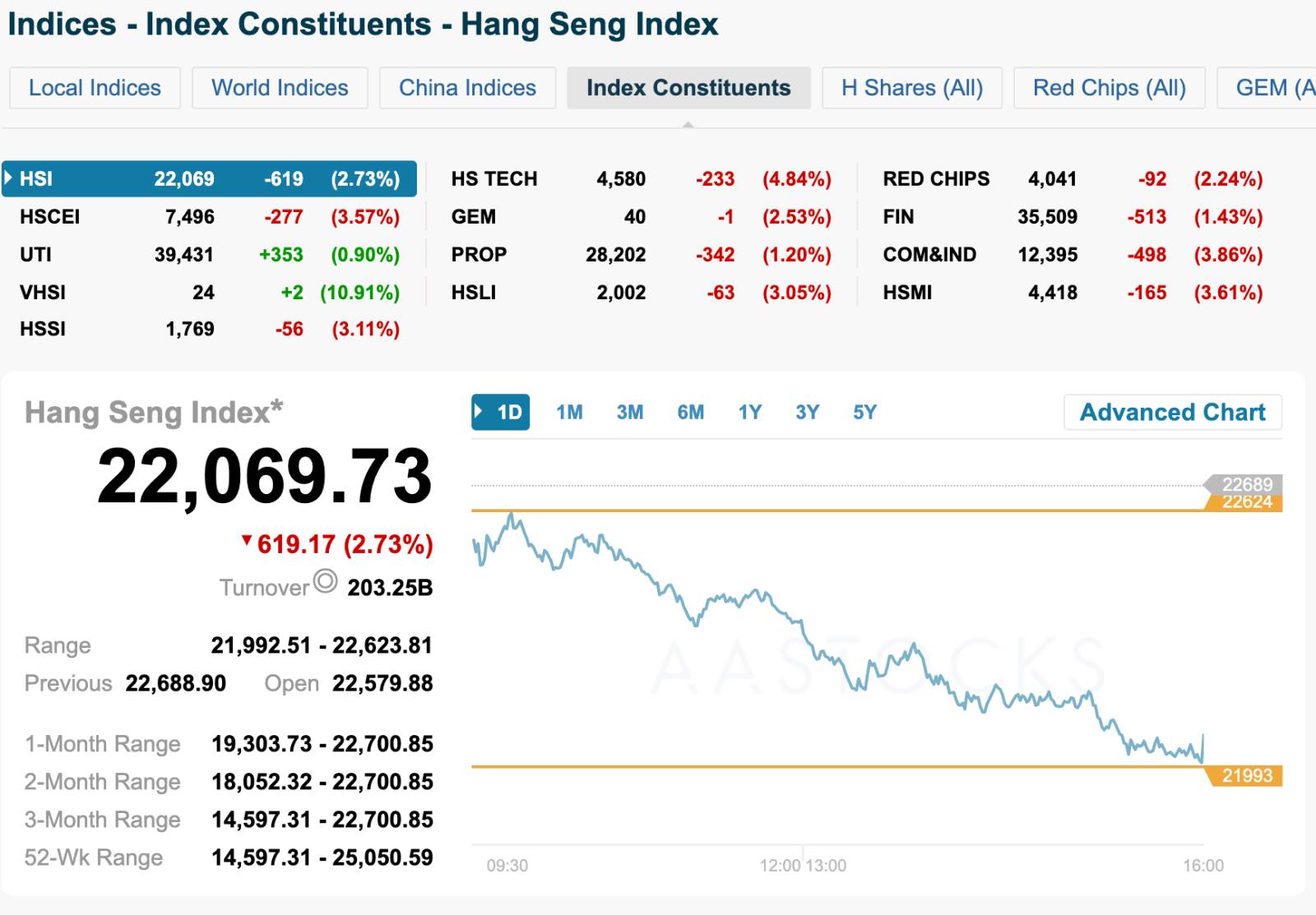 Hong Kong stocks pulled back on the third trading day of the Year of the Rabbit, also the settlement date of HSI futures, after a week-long Lunar New Year break in mainland China.
The Hang Seng Index opened 109 points lower this morning and dipped 2.7 percent, or 619 points, to 22,069.73 at the close of Monday trading, with a turnover of 203.25 billion.
"The Hang Seng Index will experience profit-taking after hitting an 11-month-high, also the futures index is settled on today, which caused market fluctuations," wrote Sam Chi-Yung, a Certified Financial Consultant of Patrons Securities, on Facebook.

CRIC Securities Company Limited announced yesterday that the transaction volume of mainland real estate during the Lunar New Year fell by 14 percent year-on-year, leading to weakness in mainland real estate stocks.
Country Garden (2007) slumped 8.3 percent to HK$2.97 while Longfor Group (0960) declined 5.7 percent to HK$26.60. The Hang Seng Mainland China Property Index overall downed 4.7 percent.
Property management stocks fell correspondingly. Country Garden Services (6098) slid 5.92% to close at HK$21.45.
The Hang Seng Technology Index dropped 4.8 percent amid profit-taking after two consecutive days of rising. 
Alibaba Health Information Technology Ltd. (0241) sank 8.0 percent to HK$7.05, while Alibaba (9988) and Tencent Holdings Ltd. (0700) dropped 7.1 percent to HK$109.00 and 6.7 percent to HK$387.20 respectively.
The Hang Seng China Enterprises Index decreased by 3.6 percent.
Mainland enterprise stocks Haidilao (6862) and Sands China Limited (1928) decreased by 6.85 percent at HK$21.75 and 5.56 percent at HK$28.85 respectively.
The blue chips backed the stock market. A CICC research report, based on the data provided by Informa Financial Intelligence Company EPFR, revealed that overall net inflows of the overseas active funds into Hong Kong Stock market have been recorded for three consecutive weeks as of 27 Jan.
Energy stocks HK & China Gas (0003) climbed 3.2 percent to HK$8.07 to a six-month-high, while CLP Holdings (0002) increased 2.0 percent to HK$59.
Sam predicted on YouTube that the Hang Seng Index will continue to rise after the mainland market resumes, and the Hang Seng Index might fluctuate slightly within a narrow range at a high position.