Hong Kong Sevens: tournament breaks gender barrier as women play alongside men for the first time
By: Dhuha AL-ZAIDI

Edited by: Ming Min AW YONG

2023-04-02
It's the much-anticipated time for sports again in Hong Kong. Tickets have been purchased months in advance, as rugby fans await the iconic Hong Kong Sevens. In the So Kon Po stadium last weekend, live bands cheer on the crowd, who are spotted in eccentric costumes – giraffe onesies, pirates, Snow White and her seven dwarfs – chanting to Bon Jovi's Living on a Prayer with beer pints in their hands.
This year, for the first time in the World Rugby Sevens Series' 23-year-history, the male and female teams will compete side-by-side over three days, from March 31 to April 2. 
As the Hong Kong women's rugby players eagerly prepare for such transformation that will shape the trajectory of the team, this points to an optimistic change in rugby, as more and more women are entering the field and adapting the dynamic of the sport.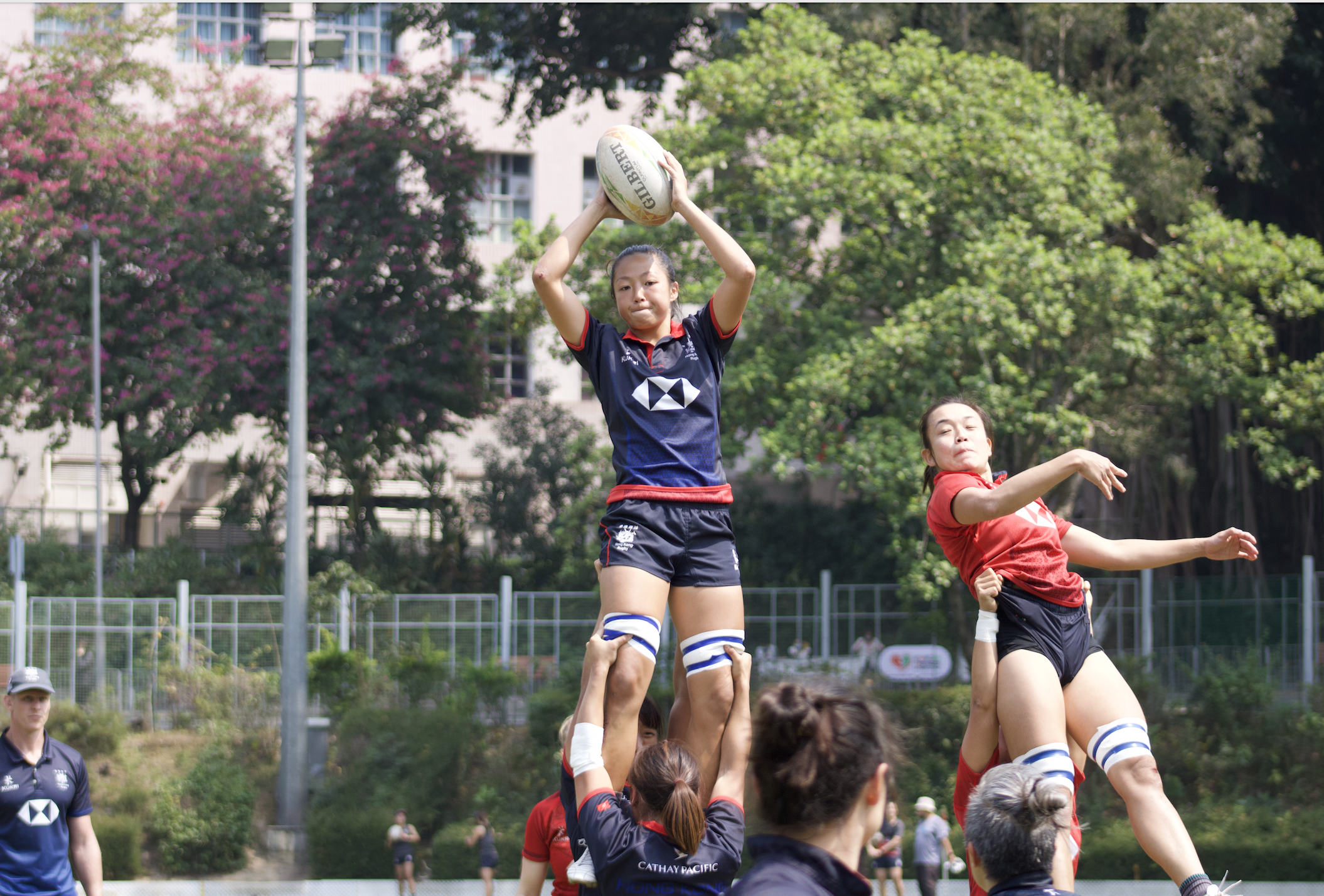 According to World Rugby, there are currently 2.7 million global female rugby players out of a total of 9.6 million, with a 28% increase in registered female players since 2017. This is largely attributed to new measures and campaigns aimed at increasing participation and engagement in women's games. 
The Try and Stop Us campaign launched by World Rugby in 2019, and the World Rugby Women's Plan 2021-25, hope to increase women's contribution to the sport both on and off the field through participation, performance and investment. Currently, more than 40% of rugby's 400 million fanbase are female World Rugby reported. 
In Hong Kong, women first began playing professionally for the Hong Kong Football Club, a private members' sports organisation, 110 years after it was founded in 1886, playing against Japan in their first international tournament in 1998. Now, the club holds two 15-a-side female teams - Fire and Ice and seven men's team. 
As the number of female players increases, the rate of youth clubs are also seeing positive growth, with currently 1,100 registered players on the field compared with 800 last season. According to the Hong Kong Rugby Union, mini and primary rugby accounts for over 6,000 participants at entry level. 
Many of the young players are girls, like Lucy Guest, 14, who plays for the U16 Hong Kong girls' team at the HKFC, starting at 6-years-old. "It's good to see that women are getting the same opportunities as men," she said.
Hoping to play professionally, Guest said she looks up to fellow female players like her idol Rochelle "Rocky" Clark, an English rugby union player. 
Hong Kong U16 Coach and Second Row player Roshini Turner, said she has one simple philosophy for the girls: to be themselves.
"Girls don't have confidence on the field because rugby is always seen as a male sport so the biggest thing is having an environment where they can express themselves, and that means making it enjoyable," she said.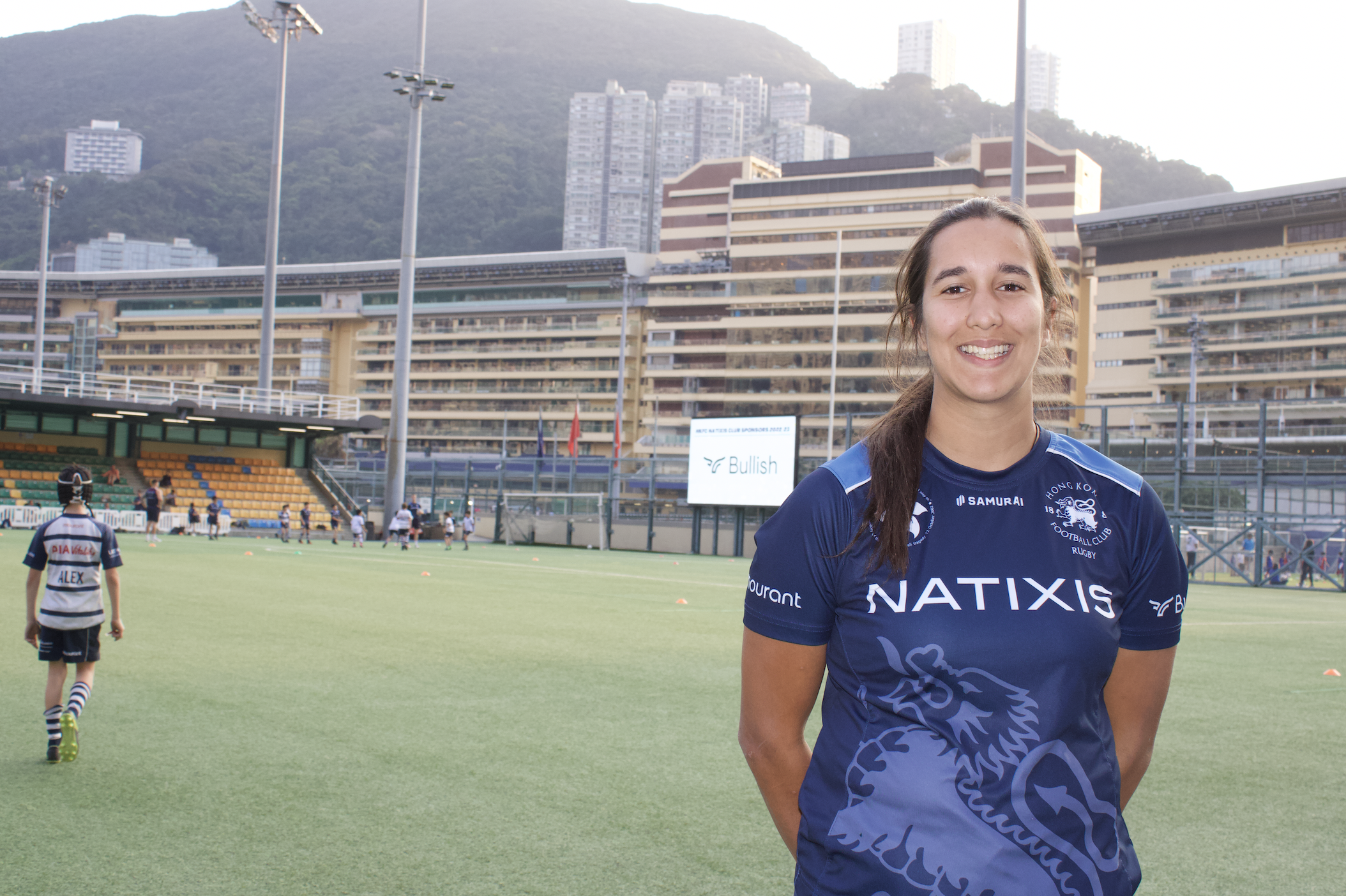 Second Row player Roshini Turner (above) coaches the U16 girls youth club twice a week
Growing up having to conceal her interest in a male-dominated sport, Turner said she hopes that this year's tournament will bring about new opportunities for young female players. 
"It's a great platform and nice for it to happen after so many years of it being an afterthought, or not being on the same pitch or being on the pitch that's really terrible at the back. It's nice that we're finally on equal footing," she said.
However, girls' involvement in rugby is far from equal. According to Girlguiding, the UK's largest youth organisation dedicated to supporting girls, 43% of schoolgirls were given the same sporting options as boys. Whilst boys were offered rugby, football and cricket opportunities, girls were suggested dance, gymnastics and netball.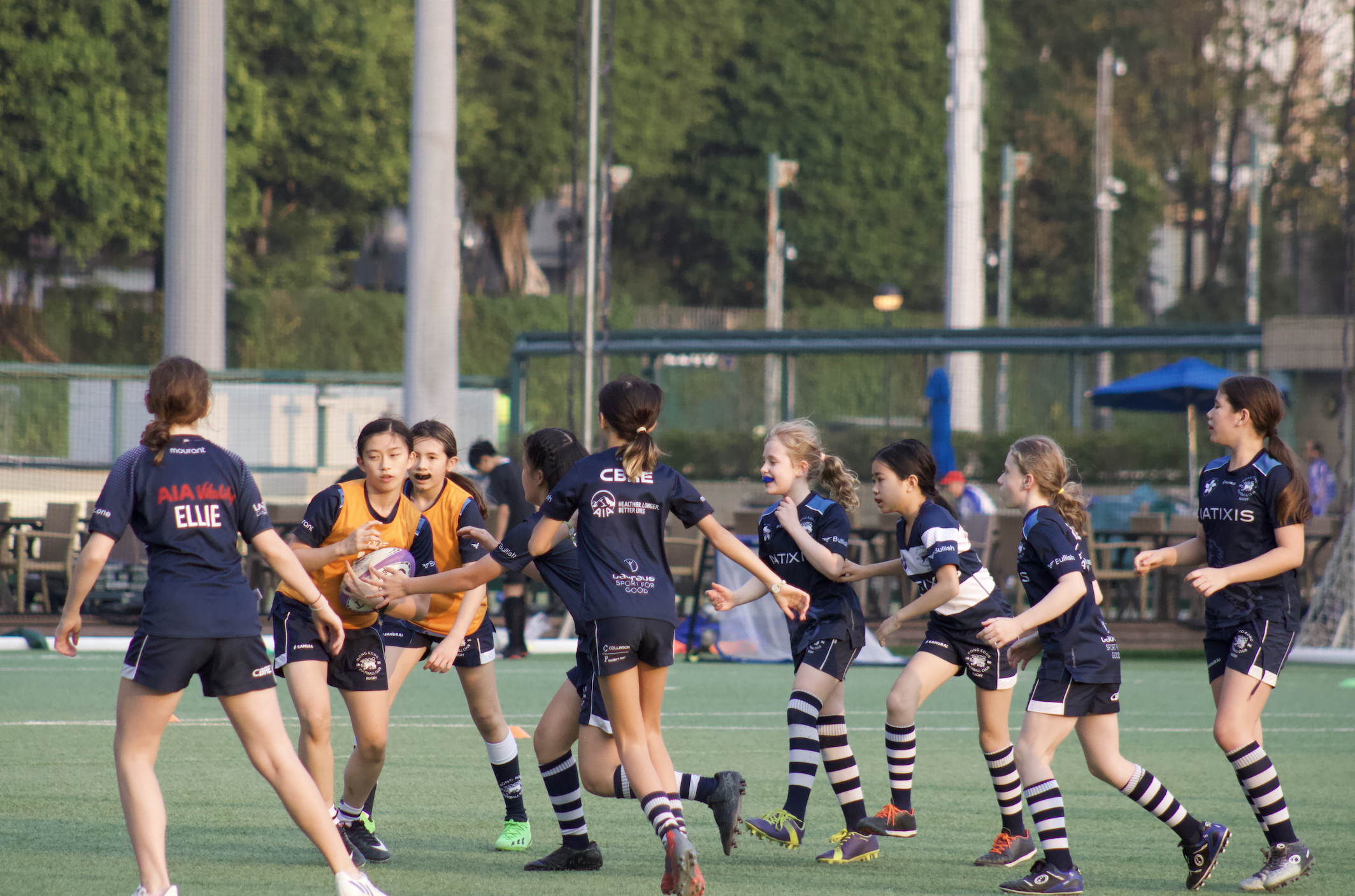 HKRU also found that despite women's rugby being "one of the fastest growth areas for the game", female players comprised only 28% of players, despite making up 45% of the senior games and 53% of Hong Kong's population. 
A study conducted by Harlequins and The Harlequins Foundation in 2020 looking at rugby inclusivity for women and girls found that 55% of women and girls agreed that "many women feel unwelcome to play rugby because of the jokes and negative language some people use about women". An additional 59% of the women also experienced sexist slurs. 
Scrum-half player for the Hong Kong women's national rugby team, Jessica Ho Wai-on, said she experienced these microaggressions firsthand and has been questioned whether she plays full-contact or if the ball is the same size as the men's. 
With this year's Sevens breakthrough, Wai-on is channelling this newfound  exposure on the women's team to help strengthen her on the field. "For people who are ignorant, I think they're going to get the shock of their lives seeing these incredible women and athletes, and I think there's something so empowering about that," she said. 
In the same study by Harlequins, rugby reportedly improved the players' confidence, overall health and self-esteem. The participants also described the sport as "very inclusive", stating that they felt welcomed and supported by peers, with many developing deep friendships.
"If we can be those pillars in Hong Kong, and if girls and boys can look up to us and call us the rugby team, not just the women's rugby team, that's massive. It makes me so excited to think that all these people are seeing women go out there and do it as well in such a male-dominated sport," Ho added.
Forwards player Rosie Wright said she also feels uplifted. In the face of criticism, Wright commends her fellow teammates for encouraging each other.
"We call each other sisters, so if anyone's ever going to make a comment, we're really strong women, we'll speak up for ourselves, and we'll always have each other's backs," she said. 
With multiple games lined up, including the upcoming Asian Games in South Africa this April, Wright looks forward to competing and "growing" through the tournaments.  "If you enjoy rugby, especially if you're a girl, keep going. If you want to pursue it as a career, it is a career. It's the best. It's the most fun that I've ever had, and I'm gonna do it as long as I can," she said.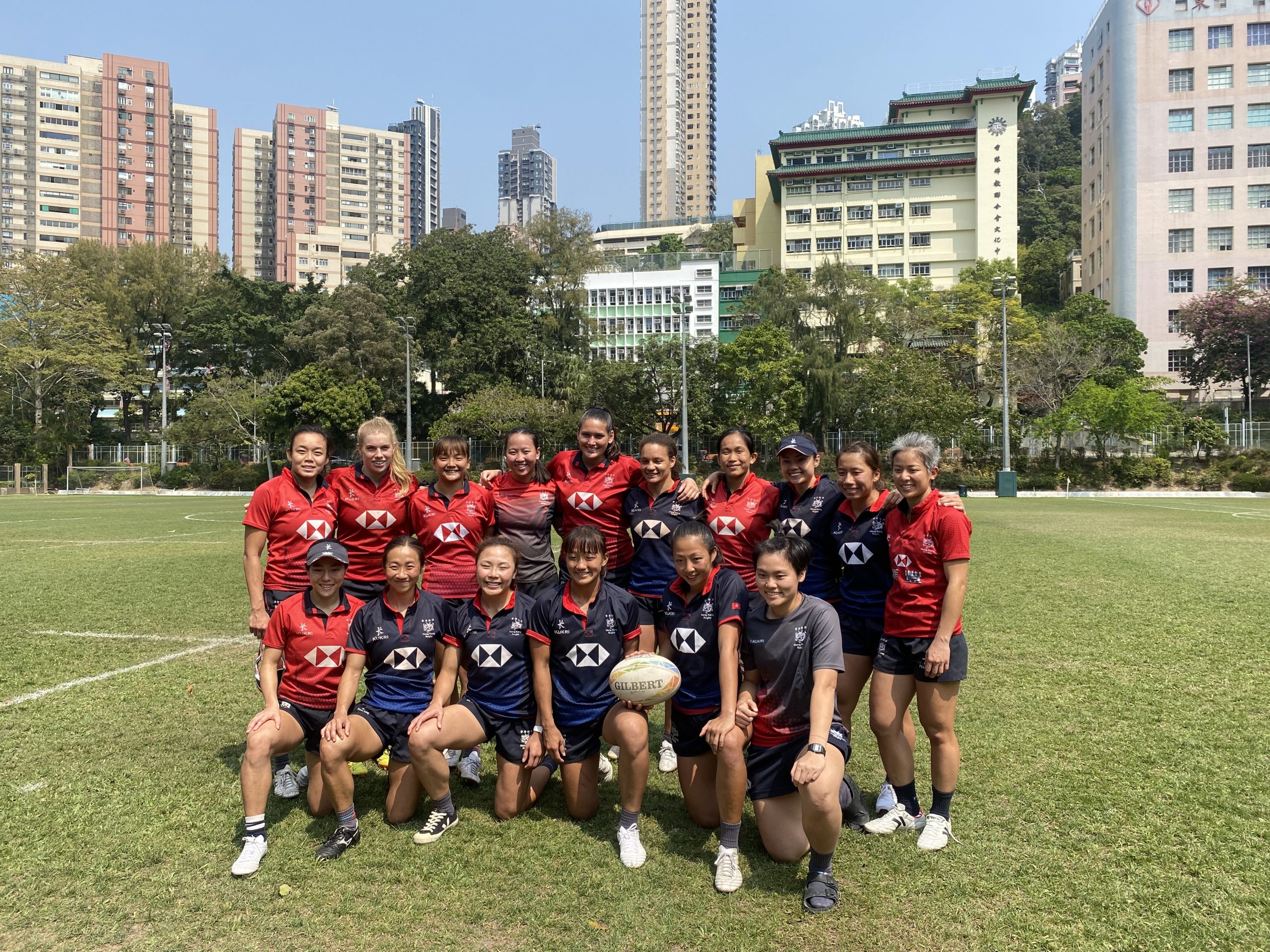 Coach Paul John, who also leads the Hong Kong Sports Institute Elite Rugby Sevens programme, said to expect confidence from the team, "with smiles on their faces" and the "best of their abilities". 
"The girls are fantastic, I don't think they need to be feeling as if they're struggling against adversity. It's tough, but sport is tough, right? It's not because they're girls or because of anything different. It's because sport is bloody hard work and they went up against probably the world's best players," he said.
He praises the Hong Kong Rugby Union and Hong Kong Sports Institute for a  "fantastically supportive" programme for both the men and women.
"We're in a special environment and the team really look forward to going out there and expressing themselves and enjoying it. So why not keep it going as long as we can? How many times can you play in Hong Kong Sevens? How many times can you play in the Asian Games? How many times can you try and qualify for the Olympic Games? It doesn't happen very often in a career, right?  This year we're doing it all," John said.