Policy Address 2022 Key Takeaways: leveraging Hong Kong's unique advantages for economic recovery
By: Kiki Lo、Tracy Leung

Edited by: Nick Yang

2022-10-20
Hong Kong's Chief Executive John Lee Ka-chiu delivered his maiden policy address yesterday after his swearing-in. His speech this year clocked two hours and 45 minutes, seven minutes longer than the previous chief executive Carrie Lam Cheng Yuet-ngor's longest policy address last year.
Using President Xi Jinping's speech on June 1 as a blueprint for the administration of the current government, Lee announced a series of policies to leverage Hong Kong's unique advantage of "enjoying strong support of the motherland while being closely connected to the world under the 'One Country, Two Systems.'"
Here are key takeaways from his first policy address speech: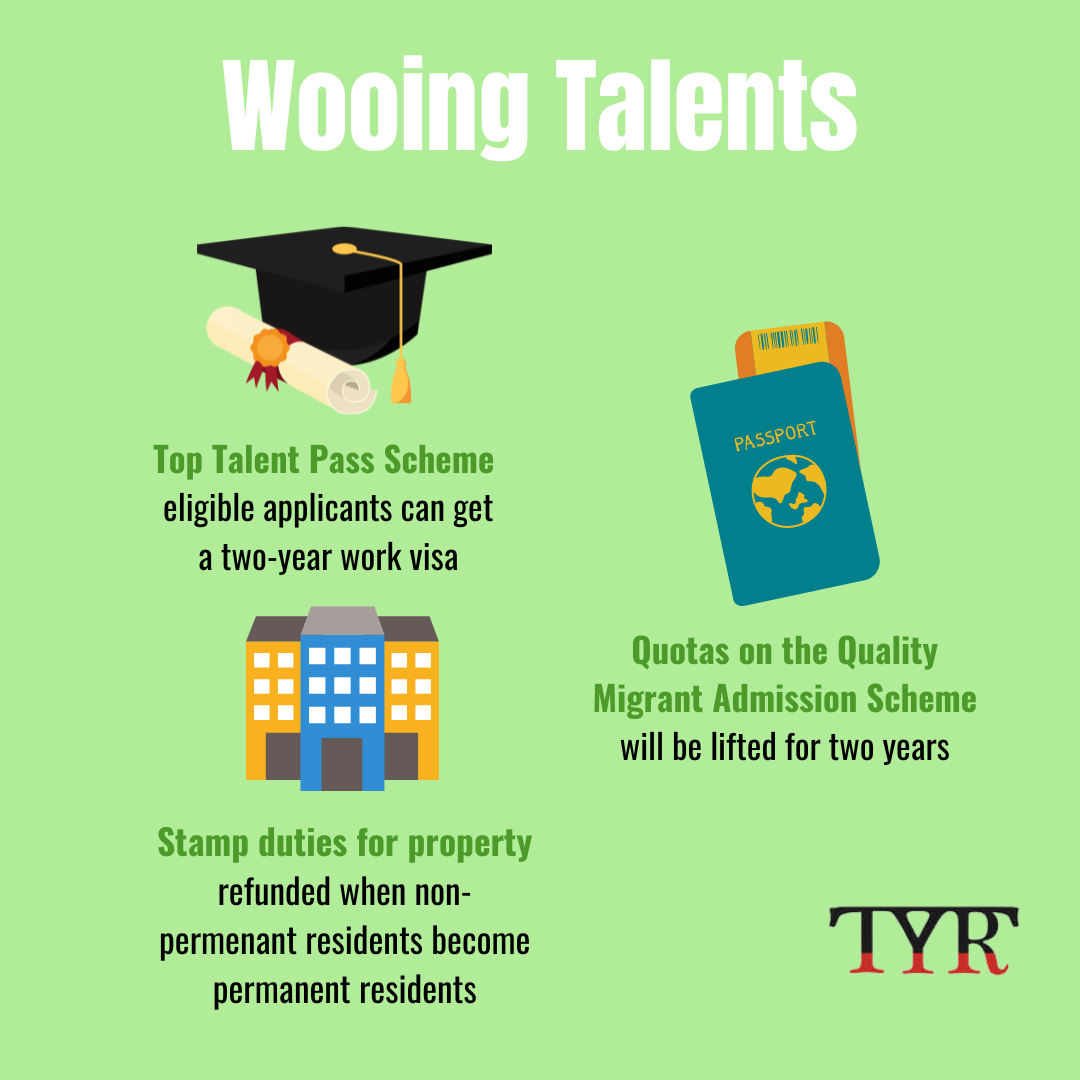 More than 140,000 workers left the city in the past two years. To attract and retain talents, Lee said the territory will be aggressive in "competing for enterprises" and "competing for talents".
Lee said the Top Talent Pass Scheme will be launched for two years. Eligible applicants, including those who earned at least HK$2.5 million in the past year or graduated from one of the top 100 universities in the world, will be issued a two-year work visa. 
Quotas on the Quality Migrant Admission Scheme, in which "highly skilled or talented persons" are able to apply for work visas, will be lifted for two years.
Stamp duty for property purchased by non-permanent residents, which is 30% of the property price, will be refunded when they become Hong Kong permanent residents.
  Increasing housing supply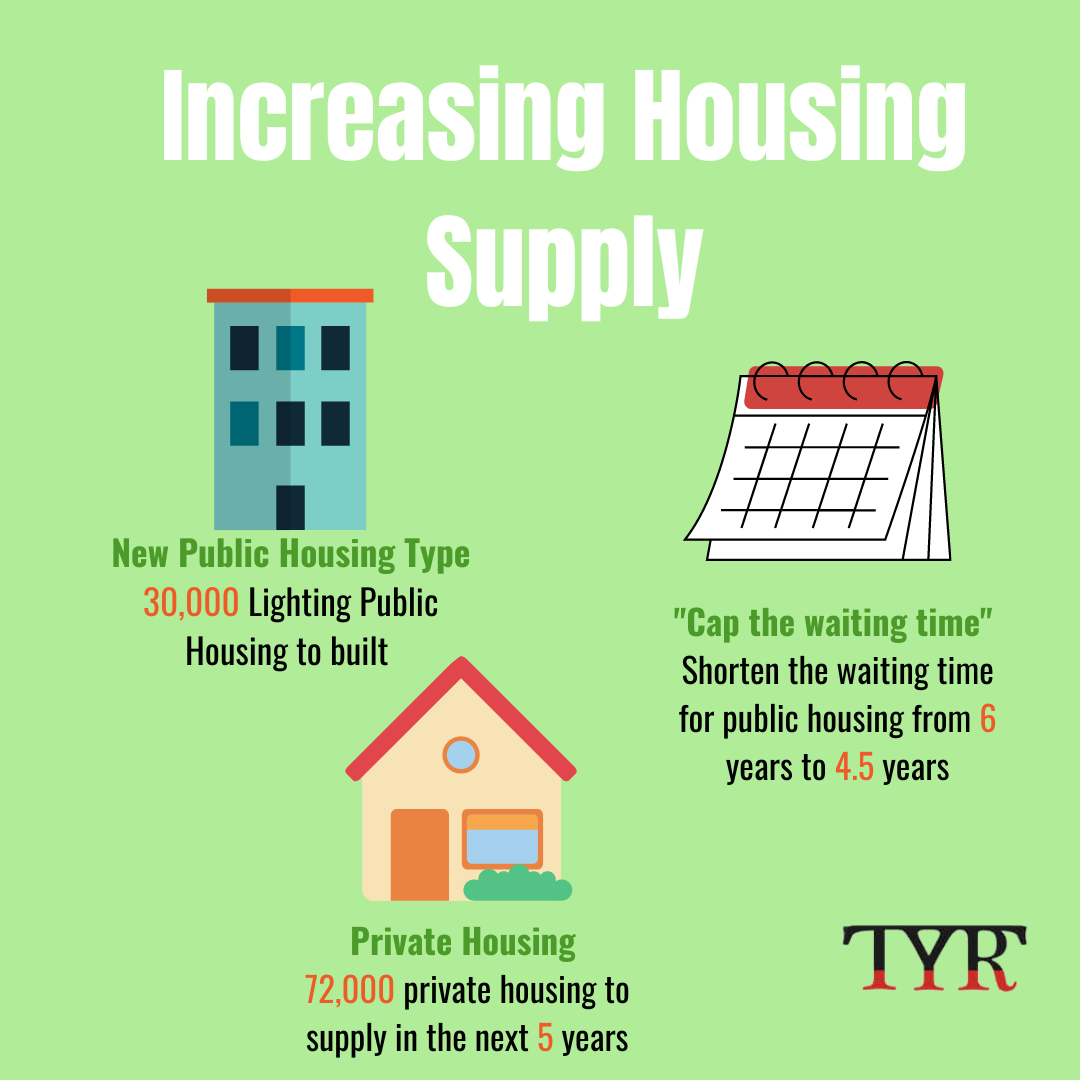 Lee said solving the housing shortage is his top priority. 
Currently, applicants need to wait about six years to live in public housing. Lee said the government will "cap the waiting time immediately" by introducing new "light public housing" and increasing the supply of traditional public units.
The government will build at least 30,000 simple light public housing for transitional homes to help advance allocation for applicants waiting for over three years. Many of these applicants are living in cramped subdivided flats.
Lee also said that at least 72,000 private properties will be constructed in the next five years.
From "Lantau Tomorrow Vision" to "Kau Yi Chau Artificial Islands"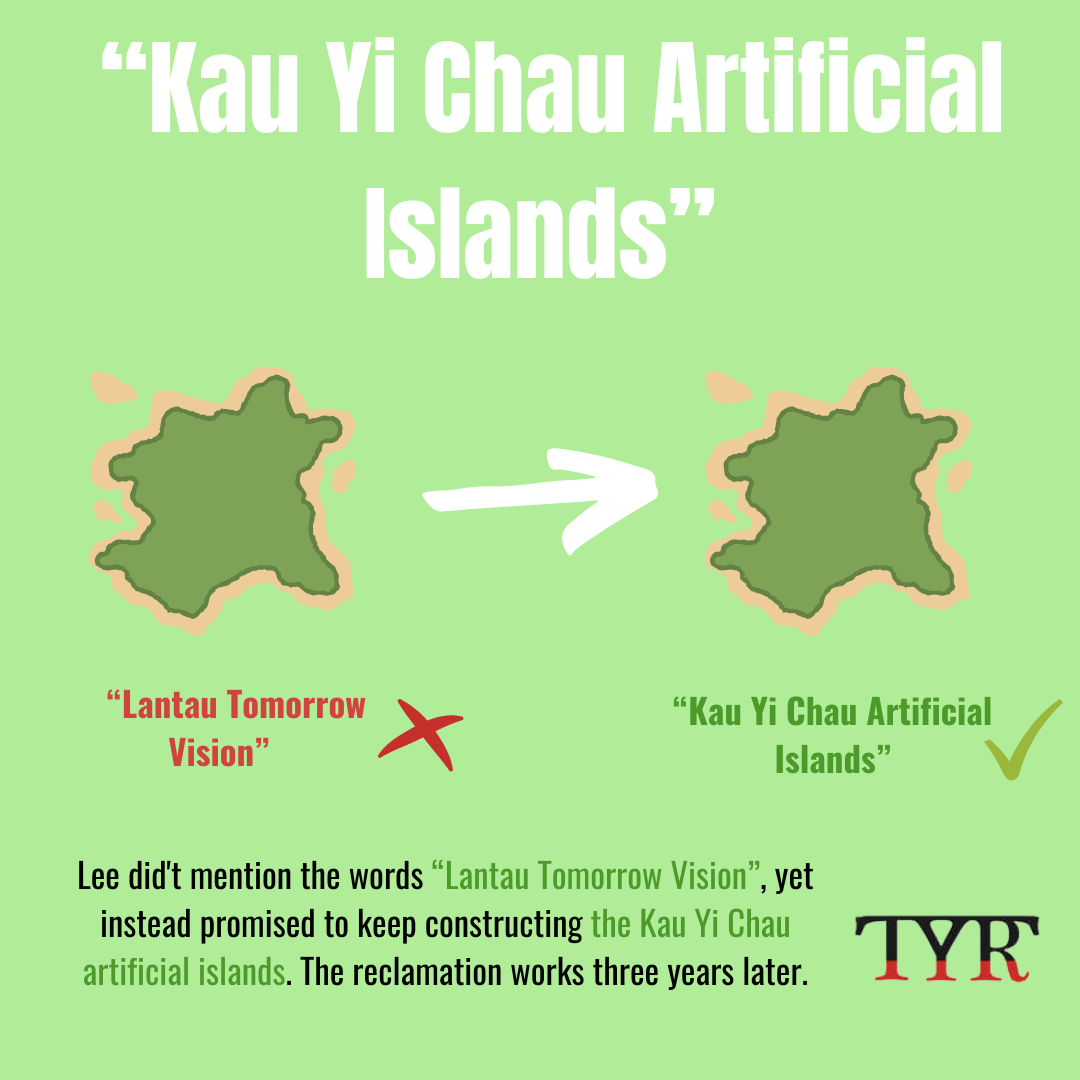 Former chief executive Carrie Lam announced her  "Lantau Tomorrow Vision" development plan in the second policy address of her term. The scheme included the creation of a third core business district by constructing artificial islands of 1,700 hectares off the coast of Lantau Island and was extremely controversial for its whopping HK$500 billion price tag.
This year, Lee did not mention the words "Lantau Tomorrow Vision", yet instead promised to keep constructing the Kau Yi Chau artificial islands. The government means to put forth more proposals this year and start the reclamation works three years later.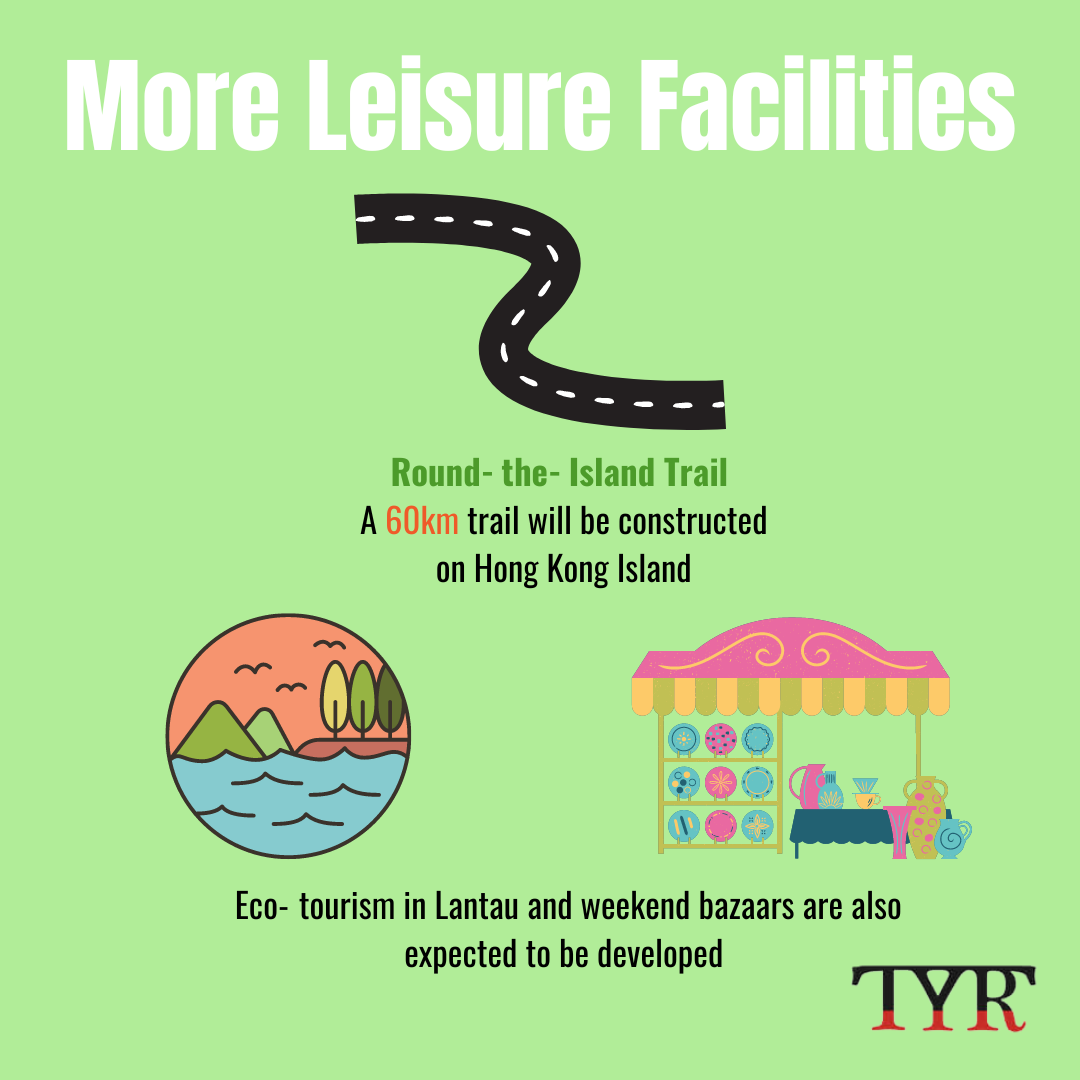 A "Round‑the‑Island Trail" will be set up on Hong Kong Island in the next five years, said Lee, causing much excitement among trail walkers in the city.
The trail will connect the waterfront promenades on the northern shore of Hong Kong Island and a number of other promenades and countryside walking trails in the Southern District.
Eco‑tourism in the southern part of Lantau and weekend bazaars in five regions are also expected to be developed to add variety to the activities of residents.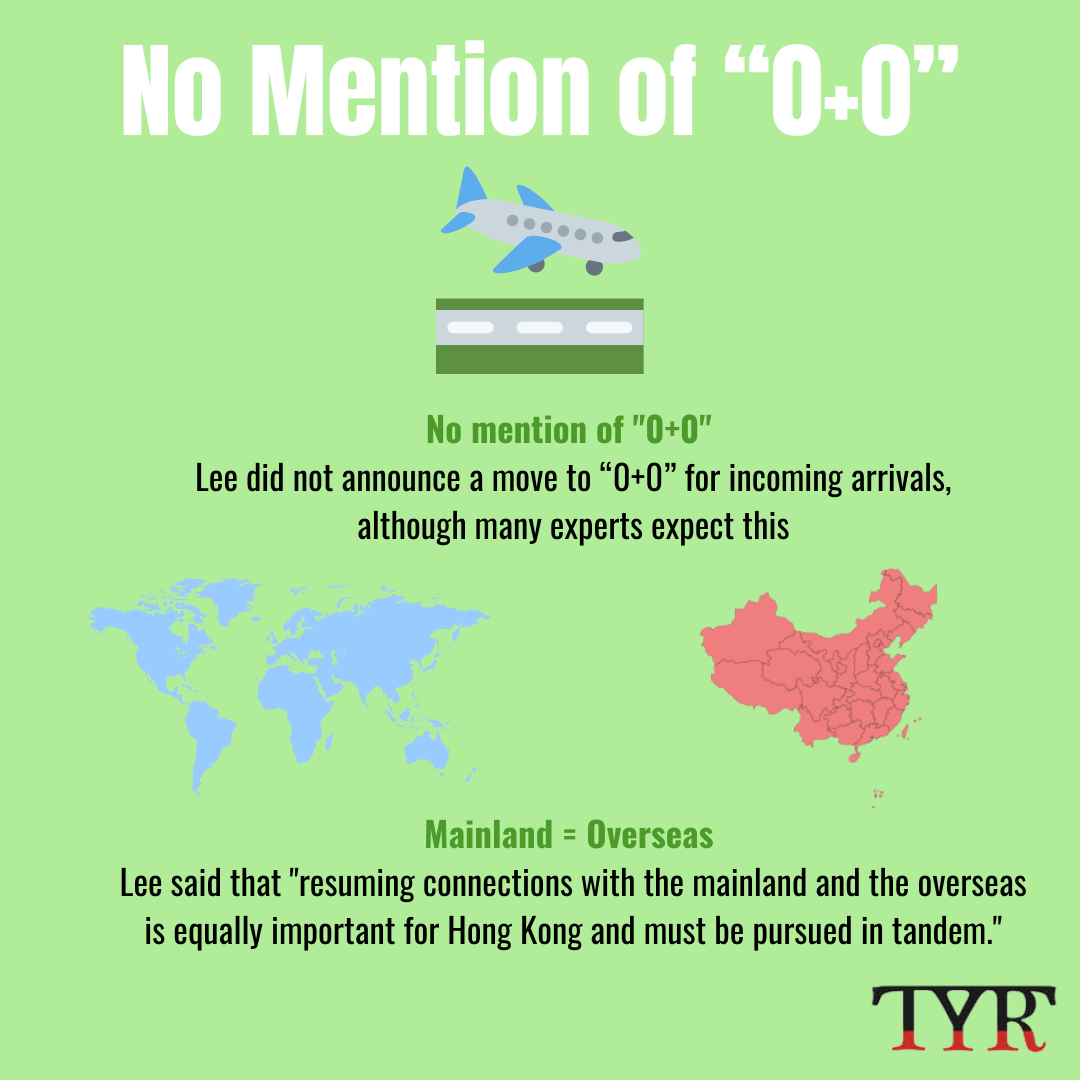 Lee did not announce a move to "0+0" for incoming arrivals, which would fully open Hong Kong to tourists, in his speech yesterday, although many experts expected this.
In previous pandemic years, Lam said she was focused on opening with the mainland, but Lee said that "resuming connections with the mainland and the overseas is equally important for Hong Kong and must be pursued in tandem."
Lee's discussion of the pandemic was brief and no new Covid-19 policies were announced in the policy address this year.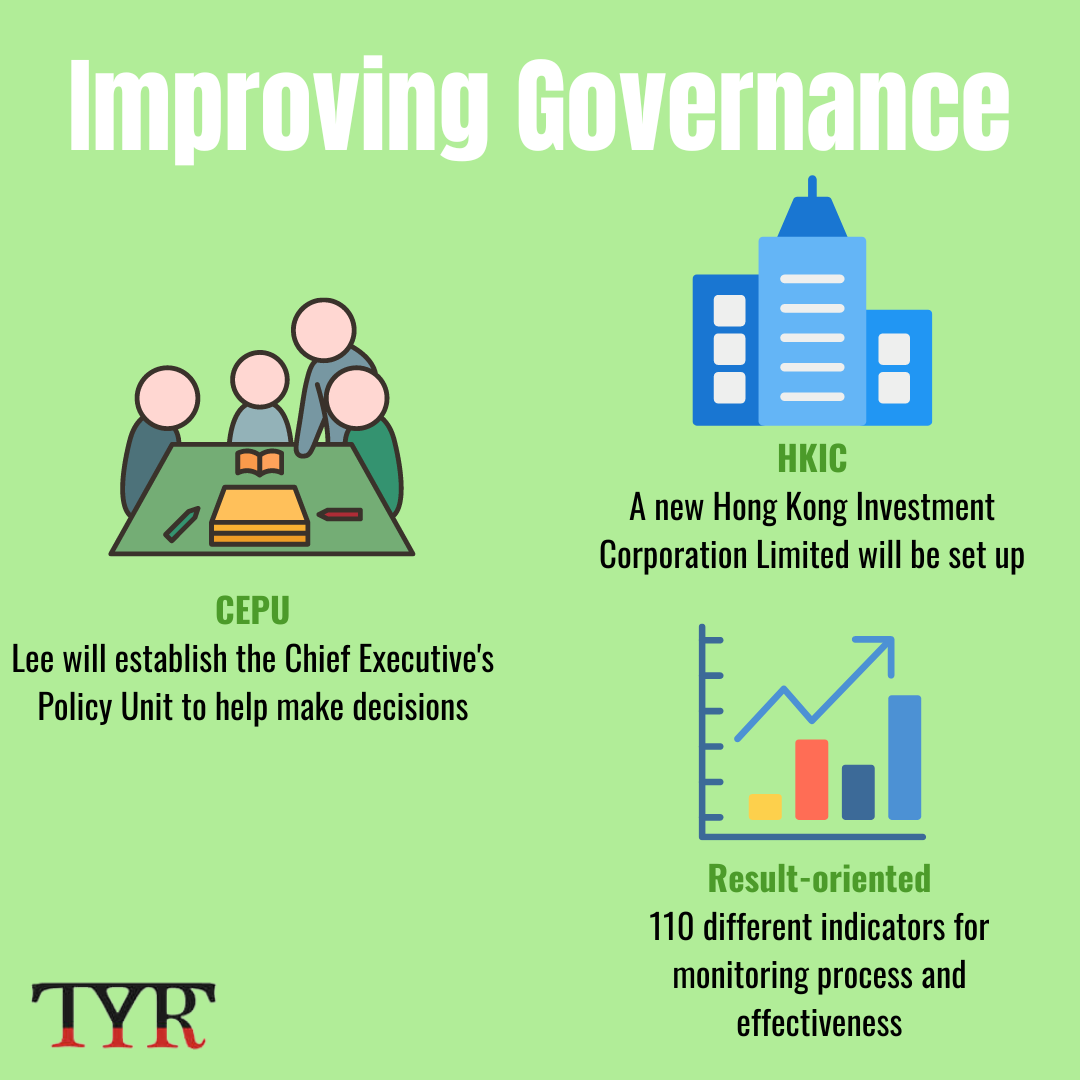 A new Hong Kong Investment Corporation Limited will be set up to better utilise fiscal reserves for strengthening the development of industries and the city's economy.
Lee also will establish the Chief Executive's Policy Unit to enhance the government's research and initiative capacity on long-term and strategic issues. Lee said he will use a "red team" to play the part of opposition and critics in policy reviews.
The government will adopt a result-oriented approach, said Lee. He set 110 different indicators including key performance indicators for monitoring process and effectiveness.

Supporting technology development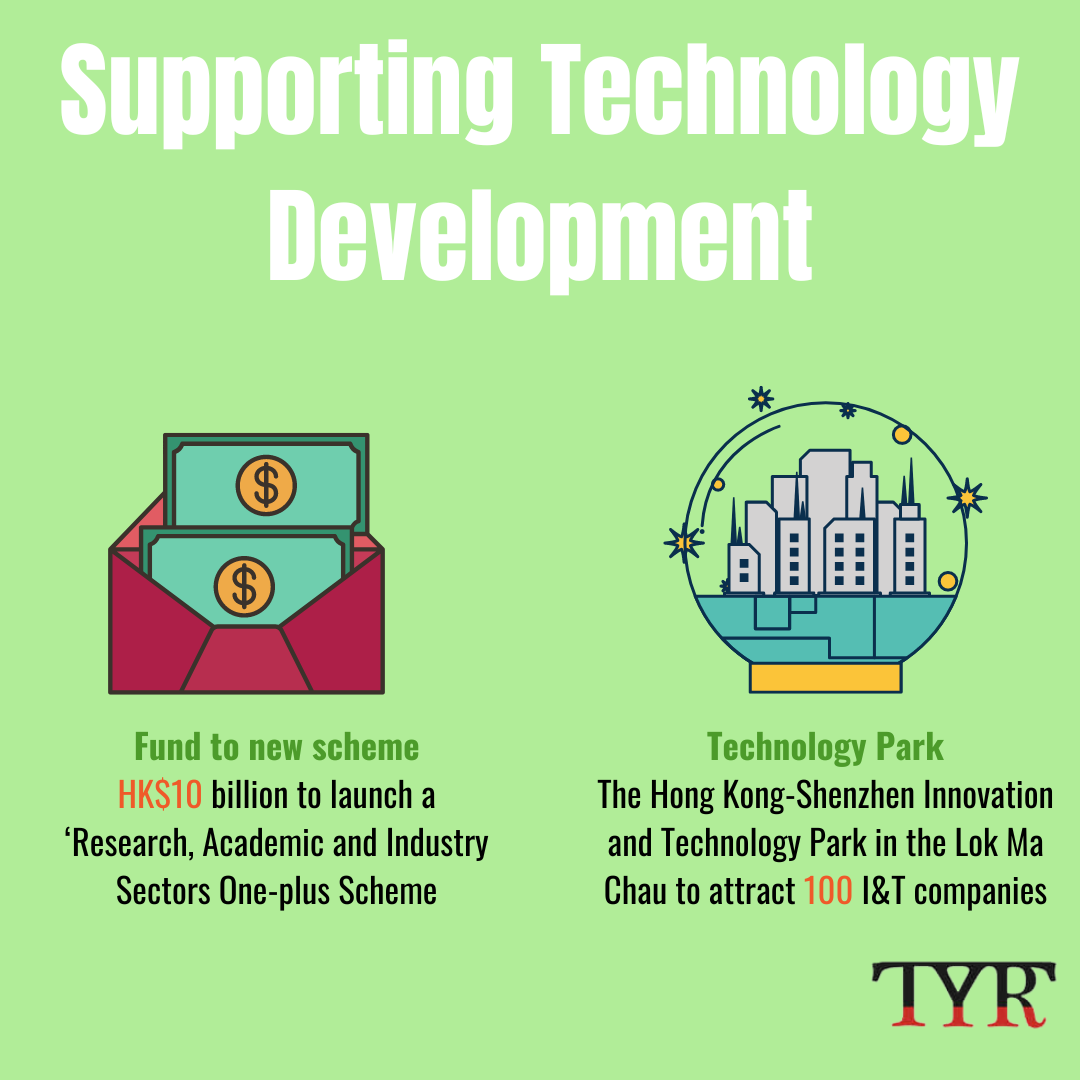 Hong Kong will earmark HK$10 billion to launch a 'Research, Academic and Industry Sectors One-plus Scheme' next year, funding at least 100 university research teams to incentivise collaboration among the three sectors. 
The government will also allocate a HK$5 billion technology fund and space provided by the Hong Kong-Shenzhen Innovation and Technology Park in the Lok Ma Chau Loop from 2024 in the next five years, attracting at least 100 potential I&T companies.
The Science Park and Cyberport will be expanded in 2025, providing a total of approximately 100,000 square metres of additional floor area.

Enhancing connection with the mainland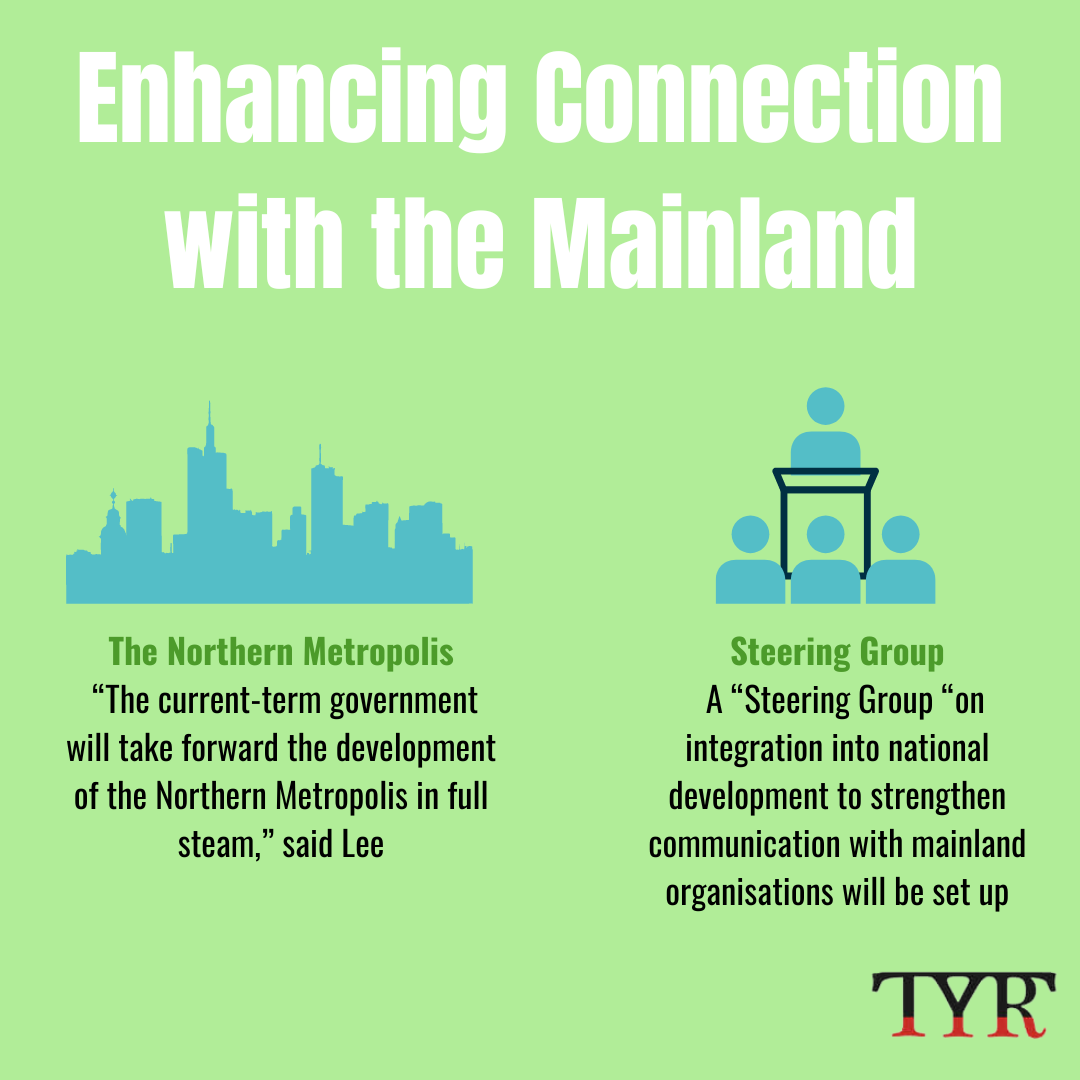 The Northern Metropolis, a development plan brought up in the policy address last year, was still emphasised by Lee, saying that "the current-term government will take forward the development of the Northern Metropolis in full steam." 
Lee said he would personally lead a steering committee, which will be advised by a group of experts and stakeholders, to oversee the development of the region.
The government will also establish a "Steering Group" on integration into national development to strengthen communication with mainland organisations and hold regular national policy briefing sessions.
Strengthening national education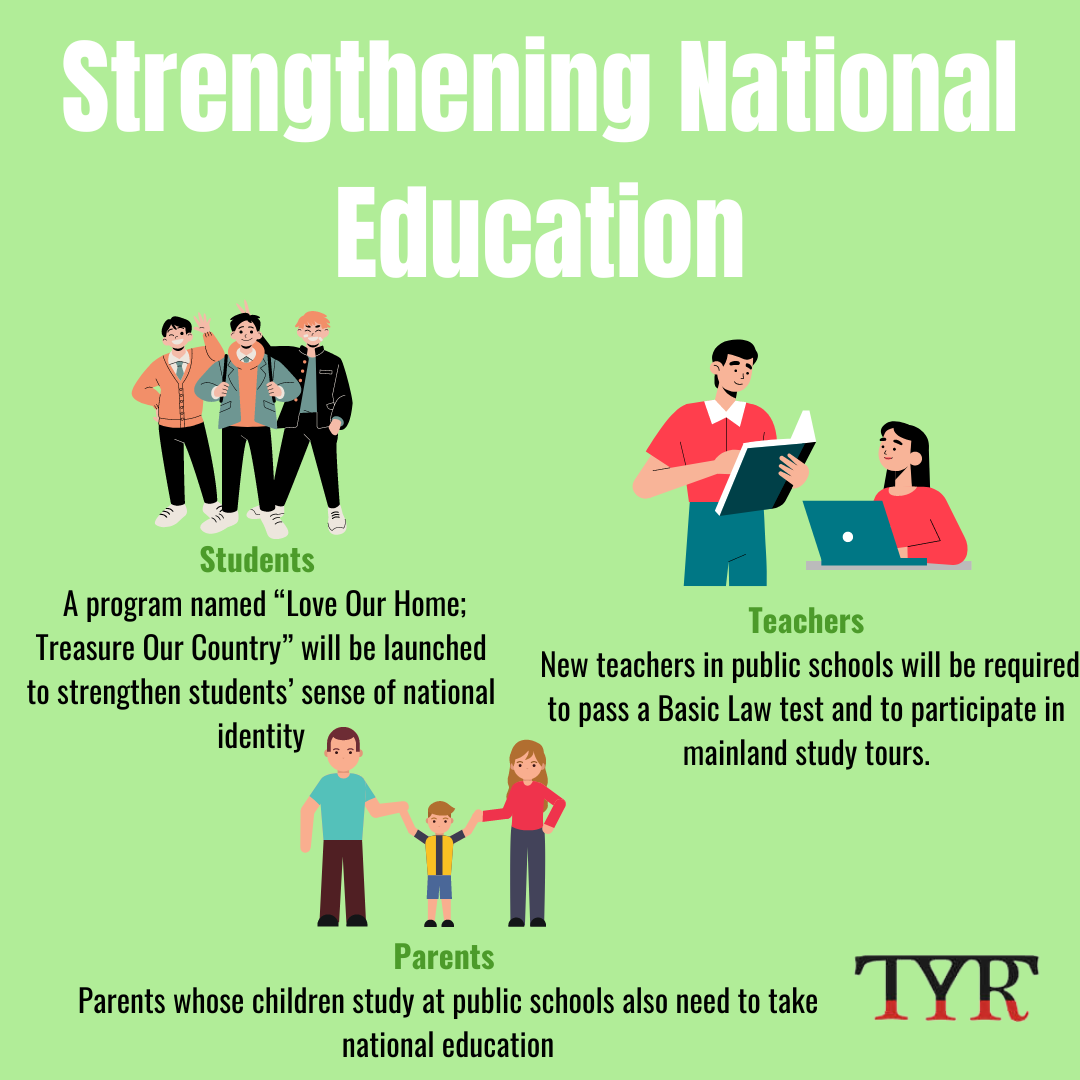 National education continued to play a big role in the policy address. A program named "Love Our Home; Treasure Our Country" will be launched to organise inter-school activities in government schools to commemorate important national events, such as National Day and National Security Education Day, to strengthen students' sense of national identity and national pride.
New teachers in public schools will be required to pass a Basic Law test and to participate in mainland study tours.
Parents whose children study at public schools also need to take national education, said Lee.